Here is possibly the best passport photo and/or name of all time!
There's nothing like having an unusual name. Not only can it lead to bullying during your school years, but if you end up being a regular traveller, you are sure to be the butt of numerous jokes via the customs officials who see your passport.
Especially where your parents have created you as a superhero!
Anyway, have a look at this silly transcript and the funny passport photo that comes after it.
Customs Official : 'Hello, welcome to [insert country here]. What is your name?'
Passenger : 'My name is Batman!'
Customs Official : 'Yeah right smart ass, what's your real name!?'
Passenger : 'Sir, my real name is Bat-man'
Customs Official : 'Trying to be funny? There's always one on every flight. Well, what's your surname?'
Passenger : 'My surname is Super-man'
Customs Official : 'Ok, this is getting even better! So you're telling me your name is Batman Superman?'
Passenger : 'Yes. Look at my passport!'
Customs Official : 'Arrest this guy…'
Batman bin Suparman! Create Your Own Superhero on your passport photo!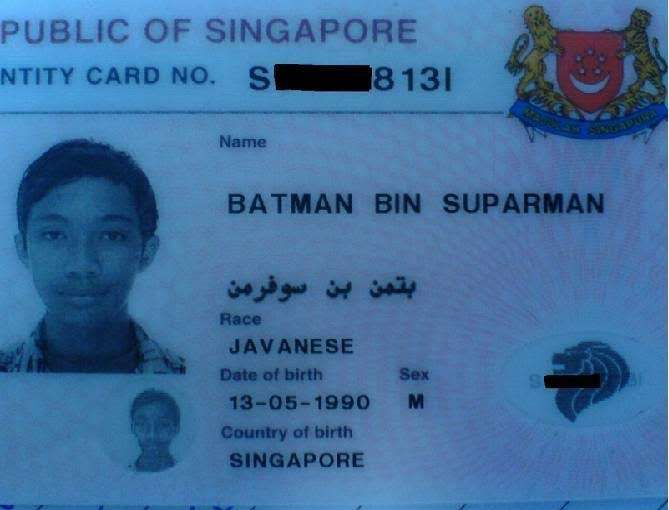 No, this isn't a hoax – it's for real!
It's one of those language conundrums where something that is totally unassuming in one language, becomes hilarious (and sometimes offensive) in another – such as the Fook Yew Hotel!
This guy became a social media hit when copies of his identity card/passport started circulating around on the internet.
It's just one of those things that take off just for the hell of it!
This guy's name more or less means 'Batman, son of Suparman'
His surname, Suparman, is actually a common name in Javanese culture. However, I'm not sure what his parents where thinking when they gave him the first name of Batman!
Maybe they really like comics a lot!
But it's pretty rare that a name has two superheros for the price of one!
However, unfortunately, you won't see this superhero cruising around for a little while, either in the Batmobile or in a Superman suit. He won't be travelling because Batman bin Suparman was arrested on theft charges in 2013 and jailed for three years.
I'm sure he'll be able to figure out how to escape from prison.. 🙂
I can't wait for the memoir to come out!
How about you? What are some of the more weird real names that you've come across that would look strange to customs officials?
Let us know!
More Silly Stuff About Singapore: