I'm a bit of a sucker for trying to explode my adrenal glands when travelling. Previous experiences that would have probably tested my shonky travel insurance policies include mountain biking down the world's most dangerous road in Bolivia, throwing myself off the world's highest bungy swing, and micro lighting over Victoria Falls.
The latest addition to this addiction is the GMAX Extreme Swing in Singapore. This is basically a large capsule that can fit a few people inside, and then it's strung up to a 180 degree angle while it feels like you're about to fall out of the seat, dangling way up in the air. All of a sudden the a cable is released and gravity does the rest!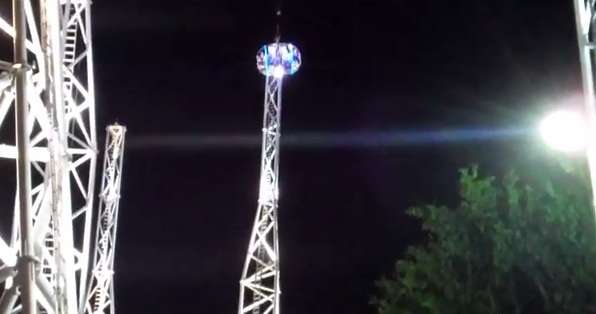 The thing that gives the adrenalin rush is that at first, the GMAX ride feels a bit tame when you're being wound up. You almost feel like this is going to be something not worth doing. But that's the surprise element!
However, when if feels like your seat belt is going to give away so that you'll fall down into a big pile of splat on the ground, this is where you start to get nervous and think, why the hell am I doing this?
Unfortunately, your fate is in the hands of someone in your capsule that determines when you are released and flung into the air. They have their hand on the lever and once the light goes green, they can let go at any time they want! What power!
If it was me, I would say I was counting to three, and then let it go once I reached one…
The GMAX Extreme Swing – Wear The Brown Underpants!
Anyway, you'll get the idea of what happens by watching this silly video I prepared. Check out the faces of everyone when this thing goes!
[youtube]https://www.youtube.com/watch?v=SHDh7AuIC4E[/youtube]
Yep, definite change of underwear required now!
Thanks to MeGuideU who provided this experience, and you can also follow them on Facebook, Twitter, Pinterest and Instagram.
See more at the GMAX Extreme website!