As you would know, I'm pretty much a beer drinker. I spend my life trying to ingest the local brews of each place that I travel (see the shonky Beer Index!). I'm not really a spirits or cocktail kind of person, because I usually find that Cocktail Recipes are usually inconsistent between bar to bar, even if they're just down the road from each other!  It's probably because I visit dodgy establishments that water down their drinks, hence I usually stick to bottled beer instead because I know exactly what's in it!
However, having dodgy drinks was definitely not the case at  Bitters and Love – a cocktail bar I visited in Singapore. I was pleasantly surprised on how good their cocktails were, even if I asked for the weirdest booze in the house! Anyway, this experience appeared as the one on 10 Weird Things to do in Singapore which I managed to undertake thanks with the help of the friendly local guides found on MeGuideU.
Hidden away from the main tourists spots, the Bitters and Love establishment is a funky bespoke cocktail bar (where you have your drinks all custom made), where you can pretty much order any cocktail that you want. Cocktails can be made from gin, rum, whiskey and other drinks and you can specify if you want something fruity, sour, sweet or even a 'surprise me' option.
Because I like trying weird stuff all the time, I naturally gravitated towards the 'surprise me' option below. Usually, this means it's spectacularly good or spectacularly crap, but this time I managed to pick the former!
For example, check out the silly cocktail I ordered. This cocktail is a Cuban white rum mixed with Dragon Fruit, rosemary and lemongrass. Sounds like a totally weird combination of seemingly unrelated ingredients, but this drink tasted sensational!
Unusual Cocktail Recipes – Rum, Dragon Fruit, Rosemary, Lemongrass!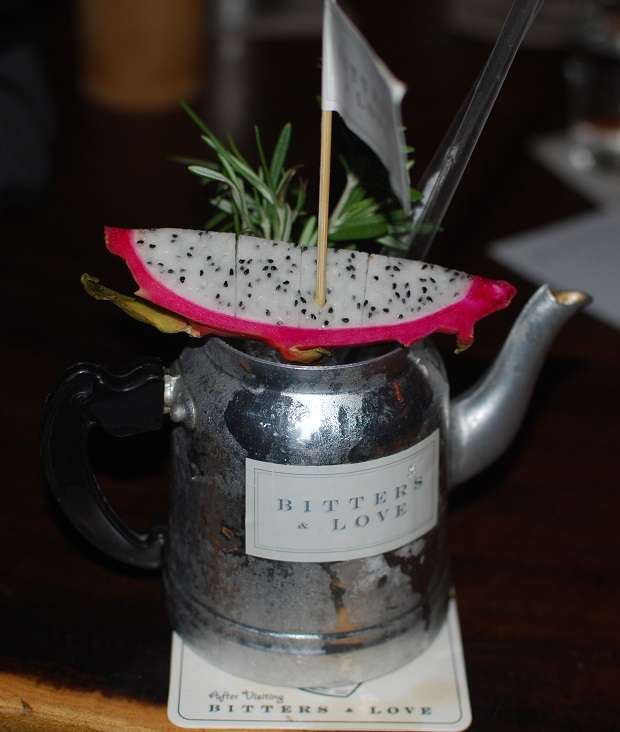 So there you go. If you're tempted to try a weird or unusual cocktail and you're on a stopover to or from Singapore, check out Bitters and Love and you'll be surprised by their offbeat, but great tasting cocktail recipes!
Thanks to MeGuideU who provided this experience, and you can also follow them on Facebook, Twitter, Pinterest and Instagram.