Gorge Swing – The World's Highest!
A Gorge Swing is another perfectly good excuse to throw yourself off a perfectly stable rocky platform and into a seemingly endless abyss. And by the way, it is almost enough to stain your pants it's that scary! There's nothing like trying to jump off something that your brain says you shouldn't!
Gorge Swinging is a bit different to the Bungee Swing at Moses Mabhida Stadium – this one is located in the Oribi Gorge, in the KwaZulu-Natal Province.
Basically, it's a rudimentary construction involving a Bungee Cord attached to a cable running across the Gorge.
The Oribi Gorge Swing involves a spectacular 70 metre freefall into an abyss after running off a nice stable rock ledge. Definitely one for the adrenalin junkies out in the world who like to risk their life now and then!
Here's an action pic of yours truly in midair.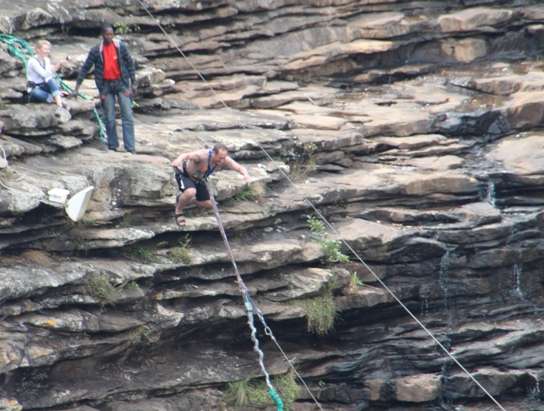 This Gorge Swing is a different experience to the Mabhida bungee swing, as a rocky ground rushes towards your face instead of a lush green football field. Definitely a way to feel alive!
Considering that this was my second Bungee Swing in 3 days, I was surprised that my adrenal glands didn't burst during this time! Or that I didn't suffer a sudden heart attack that would have well and truly tested my dodgy travel insurance!
Gorge Swing – Funny Travel Video
Anyway, here is some video footage of me totally crapping myself attempting to complete this Gorge Swing. Try not to laugh at me screaming my guts out. That's because you will hear others in the background giggling as well.
Enjoy: The World's Highest Gorge Swing!
[youtube]http://www.youtube.com/watch?v=U3dL51djhAE[/youtube]
Feel like a Gorge Swing?
So if you're feeling like an adrenalin rush, go to South Africa and try the Oribi Gorge Swing out!
You'll probably crap your pants doing it!
Insane!
Check out more at Bungee Jumping ~ The Ultimate Extreme Sport!