Yes, BIG PENIS PHOTOS! THE BEST LARGE DICK PICS going around!
Sounds almost as funny as the Penis Enlargement Bible…..
Well, there is a shameless attention grabbing click bait headline for you if I've ever seen one! Just like this really, really bizarre book…
Actually, it's definitely a piss take leading into today's really weird travel photo that fellow travel blogger Colleen Kinsey sent me.
She runs the Travel Meets Happy website (you can follow her on Instagram @travelmeetshappy) and she rightly thought I would be interested in featuring a photo of her standing next to a Big Penis!
Don't worry, this isn't something that's going to have you booted out of work for surfing the internet's most inappropriate websites!
No, this post is about the Icelandic Phallological Museum, which is the largest known collection of penises in the world. Iceland is known for a number of things such as volcanic ash clouds that disrupt flights for weeks and a lot of natural wonders, but I would say this unusual museum is right up there for the main reason to visit. It's right up there on my bucket list!
You might think it's arguable that this place has the largest collection of d***ks in the world (pardon the pun, I know – there are a lot out there), but I've featured this museum I've yet to visit but really want to very soon before in my Penis Museum article.
Anyway, Colleen says – 'I paid a visit to the Icelandic Phallological Museum in Reykjavik. This museum holds over 200 penises and penile parts belonging to land and sea mammals. It's the largest known penis collection.
I'm a rather tall woman at 5 ft 11 (or 1.8 meters), and you can see how large a sperm whale penis is when I stand next to it.'
Hmm, this is a bit different to the whale sperm food interview I had!
Yes, definitely a Big Penis Photo!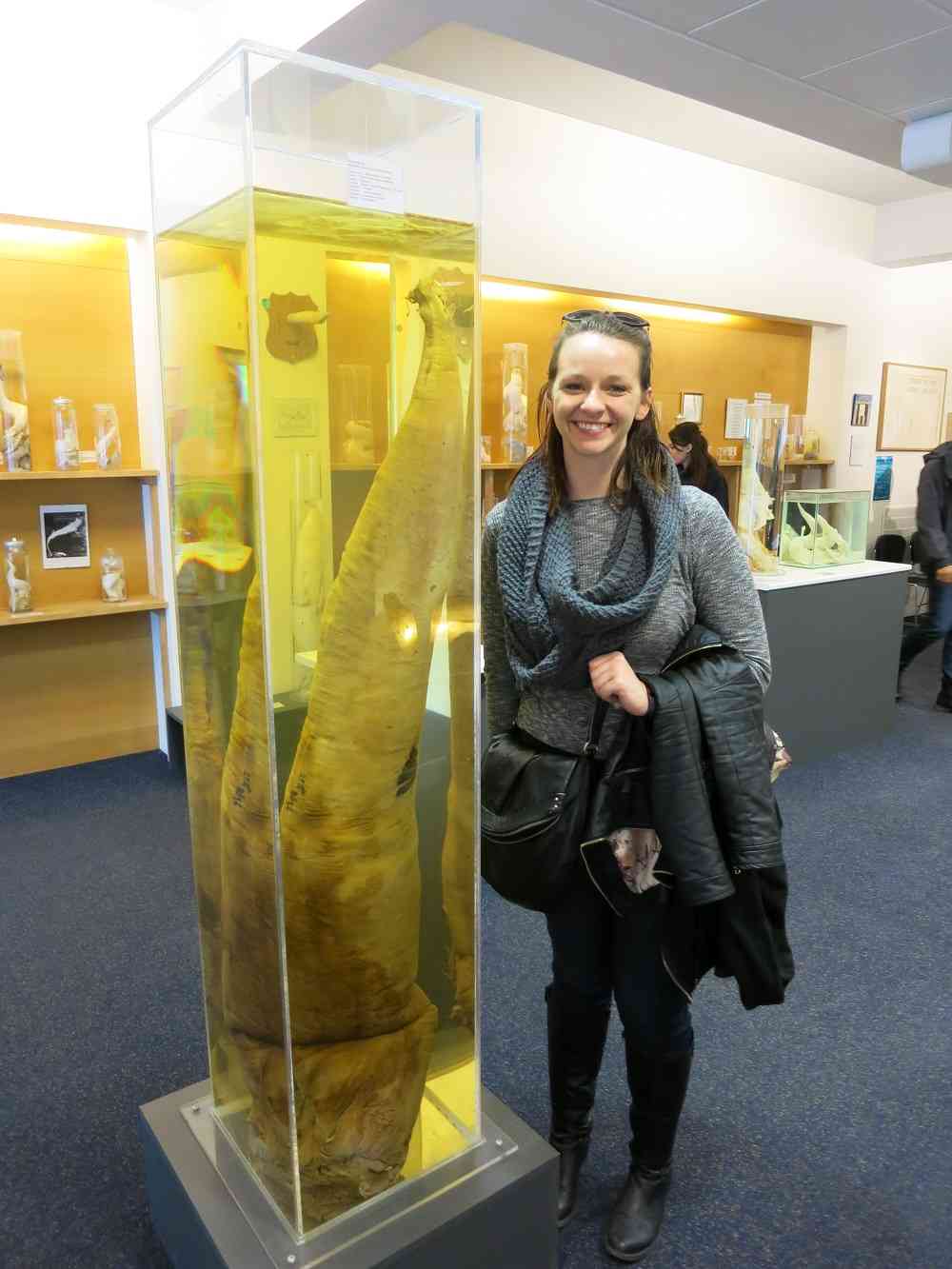 Colleen continues – "There are no human specimens in the museum, but you can watch the Canadian documentary, The Final Member, which covers the museum's quest to obtain a real human penis."
I'm sold! I'd rather spend all day checking out the Iceland Phallological Museum than fight the crowds at the Louvre in Paris! Plus sounds like a great place to hang out if you like big cocks…
Find out where it is below:
Anyway, if you're really bored and want to read more penis related articles, check out the below posts from the past where you can waste a bit more of your time that you'll never get back!
That is:
Don't be a cock! If you're travelling overseas soon, like Iceland, then check out some Backpackers Travel Insurance! and my Best Travel Insurance Tips!