Today I have another humourous funny travel photo from Zambia from Sarah Carroll – this time, it's about the wonderful powers of Penis Enlargement Cream! She's sent me stuff like the People Always Complain Hardware Store in Malawi.
Sounds almost as funny as the Penis Enlargement Bible…..
As mentioned many times before, Sarah runs The Ethical Volunteer. You can follow Sarah on Twitter @EthicalVol and on Facebook.
Anyway, she keeps sending me some of the funniest signs I've ever seen. Here is another one that she found plastered all over a post!
The Funny Penis Enlargement Cream Flyer!
Look at it more closely!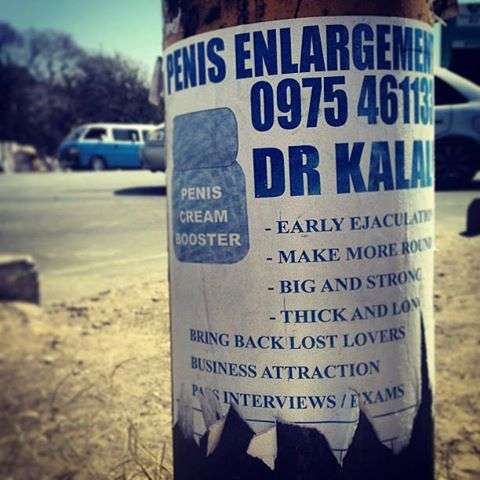 I'm amazed that there is a cream available to help enhance the size of one's manhood. It should be on the shelves next to the bread and milk at your local supermarket.
But obviously, this cream can be used for way more purposes. Supposedly, it can do the following as well:
Prevent early ejaculation
Make your knob more round, big and strong, and thick and long
Bring back your lost lovers (!)
Attract Business (!!!!!!!!!), and
Help you pass your interviews and exams!
He's almost as good as the African Witch Doctor. Wow, I'm going to buy a tonne of this stuff right now! Not only does this stuff help with erectile dysfunction, but it can help you sail through school or university, and make you become a multi millionaire in no time by attracting a flood of business!
But if you look closer, it looks like many people have removed the paper stubbs at the bottom so they have the direct number to the doctor who supplies this penis enlargement cream. So it looks like he has some sort of sustainable business and cash flow!
I reckon this stuff was used in copious quantities on the Priapus statues that are for sale everywhere in Turkey. Well, it looks like it anyway!
Oh well! Check out more at my silly post on Big Penis Photos!
I think this cream is almost as funny as the title of this book – Penis Exercises: A Healthy Book for Enlargement, Enhancement, Hardness, & Health.
If you're still not sick of dick jokes, also try: