Today I've got a funny guest post from Stuart who runs the website Am I Nearly There Yet? It's about the funny Shanghai Restaurant menu that he spotted on a night out in this massive Chinese city.
Stu and Eloise are a couple of Pommies (for the North Americans out there reading this – Poms are English people – Australian Slang!) travelling the globe long term, sharing their travel adventures through photography, humour, stories and advice! You can follow @StuAndEloise on Twitter and Facebook.
Stu contacted me and said 'We've been travelling through China for the past month and while spending a week in Shanghai we came across the most ridiculous menu we've ever seen.. Items like "Delicious Roast Husband" and "Keeping the baby" – Literally NO idea what they were! Ha! I thought it would make an easy going and hilarious article, with photos taken from the Shanghai Restaurant menu and a few quips about each one!"
Well like The Godfather, this sounded like an offer too good to refuse for me! Here it is!
I want to eat at this Shanghai Restaurant for a good belly laugh! Crazy Chinglish Chinese Menu!
Stu says: During a recent visit to the crazy city of Shanghai on China's east coast, we found a restaurants with possibly the weirdest and worse translations we've ever seen!
English menus are quite rare in China – Most people have heard of weird and wonderfully bad English translations – But these?!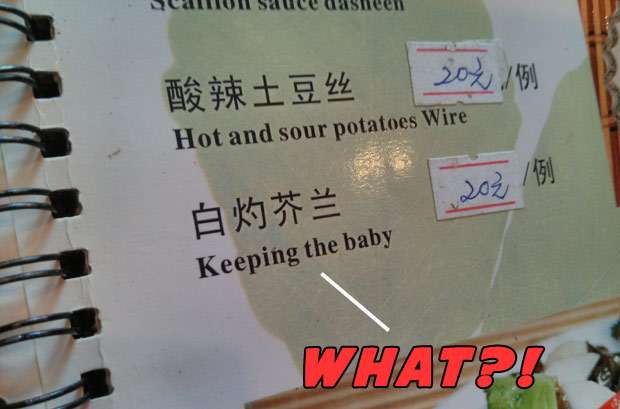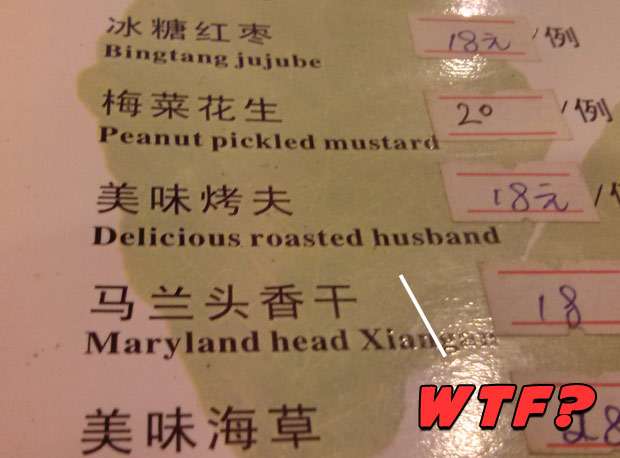 What the hell are these things?! Do you eat them? 'Keeping the baby', 'Delicious Roast Husband', 'Assorted Vegetarian intestines' ?!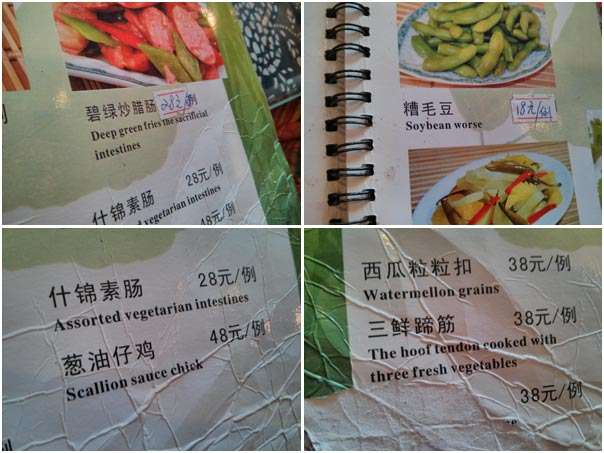 Deep green fries the sacrificial Intestines – mmm yes please!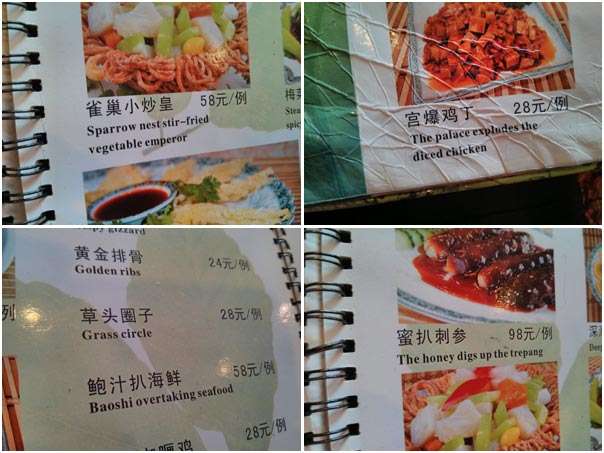 The palace EXPLODES the diced chicken – Please don't.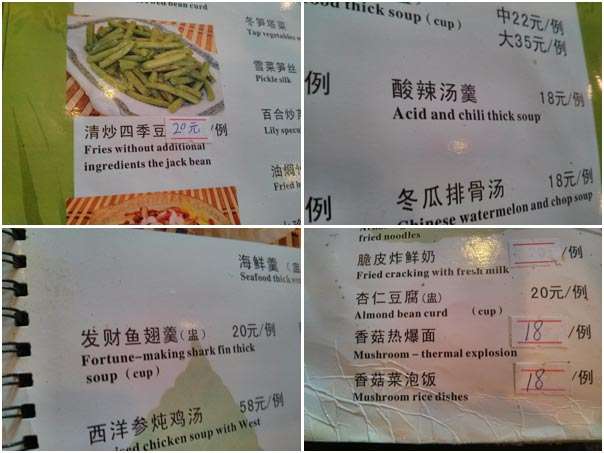 Mushroom THERMAL EXPLOSION – I didn't know mushrooms made you fart?

Coconut Juice with string bean SLOB – Looks a bit like green rice to me
Thankfully we walked away unscathed, unpoisoned, very confused and with empty stomachs…
Is there a McDonalds nearby?
More Shanghai Restaurant Stuff
Oh my god, I was pissing myself laughing when I first laid eyes on these photos! This was some Chinglish gold! I definitely think that this hilarious Shanghai Restaurant Menu should appear in Chinglish: Found in Translation.
For more funny Chinese stuff, see:
For more weird food stuff, check out Weird Filipino Foods!