Today's Masters of Transport and Logistics Photo comes from Tanzania, in Africa. These are the series of photos that marvel at how people can transport themselves and all sorts of goods in the hardest way possible, or where the amount of goods great exceeds the engineering capacity of the mode of transport that is being used. This might include transport by car, motorbike, donkey or even on foot.
Anyone who has been to Africa would have seen the below sight, as you see this everywhere – women doing the hard yards and carrying weight loads on their heads that would be deemed unsafe for forklifts by Occupational Health and Safety officers in the west.
There is no way in the world that Westerners would even attempt to carry something this heavy on their heads for miles and miles!
Masters Of Transport and Logistics Time!
One thing I have noticed during my travels of Africa is that much of African life happens by the side of the road, and this is only one microcosm of this life. You can see deals being made, people talking to each other, people trying to hitch rides, or just moving their goods and themselves from Point A to B.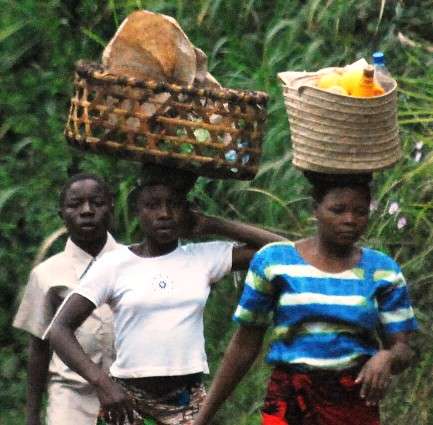 These women must receive fantastic head, neck and shoulder massages from their husbands at the end of the day… Not!
But this is the way of life here. You do anything to ensure there is food on the table at night. Even if that means lugging goods to sell for long distances. Now I truly understand why Africans always dominate the long distance running events at the Olympics. They have the best possible training program to ensure that they take out the first one hundred places!
They're definitely hard workers, and would make this book – Tanzanian Women Entrepreneurs: Going for Growth.
For more Masters of Transport and Logistics, see
For more on Tanzania, see:
If you're planning a trip soon, check out my best travel insurance tips, and get a quote on some Backpacker Travel Insurance.