How To Ride A Bike – Masters Of Transport And Logistics!
Today's Funny Travel Photo is How To Ride A Bike – With an Ox. This one is hilarious, but highlights how some people in the world have to live.
Check out the photo below I received from Paul Gee from Paul's Travel Blog. You can also check out his other Funny Travel Photo of the Fook Yew Hotel in Malaysia!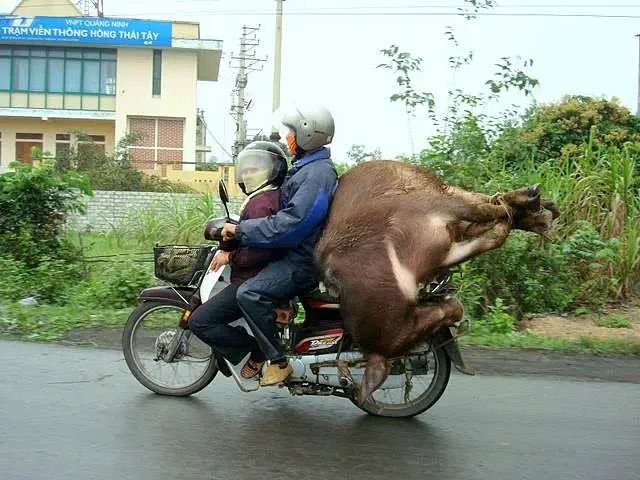 Yes, this is a rather large Ox on the back of a motorcycle, sometimes called a Vietnam Vespa!  I'm not sure what took the most amount of skill – transporting this Ox on the Bike, or taking the photo of it as it was zooming past!
But this is the reality for most people in the Third World.  Not many people can afford a car or truck, so the motorbike is the main choice of transport. And the motorbike is used to transport pretty much anything that can fit on it!
How To Ride A Bike by Exceeding Engineering Standards!
I would gather that many people in Asia would learn How To Ride A Bike by throwing on tonnes of stuff that greatly exceeds the design capacity of the vehicle!
You can see more great photos like this at Paul's post about Motorbike Madness.  Hilarious.
This photo on How To Ride A Bike is just another in an amazing set of Masters Of Transport and Logistics.
Other examples of How To Ride A Bike – The Bali Scooter with Satellite Dish, The Auto Rickshaw, and The African Goat.
How To Ride A Bike Resources
I don't think this bike riding method appeared in The Expat's Guide on How to Get A Motorcycle Licence in Vietnam. But I think it should!
So, now you know How To Ride A Bike the Vietnamese way!
More Vietnamese Pics: