It's not often I indulge in some luxury travel! Most of the time, I select the tight arse option, but I was lucky enough to check out one of the Luxury Resorts in Vietnam that is becoming a popular place to chill out after checking out the amazing Vietnamese Scooters, where Edible Birds Nest is Made, and the brutal War Remnants Museum – The Banyan Tree Lang Co, not far from Da Nang in central Vietnam.
Not too shabby!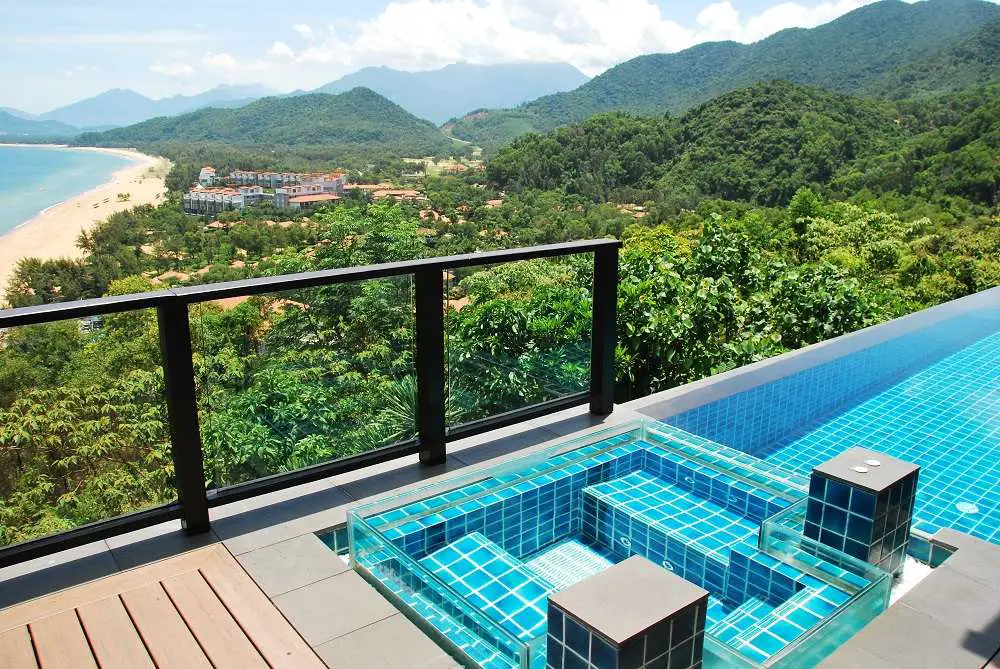 Okay, I didn't stay in one of these amazing and gob smackingly stunning Seaview hillside villas, but I wasn't exactly slumming it when I was put up in a Lagoon Pool Villa with my own private plunge infinity pool.
Yip yah, no smelly backpacking hostel dorm this time!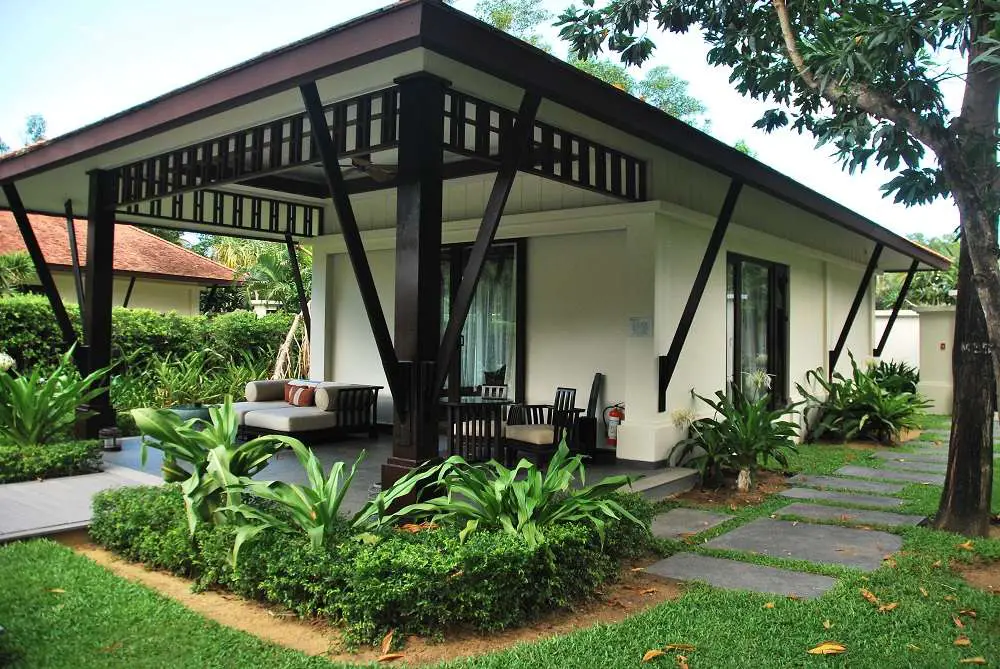 Yes, it's very private – so you can go skinny dipping (that's Australian Slang for 'nude swimming' at any time that you want! And after spending a few days in the hot and humid Vietnamese sun, you'll want to max out your swim time here. As I did! Both during the day and night!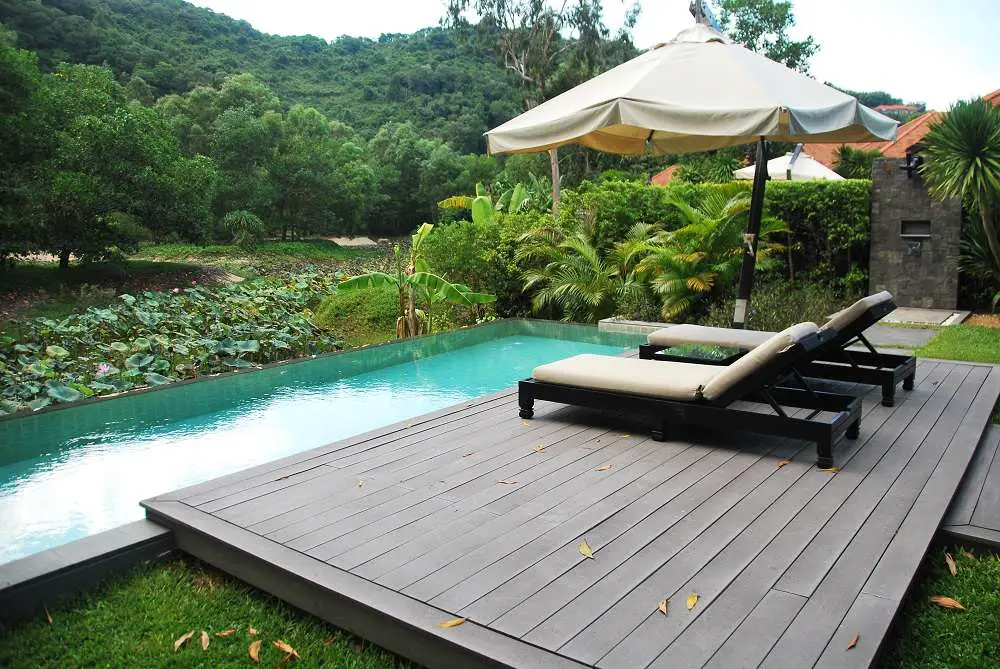 Otherwise, if you just want to sleep in a comfy bed, just retire inside in between your swims!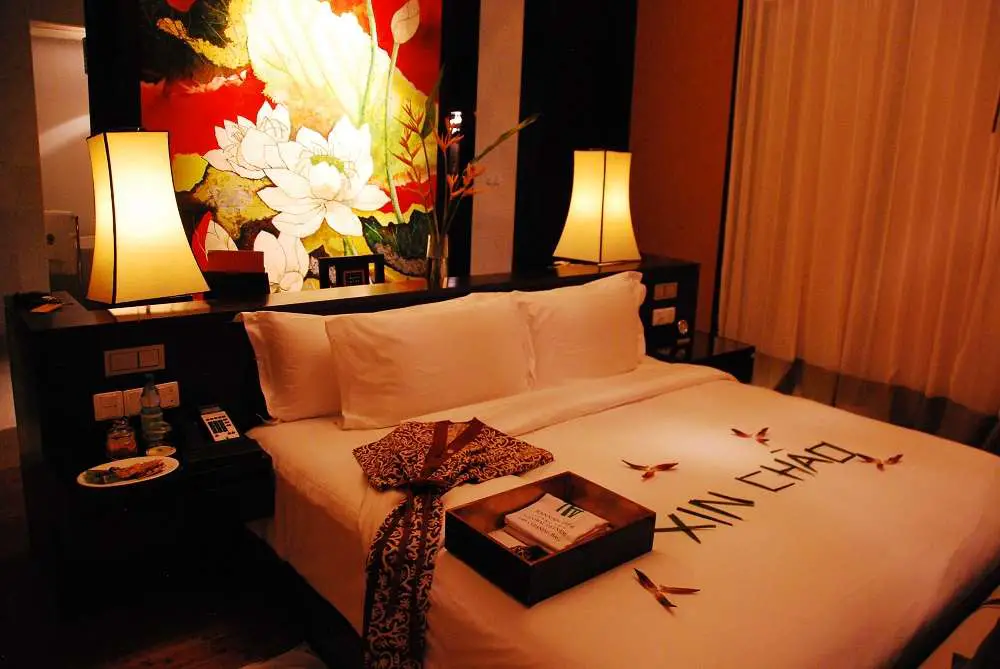 Best for couples me thinks! I don't think the Banyan Tree Lang Co keeps any stats, but I'm fairly sure there have been a large number of conceptions here!
But if you really want to splash out on some Luxury Resorts in Vietnam
Well if you have the moolah (the money!), go to book yourself a Seaview hillside villa with speccy views of the East Sea. If you have a couple of spare million hanging around, you can buy one all for yourself! I'm not quite there yet…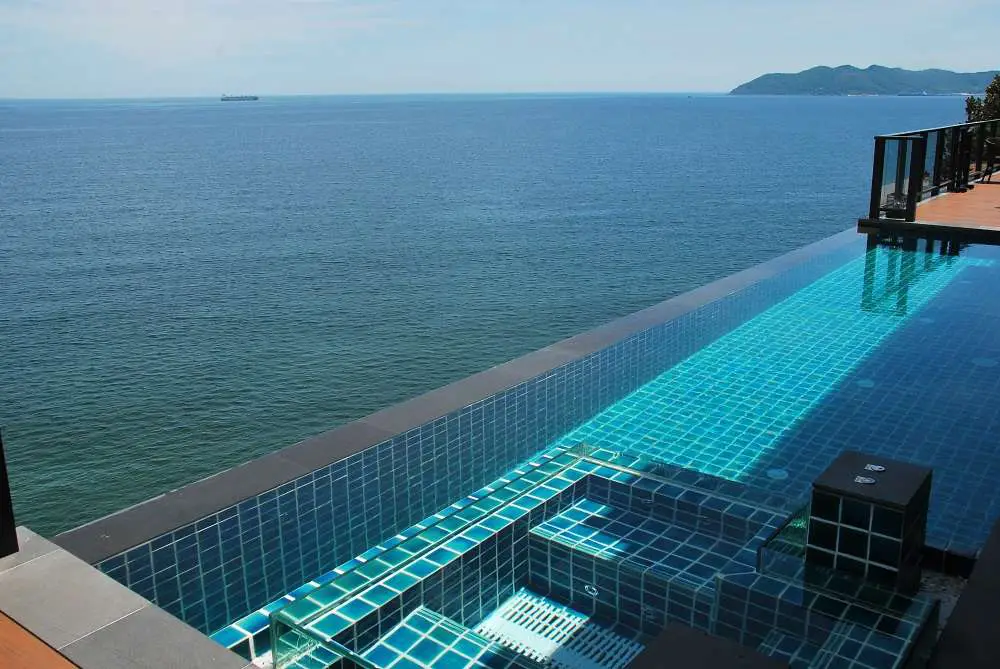 And it looks like I'm testing my travel insurance, but there is something behind me here beyond the infinity pool. Like a bit of ocean…
Give it a go if you get the chance!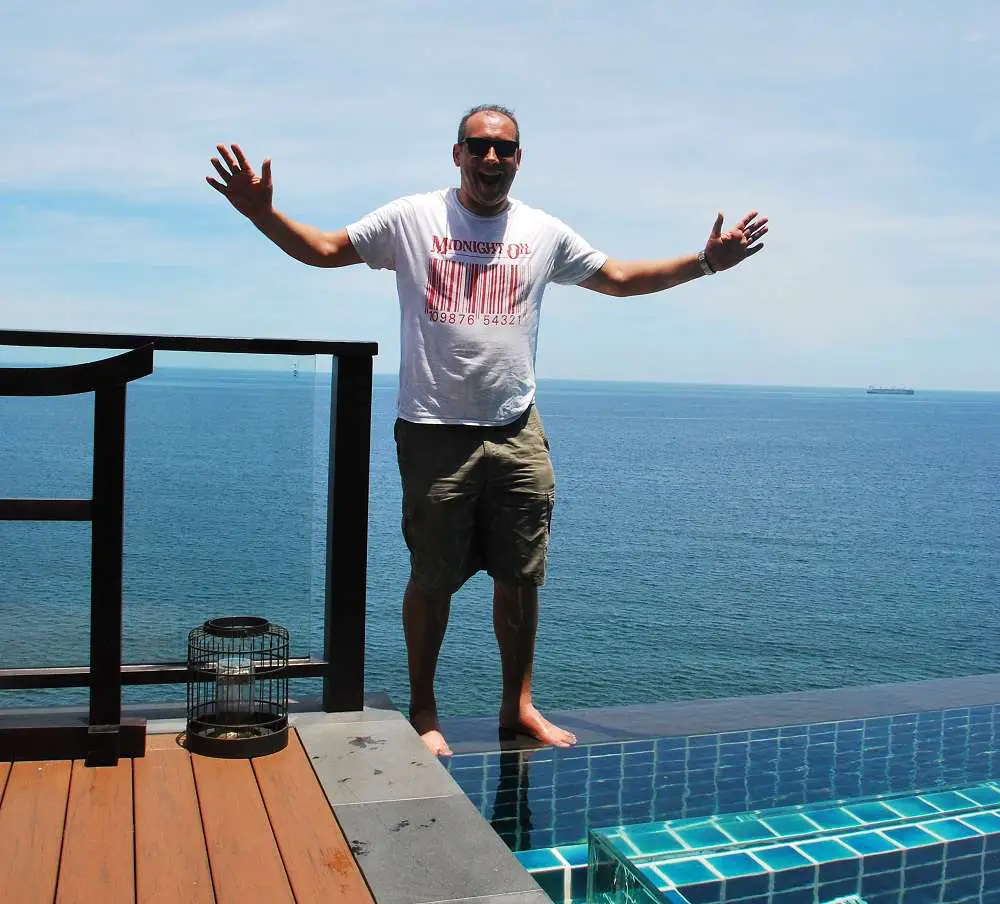 Or if you just want a bath…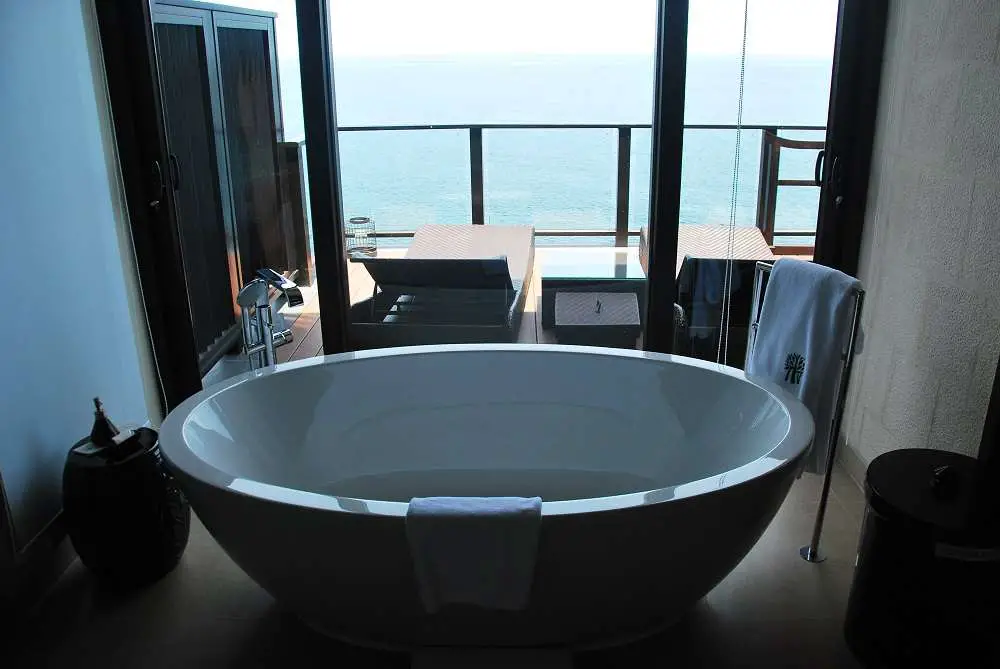 And if you get sick of swimming in your own private pool, there's always the resort pool and the ocean. Why not do all of them? I did!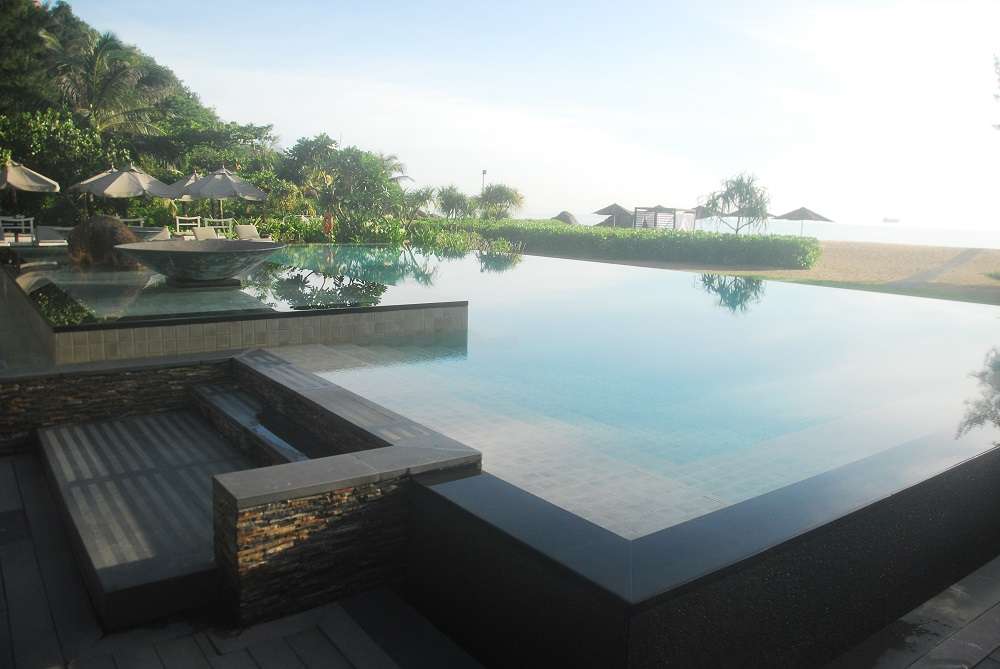 And if you're feeling particularly healthy, there's always yoga on the beach first thing in the morning. Just a word of warning, make sure you find a shady spot because even at 7am, the harsh sun will make you feel like you're about to become vapuourised permanently.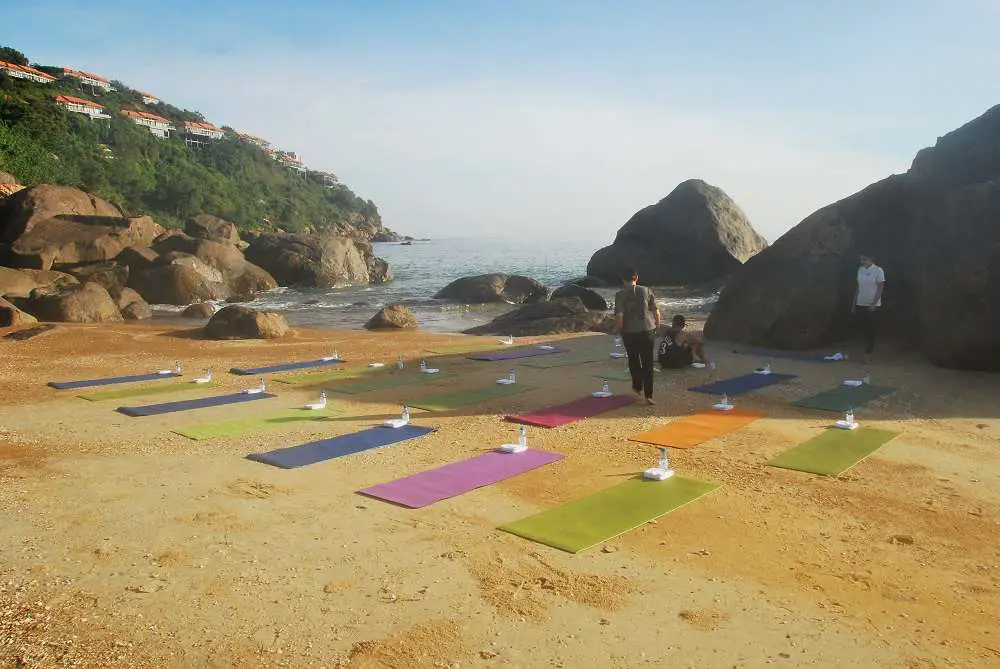 I was a yoga virgin before I went to Banyan Tree Lang Co. I always thought that I'd always 'let one go' in an uncompromising position and it would be so loud that I'd rudely force other yoga participants out of their zen. But I'm glad to report that no flatulence during yoga on the beach was not reported!
I actually didn't mind it as I felt pretty good afterwards and others say that it re-balances you if your feeling out of balance. I'm just an uncoordinated guy who found the stretches to be rather relaxing and I just need to do this a bit more often.
If you're bored with your villas, then there's other things to keep you occupied – like dining at the Saffron hilltop restaurant for intimate dinners, or Azura, a beachfront restaurant that serves up Italian fare featuring fresh local seafood. Or check out Thư Quán for a range of cocktails and other concoctions.
There's a fitness centre if you feel the need to do exercise, otherwise, go catch a spa with a massage to bring your relaxation state to the level of a slug…
Or if you're more of the sporty type, have a hit on the Laguna Lăng Cô Golf Club, an 18-hole, par-71 championship course designed by former champion golfer Nick Faldo, where skilled and novice players like myself can crack a few golf jokes and puns! Plus see the world go by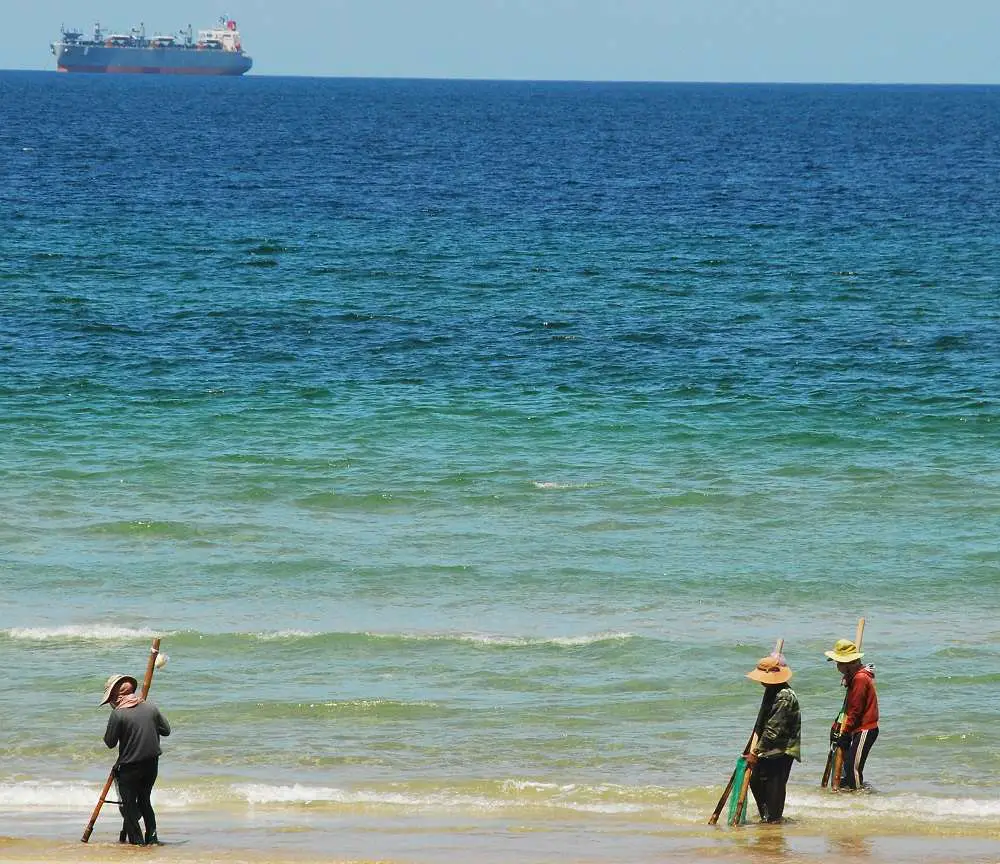 If you're feeling really, really romantic, get hitched in the beach side wedding chapel which accommodates up to thirty people and is definitely way more classy than the Drive Thru Wedding Chapel in Las Vegas! Just hit up one of the event planners and they'll sort it out if you feel like eloping or you just want to have a small gathering.
If you're more of the corporate type, there are meeting rooms available – but sod that, I wouldn't want to be working here! This is not the place for work, which, let's face it, is overrated!
The worst thing about my stay at Banyan Tree Lang Co was that I had to leave after a couple of nights. Nowhere near enough as I had just drifted into relax mode before an early wake up call to catch my flight back home. Boo! I'd come back here and spend my own money!
About Banyan Tree Hotels & Resorts (The Official Blurb)
The Banyan Tree Group is a leading international operator and developer of premium resorts, hotels, residences and spas, with a collection of award-winning brands.
Banyan Tree offers a Sanctuary to rejuvenate the mind, body and soul in awe-inspiring locations around the globe. The Banyan Tree Group manages and/or has ownership interests in over 41 hotels and resorts, 62 spas, 77 retail galleries; as well as three golf courses in 25 countries.
Banyan Tree Lăng Cô opened in 2012 and offers luxurious accommodation with spacious pool villas, award-winning spa facilities, and an array of dining venues. It's located in a crescent bay framed by three kilometre Canh Duong beach on the Central Coast of Vietnam, an area renowned for its spectacular coastline, tropical jungles, rugged mountain peaks and proximity to the country's UNESCO World Heritage Sites, including the cities of Hue and Hoi An along with the relics of My Son.
The resort is easily accessible within a 60 minute car ride from Da Nang
International airport, which has many connections from Tan Son Nhat International Airport (Ho Chi Minh) and Noi Bai International Airport (Ha Noi).
Yes, I was provided this accommodation, but all opinions are my own.