It's funny sign time again, and this one is located at the Cong Caphe coffee shop in Hanoi, Vietnam.
Vietnam is famous for it's coffee. It's one of the world's largest exporters of the drink that keeps most of us awake all day. And of course, there is the ubiquitous Vietnamese coffee that you'll find everywhere across the country.
Of course, there are coffee shops everywhere in Vietnam. I've been to a few there and enjoy the escape from the hustle and bustle of the big city, which usually involves walking across the road in front of thousands of scooters.
Anyway, this is the inside of the Cong Caphe – and it looks like pretty much like a lot of other coffee shops.
The Cong Caphe in Hanoi, Vietnam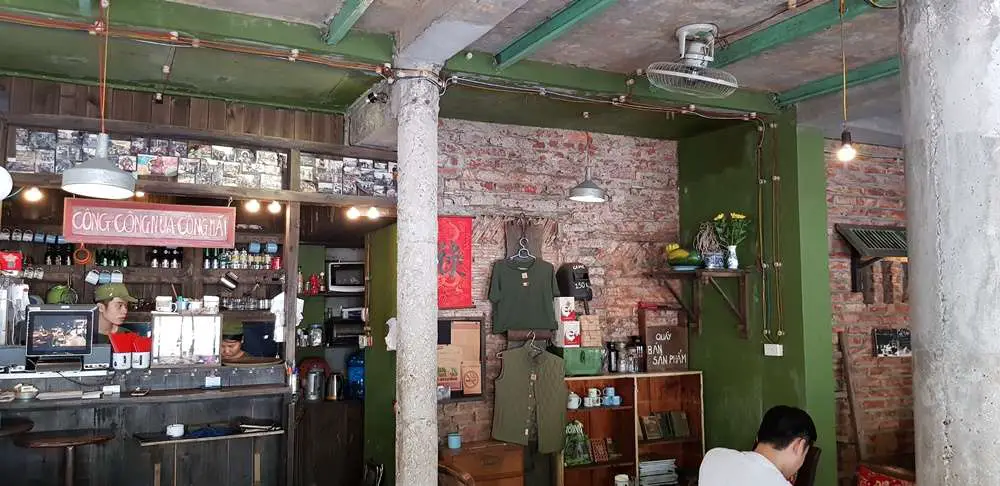 But it's not the coffee shop itself that's unusual. It's the prohibited items sign!
Now, with any sign erected in any place throughout the world, there has been a good reason why it's been erected in the first place. And that reason is because someone has undertaken the prohibited action or brought in the prohibited item.
Which brings me to….
The best funny not allowed signs… ever!
Let's analyse this sign for a minute.
First of all, no marijuana. Ok, fair enough. Maybe someone confused the Cong Caphe with one of the 'Coffee Shops' in Amsterdam where you can have some hooch with your caffeine brew.
Then there are no guns or knives. Safety first! That's all good with me.
No yelling! Well, it's nice that the Cong Caphe has a noise code that's similar to that of a library.
No syringes or shooting up drugs! Too bad if you need an insulin shot immediately. But I'm guessing someone has probably tried to inject themselves with an illicit substance.
And finally, no playing cards, which I'm guessing, is no gambling. Or maybe, you can't play the game, snap!
Fair enough, you need to have standards!
Anyway, for more funny prohibited signs, check out: