No smoking. Check. No littering. Check. But No kissing?
Check!
Well, kissing is just one of the things that aren't allowed on the Yangon public transport system in Myanmar – and it might land you hot water if you decide to show your significant other some public affection.
Anyway, I pilfered this funny travel photo from one of my mates who is travelling around South East Asia. He sent it through to me and he's silly enough to grant me permission for me to feature his offbeat pics on this crazy website that is clogging up your part of the internet.
I'm having a bit of a travel drought at the moment so I'm living my travel fantasies through him right now because I know he's having a great time and I really should be joining him in downing a few cold and crisp Asian beers on a hot a humid day.
He has a similar warped sense of humour to me and he's previously sent me the funny WiFi password that would stump most internet hungry travel bloggers, and the mobile banking (literally) service in Thailand.
Anyway, he was obviously getting out and about checking out the signs and sounds of Yangon when he came across this rather unusual train sign.
The No Kissing Sign at the Train Station!
Fair enough.
I'm glad they don't allow smoking here. I don't really like breathing in second hand smoke so that I can score cancer twice.
And I'm glad they don't littering because there's nothing worse than having rubbish stick to your shoes. It's a downer.
But no kissing? Well, it all comes down to culture.
Check it out!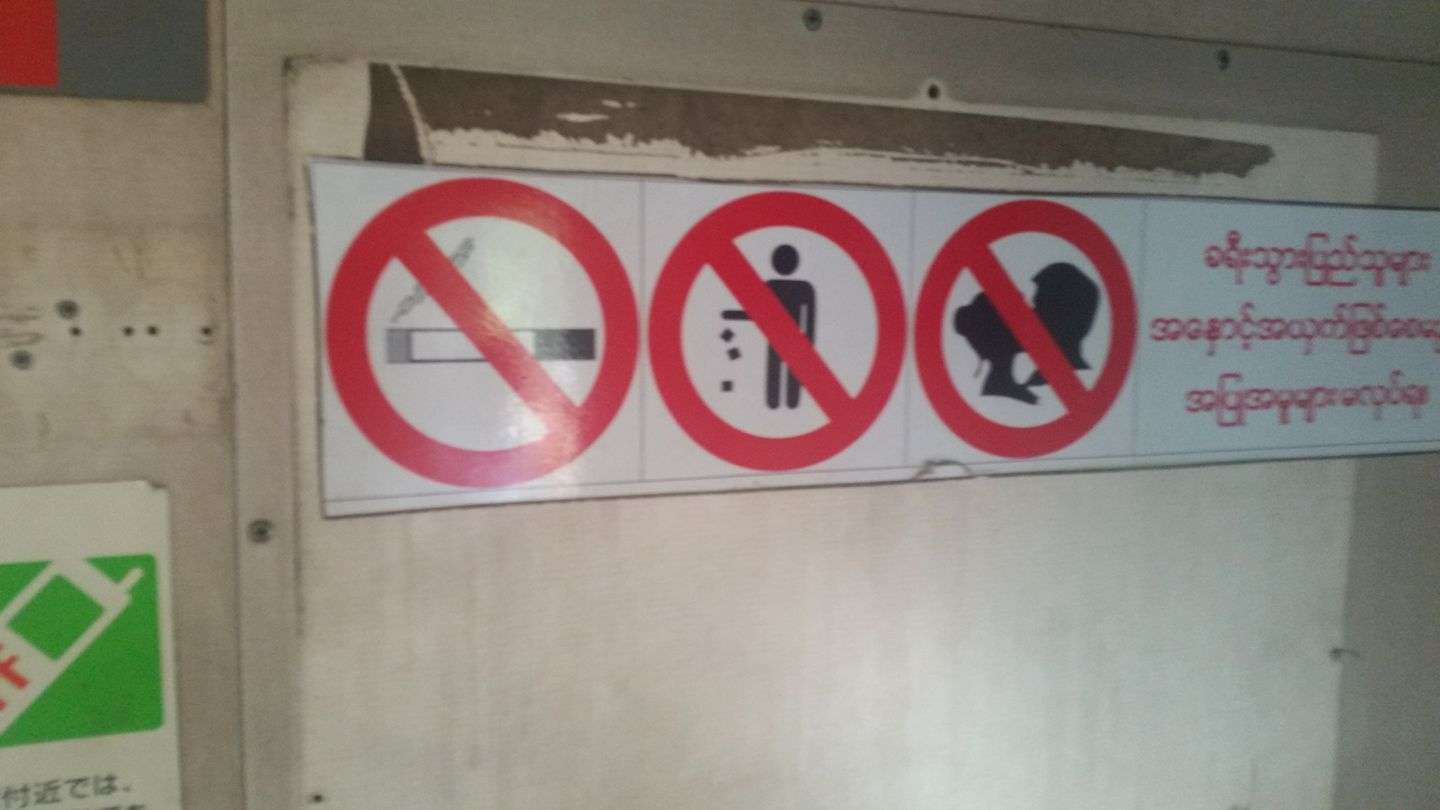 Actually, I agree with the sign – because I really don't want to see people pashing in a crowded public transportation space. I don't want to slip on their (mixed) saliva after they exit the train!
They just need to get a room!
This isn't the first sign prohibiting amorous activities in public places that has appeared on this silly website with dubious useful information. In fact, in some countries, you should avoid public displays of affection as the local law enforcement agencies might have a stern word with you!
Places like the 'Love Scenes are Forbidden' sign in Costa Rica, and the ironic Taj Mahal sign show that you need to watch yourself if you're travelling with a romantic interest!
And like all signs, the reason that they've been erected is because someone's done this before!
So when in Yangon, do as the locals do and don't stick your tongue down someone else's throat on the train!
See more at the World's Busiest Train Station!