It's Japanese Engrish funny signs time!
I really love Japan. There's no other place like it in the world. It's one of the safest places to visit (one of the few countries where I would leave my wallet in my pocket in a crowded market), but it's never boring.
The people there are friend and good fun, and always willing to help out.
But, I love the place because of all of the weird stuff there, ranging from the signs that don't translate very well into English, to the most bizarre things you'll ever see on the planet!
Anyway, some of this 'Weird Japan' clogs up a lot of this website, including:
But today, I've come across a sign that comes from the Japanese ski fields.
I know a lot of people who have gone skiing in Japan and have said it's excellent, and would go back there again.
I'm not really a skier because I have the coordination of a deaf hippo trying to walk across a tightrope, but if I ever manage to miraculously gain some skiing skills, I'll give them a go!
Anyway, here it is!
Funny Signs – Skiing in Japan!
I really have no idea what 'the only things that should be stuck in the snow are ski gear and your own face'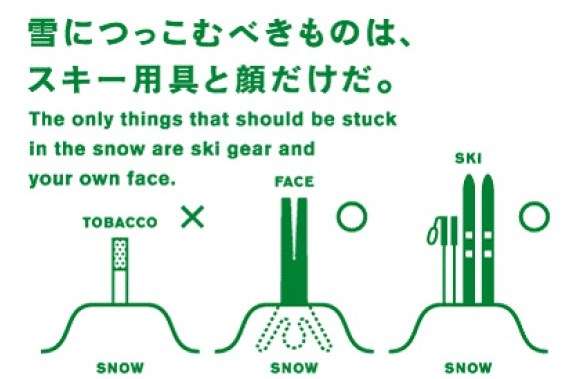 Sure, I've been skiing before and I think my face spent more time on the snow than my skis, but I'm not sure where the quality control and assurance procedures were when this sign was being translated!
Anyway, if you've got more Japanese Engrish gold and funny signs like these, make sure you send them in and I'll be happy to feature them!
Anything to add a bit more laughter to the world!