Today, I have a really bizarre building photo of the truly strange King Kong Building from Melissa who runs Where's The Gos? This is a travel blog that's a bit out there because Melissa carries a cut out head of Ryan Gosling and places it near world landmarks, and often in compromising positions! If you want to say Hi, you can follow Where's The Gos? on Facebook, Twitter, Pinterest and Instagram.
She recently sent me the 'No Bull#*$t' sign from Malaysia.
Anyway, check out this totally bizarre photo that looks like it's from the King Kong Movie. Except, this large primate isn't climbing up the Empire State Building in New York City, but in Asia instead!
The King Kong Building in Tokushima City, Japan – WTF!
This is just plain weird! If I was walking along in the street and spotted this building, I would also be taking notice! I also have no idea who Charley is!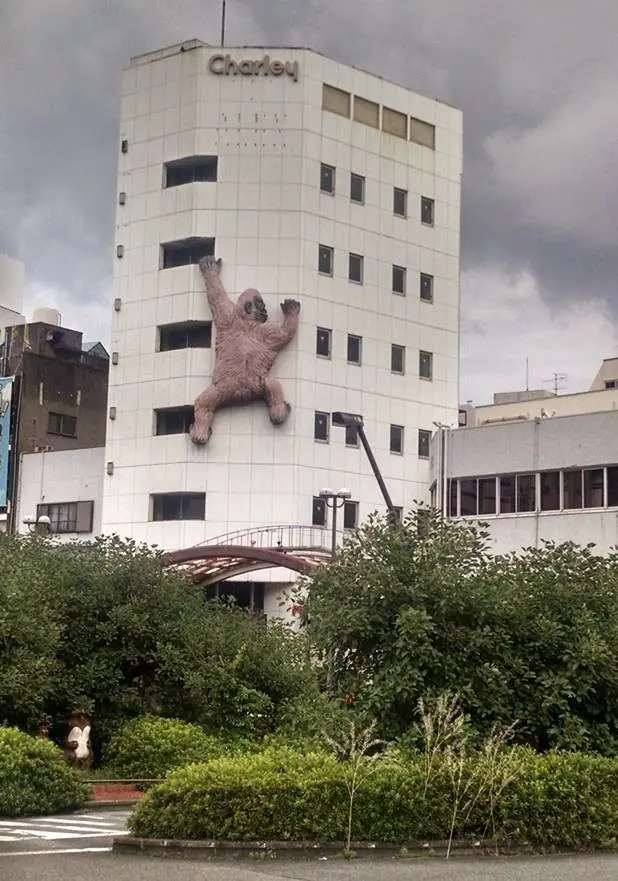 Anyway, Melissa says 'the ape climbing up the building was in Tokushima City, Japan. I have no idea what the building is for but I was just walking along and saw it. I wouldn't at all be surprised if it was just a random thing they had. And the building wasn't even that tall. Not at all a skyscraper which would have been keeping with the fictional story of a giant ape climbing a giant building.'
Ahh Japan! One country I love visiting because there is an endless supply of bizarre stuff that keeps me happy and keeps this site running! I just love the weird and random stuff that is around pretty much every corner in this country that is totally unlike anything else!
And obviously, that includes buildings! This photo almost inspired me to install a large fake ape on the side of my house just because I wanted to, but I couldn't see the local council approving the development application!