Auto Rickshaw – Over engineered or Over weighted?
The Auto Rickshaw is a common site on the streets of India. The Auto Rickshaw is three wheeler motor vehicle used as popular form of Family Transport.  This includes amazing features like transporting entire generations in a single journey in a Motorised Vehicle designed to normally take only 2 passengers.
On first hearing, 3 wheels just sounds so much more unstable than 4 wheels.
I first think of the Blue 3 Wheeled Car that Mr Bean hates with a vengeance.  Here is a funny example from that television series:
[youtube]http://www.youtube.com/watch?v=FMR70aZoJyw[/youtube]
Auto Rickshaws look like a tricycle powered by a lawnmower engine that sounds like it's on it's last legs.  You can read more about them at Wikipedia.  You can also see more about them from ThePlanetD who have travelled to India recently.
But they are a necessity in India, and without them, I would think that it would be a tad more chaotic then it is now. For example, these auto rickshaws are compact and very nonrecoverable (not quite like bus transport), and I think that's why they are indispensable.
I almost want to take one down the world's most dangerous road!
And I also think they work harder than they should be! Throughout the world, there are various Masters of Transport and Logisitcs.
Scooters are a prime example.  Check out these photos from Indonesia – firstly, the Satellite Dish Transporter, and the Family Day Out.
But the Auto Rickshaw is probably the winner when it comes to mass transport – take one to see the Taj Mahal!
Auto Rickshaw Photo
Check out this photo sent to me from a friend of an entire family stuffed into an Auto Rickshaw!
How many family members can you count? I was very impressed.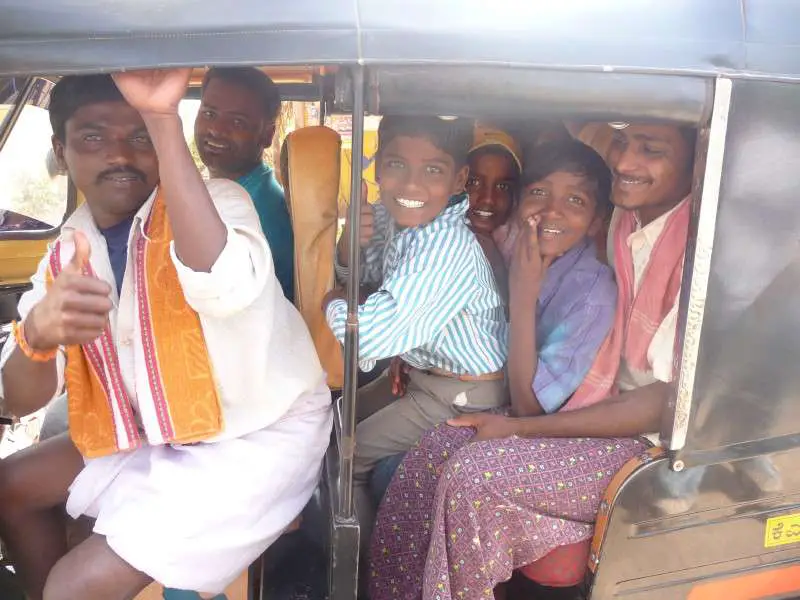 I haven't been to India yet, but I'm going to check it my dodgy travel insurance would cover injuries sustained from riding in one of these beasts (and needing a very quick flight home!).
Probably not.
But this is a fact of life in the third world. While this might seem unusual to Westerners, it's a daily fact of life in India. And good on them, they're doing the best with what they have.
So if you're feeling adventurous, now you can risk your life in an Auto Rickshaw!
See more at Motorbikes for Kids!