I love the wide open spaces. And Africa has them in spades (that's Australian Slang for 'lots'). What I especially like is the wildlife spotting, which has included being next to lions as they roar.
Yes, it totally beats the fluorescent prison called the office!
Today's photo was taken at the camping ground on the edge of the Ngorongoro Crater in Tanzania. Yes, this elephant is not fenced in at all.  Animals freely walk in and out of this rather large hole in the ground and often through the campground, which is completely unfenced.
Yup, go up and pat it!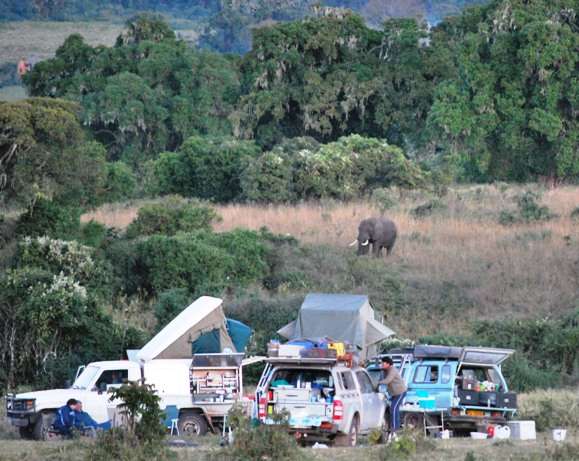 This large elephant walked straight past numerous tents to find some nice lush grass to munch on and didn't seem to care there were loads of humans around watching what was going on.
The crater is located around 180 kilometres west of Arusha, and is actually an extinct volcano and is part of the Serengeti ecosystem. And the best thing about this nature reserve and conservation area is that you can literally watch animals walk in and out of the crater, and past your tent.
And that's what this elephant did! As did some lions during the night who left some rather big footprints outside of my tent! Do yourself a favour and visit the Ngorongoro Crater – one of the highlights of Africa.
Ngorongoro Crater – What Not To Do!
However, try not to make this infamous memorial listing the ways people have died there.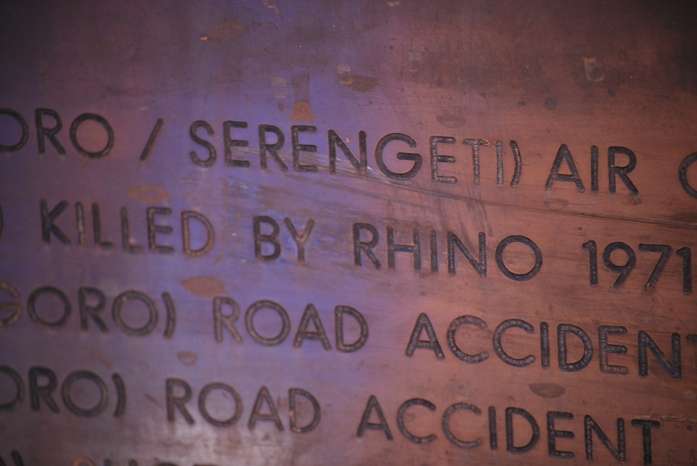 Make sure you get there before you die!
More Ngorogoro Crater and Wildlife Stuff
If you're into wildlife spotting like me, check out Africa's Top Wildlife Countries: Botswana, Kenya, Namibia, Rwanda, South Africa, Tanzania, Uganda, Zambia & Zimbabwe.