Taking photos of the Giza Pyramids in Egypt.  It's a nightmare at the best of times.  Usually, the Giza Pyramids are crawling with all sorts of tourists and wannabe tourist guides, with the touts offering all sorts of things such as Camel Rides – even if you don't want them!
It's virtually impossible to take a photo of the Pyramids without people in the frame.  Photoshop becomes a useful tool sometimes when it comes to tarting up Pyramid images.
However, here is some photographic evidence of how difficult it is to keep people out of shot – that is, some of the enterprising locals who want to offer you a Camel Ride. That's even if you run away from them as fast as you possibly can, shouting that you don't want one! They are very persistent chaps!
Camel Rides at the Pyramids – Almost Impossible to Avoid!
Have a look at this picture below. I waited for ages trying to score a clear shot, as there were tourists everywhere checking out these three dimensional triangles. Once I thought the coast was clear, out came one of the touts on his camel.
See him in the picture? It's one of the locals hailing me down, wanting to know if I wanted to sit on a smelly, farting camel for a cruise around the Pyramids on a Camel Ride.  I couldn't see him until it was too late, and I had already pressed the shutter. This was when I had a film camera, so I couldn't really afford to fire off thousands of shots in the hope that one of them would eventually turn out!
After I had refused the offer of a Camel Ride, this enterprising individual then wanted payment for having him in my photo when I didn't want him there in the first place.
He was dreaming!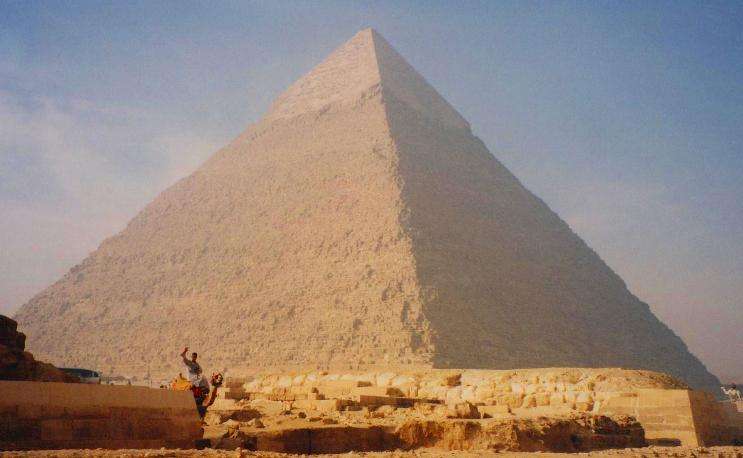 If you're still interested in Camel Rides after this dodgy post, check out Camels, Skulls, and Cobras: A Wild Ride Across India.
Plus I've got a few posts about camels on this silly website. I actually like them because they have loads of character! Check out
For more stuff about pyramids, check out The Pyramids aren't in the middle of nowhere and What Do Egyptian Pyramids Look Like Inside?
For more stuff about Egypt, see:
If you're planning a trip soon, check out my best travel insurance tips, and get a quote on some Backpacker Travel Insurance.