Aswan Egypt – Mini Me Boats!
Once you venture south of Cairo after checking out the Pyramids (even inside them) and down towards Luxor and Aswan Egypt, you will most likely see sights like the unusual Unfinished Obelisk which are worth checking out – because you won't see anything like this anywhere else in the world.
After all of this sightseeing, it's almost mandatory to take a Felucca Cruise on the River Nile near Aswan to check out what's doing on the rather large Lake Nasser. Lake Nasser was formed after the Aswan High Dam was built in the 1970s by the Soviets to help out with electricity generation, flood protection and irrigation water.
Anyway, a Felucca is a traditional style, leaky wooden boat that's actually a nice depature from the normal chaos of Egypt, including some of the Worst Drivers In The World, for which, Egypt takes first place thanks to the number of times I have been subjected to the reckless and insane driving inside a number of barely roadworthy vehicles!
However, this Nile Cruising isn't that unusual – but what is are the numerous 'mini-me' boats you will see on the Nile.
Like these: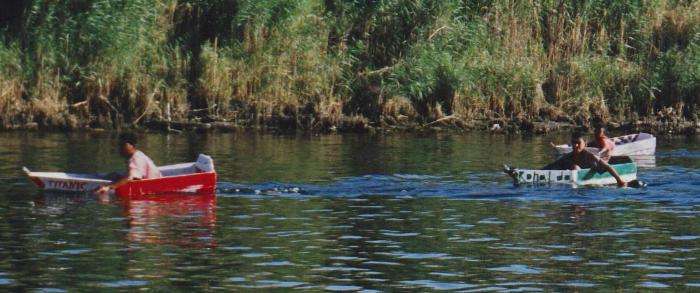 It's actually a group of kids who paddle (using their hands) out to the Tourist Boats, literally 'Singing for their supper'.
They come up to whatever boat that you are in, ask your nationality, and then will sing a song from your country, and in your language.
For example, if you're French, you'll hear 'Alouetta'. These entrepreneurial kids seem to know a song for every nationality that visits the Aswan High Dam. And they do it all day.
Unfortunately, this is what some people have to resort to just to make a living to put some money on the table.
So if you're in Aswan, Egypt, check out the Singing Kids of the Nile.
Check out more at Building World Landmarks – Aswan High Dam.
For more stuff about Egypt, see: