Abu Simbel Temples, Egypt – Larger Than Life Lego!
The Abu Simbel Temples are located near the Egypt/Sudan border, only a few hours ride in a suicidal mini-bus taxi.  They were ordered by the king of all pharoahs, Pharaoh Ramses II.
He must have been an egotistical bugger, as the sole purpose of Abu Simbel was to demonstrate his power and his divine nature to all who sailed the Nile.
This is clearly verified by the four colossal 20 metre-high statues of himself flanking the entrance, obviously outshining any silly portraits of current-day tycoons sitting in lavish mansion foyers.
Abu Simbel Pics
Abu Simbel is shown below: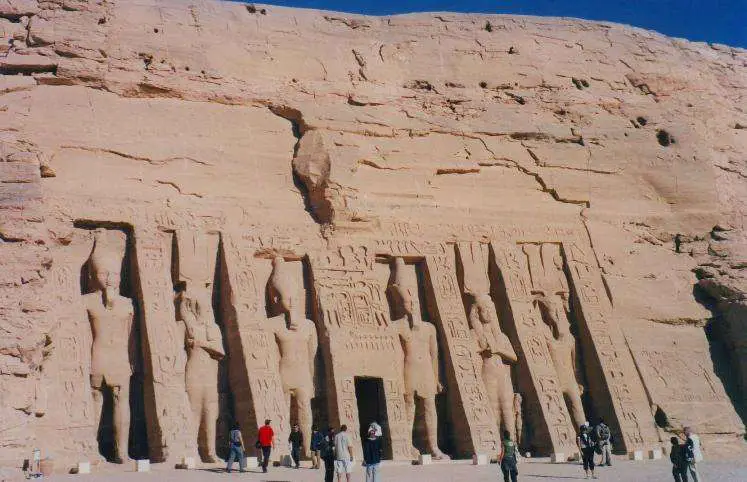 However, not even Ramses II is immune from progress.  The temples were cut from their low-lying rock faces and shifted to higher ground in the 1960s, as the water of Lake Nasser rose following completion of the Aswan High Dam – a project that was funded by the Soviet Union.
The transformation of Abu Simbel to higher ground was probably a greater engineering feat than the construction of the Dam itself.
The temple was cut into equal-size blocks and moved by any transport available and reassembled Lego-style.  If you go there, a grainy black and white video at the visitor's centre will outline the rising waters almost overtopping the makeshift bund that was hastily erected.  However, the Abu Simbel Lego set was dismantled and reassembled in time, before it started resembling an ancient history water theme park.
Whilst the Aswan Dam was a fine example of Soviet Union one upmanship against the Americans, they failed submerging Abu Simbel before it was relocated, unlike later attempts regarding their submarine fleet.
I hoped their dam engineering expertise was better than the experience employed in their Ukrainian nuclear reactors – otherwise, a catastrophic dam failure would have created an instant large wave where one could surf a battered felucca all the way to Cairo and the Mediterranean Sea.
More Abu Simbel Stuff
You can read more at The Mysteries of Abu Simbel: Ramesses II and the Temples of the Rising Sun and Abu Simbel Aswan and the Nubian Temples.
While in Egypt, you can visit the Unfinished Obelisk and go on a camel ride at the Pyramids once you have visited Abu Simbel.
For more stuff about Egypt, see: