Today I have a funny (and sort of rude) travel photo from Megan from Mapping Megan about some funny baboon facts and behaviour! So to speak!
You can follow @MappingMegan on Twitter and on Facebook .
Here it is!
"Tanzania is happy to see you"!
We were incredibly excited to head to Tanzania on safari and explore the Serengeti National Park. We just didn't realise how "excited" some of the animals were to see us!
The Serengeti National Park is probably one of the world's greatest when it comes to game parks. The main attraction for this area is the Great Migration where 2 million wildebeest, 200,000 zebras and 350,000 thompson, impala and grant's gazelles migrate to the Masai Mara Game Reserve in Kenya, relentlessly tracked by some of Africa's most fierce predators. A pretty dramatic and epic scene, this surprisingly wasn't the highlight of our safari!
Nor was the stunning sunset over the endless African plains, nor was spotting all "Big 5" animals of Africa.
No, the most memorable moment of our safari tour was an encounter we had with a Baboon…and we got to know him well! To go on African Safari is a once in a lifetime experience – truly witnessing wildlife in their natural environment. Well, we did see the animals in their natural environment, and we saw EVERYTHING! Including more intimate scenes than we probably expected to see!
This is one of those photos which makes you do a double take…however yes, the baboon pictured is hard…and not overly shy about showing it!
The Baboon Facts Funny Photo!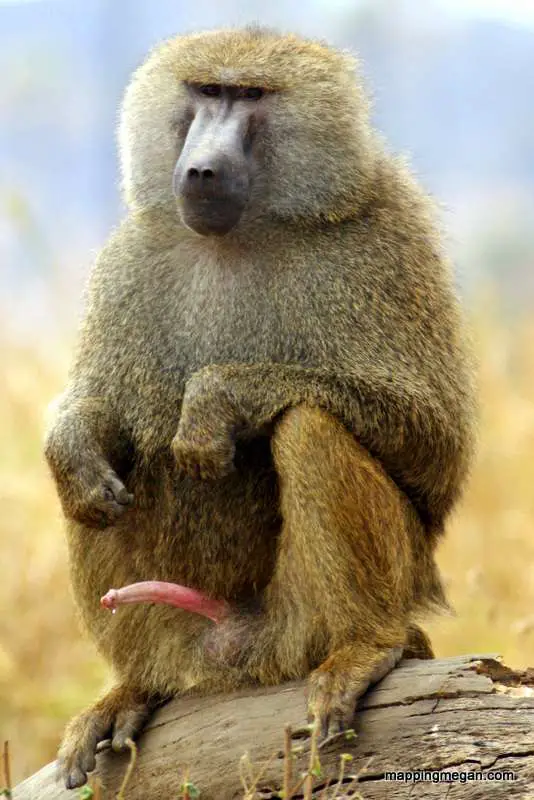 We're not sure if this primate had spotted a female in the distance or if it was just because it was morning, but something had definitely affected him! We're also not sure if taking hundreds of photos for our travel blog technically makes us guilty of producing online porn, but he was definitely consenting…well, he didn't say "no" – that's the same thing right??!
You might think it's sad that this was one of the most memorable moments on our safari, but you know what they say…"small things amuse small minds"…although…not actually that small!