Many of us have grown up with a pet dog in our backyard. In fact, I'm sure there are many fond childhood memories of man's best friend that stay with us forever. One of those is probably trying to train a stubborn puppy to stay focused with a lead so that he doesn't end up underneath the wheels of passing cars. I'm sure we've all tried to find different ways of how to walk a dog, but I've come across a couple of bizarre photos that redefines this!
A while back, I experienced a German Shepherd Dog Training show to see how these dogs are transformed from puppies to the security dogs that keep us safe on the street at night. I would never mess with one of these animals as they're trained to immobilise naughty humans pretty quickly!
Here is a picture of a simulated attack. I even volunteered myself to have a cast removed from my arm by the chomping jaws of these amazing animals. I made sure that the cast was as far away from me as possible!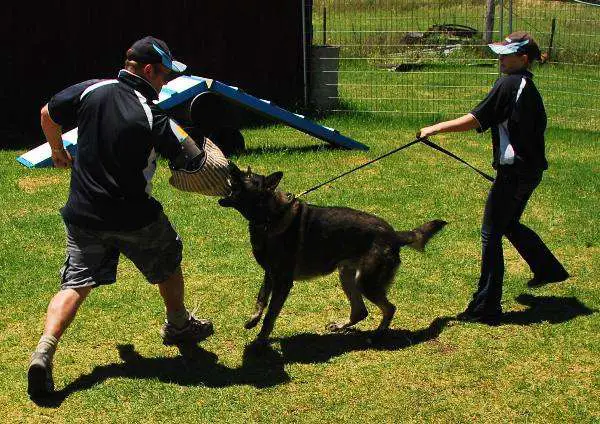 However, in one of those 'did you see that email circulating around' type scenarios, I came across a couple of photos that would put training these law dogs to shame.
Imagine if you're walking along the street and you come across a sight like this:
How To Walk A Dog – Nigerian Style!
To put it mildly, I think I'd 'crap my pants' if I came across this sight. It looks like a guy is walking an African wild animal, a hyena, down the street for protection!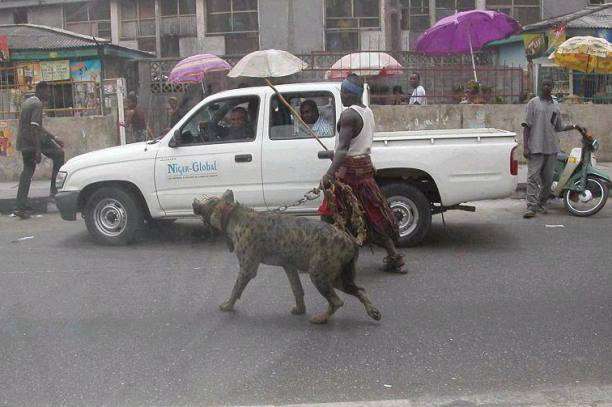 Now I've been on a load of safaris in Africa, for example, Kruger National Park and Phinda Private Game Reserve in South Africa. And the last thing that I would want to be doing with a hyaena is taking it for a walk.
They have the reputation of being scavengers, but they are fearsome predators in their own right and it wouldn't take much for their jaws to peel your flesh away in a few bites. Remember, these are wild animals with wild animal instincts to do whatever comes natural to them, like eat!
Looks like these animals are all pure muscle!
Also, check out this other photo that came in the email – there's nothing like an animal play date with your hyenas and your friends baboon!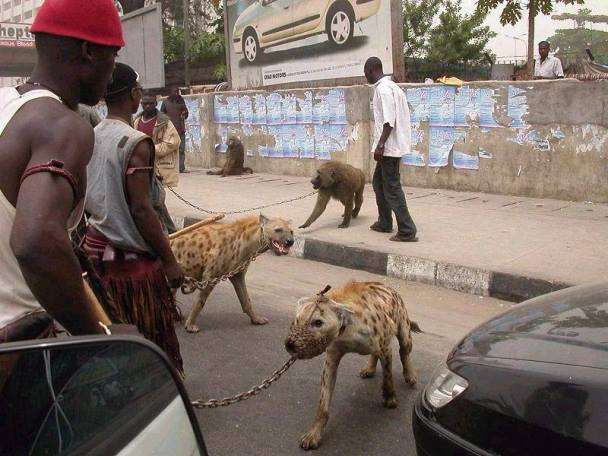 When I first saw this, my first impression was that these pics were completely doctored. But knowing that almost anything goes in many places in Africa, I find this scene believable!
Anyway, anyone who lives or has been to Nigeria, if you've seen guys walking animals down the street that you would normally spot on safari, let me know!
If you're planning a trip soon, check out my best travel insurance tips, and get a quote on some Backpacker Travel Insurance.