Big Five Game Drives – Animals on Tap!
One thing I love about Africa is going on Safari In Africa is to not shoot the Big Five animals with a gun, but instead with a camera. Seeing large animals that can potentially eat you interacting with each other beats checking out solitary beasts crapping in a zoo.
I never become sick of doing the Safari thing. I recently wrote about Six Great Safaris in Africa for Nomadic Matt which illustrates this.
But recently, I went on some Big Five Game Drives at Phinda Private Game Reserve, and as always, really enjoyed the experience.
However, this was my first go at a Private Game Reserve – the other places I've been to have been National Parks, such as Kruger in South Africa, Etosha in Namibia, the Serengeti and Ngorogoro Crater in Tanzania, the Okavango Delta in Botswana, and South Luwangwa Park in Zambia.
The Phinda landscape is shown below: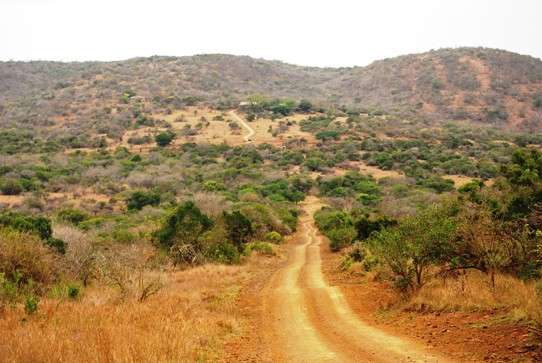 However, Phinda was a bit different for me. The Phinda area used to be farmland, but now it's 23000 hectares of African animal sanctuary (check out The Return: The Story of Phinda Game Reserve). Since the early 1990's the area has been restocked with animals so that Phinda in it's own right is a pretty large conservation area.
But don't be fooled – Phinda is not a big zoo – the animals are wild, and you don't want to mess with them.
Unfortunately, people think that African animals roam free on the landscape. However, a large chunk of reserves or game parks have electric fences surrounding them. This is because the animals' habitat has been slowly eroded over many years, and the aim is to keep the animals from escaping and interacting with humans, and to stop poachers from coming in and interacting with and removing rhino horns.
What I really enjoyed about Phinda was that you had your patch of the Reserve to yourself (I mean your own car!). I've experienced traffic jams in the Serengeti and Ngorogoro Crater, and it's sometimes an Amazing Race to reach the animals before the other 40 vehicles do.
But in Phinda, it's more like this:

In fact, I came the closest to many African animals on the Big Five Game Drives at Phinda than in many other places.
Big Five Game Drive Photos
For example, the Cheetah.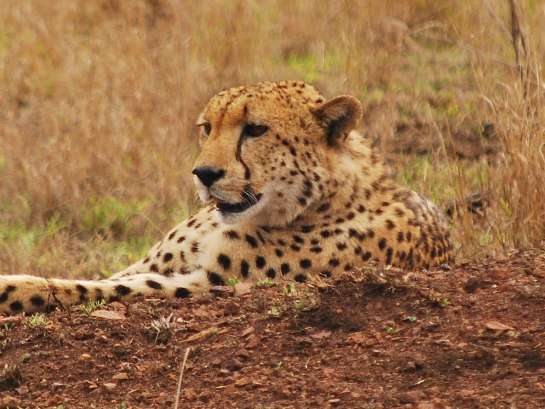 The White Rhinoceros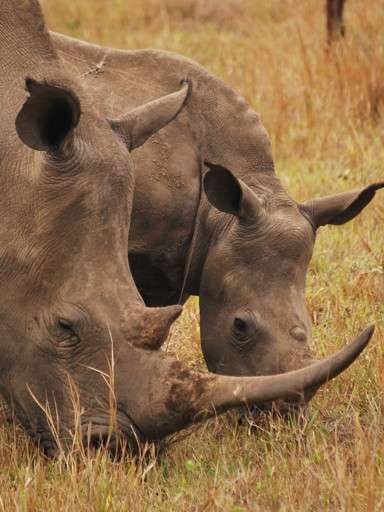 If you feel like it, Walking Safaris are also an option. This is a different experience from the game drive, as the ranger has to read signals from the animal(s) to ensure that you don't end up as a main course.
Note, the gun carried by the ranger is an absolute last resort to one becoming a large clump of cat poo. They haven't had to use one yet!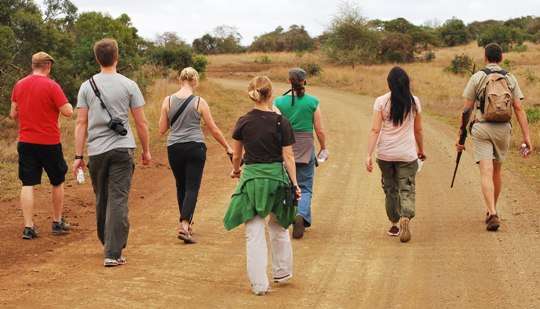 The Game Drives are also educational. Trackers are employed to find all sorts of animals.
While Elephant Tracks may be easy to spot, they give a great indication of how big these beasts can become.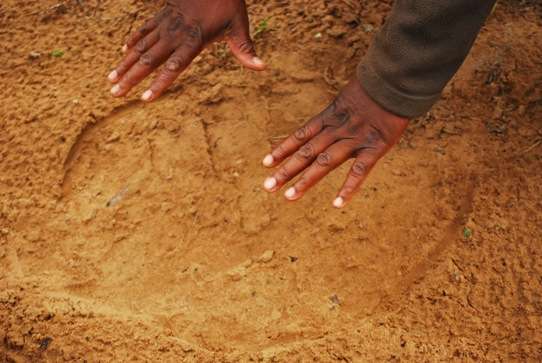 The Big Five are also a big attraction, especially the Big Cats. For example, there is a Lioness with Cubs hanging around Phinda at the moment. And they don't really care that you're in the same spot as them, because they don't see vehicles as a threat.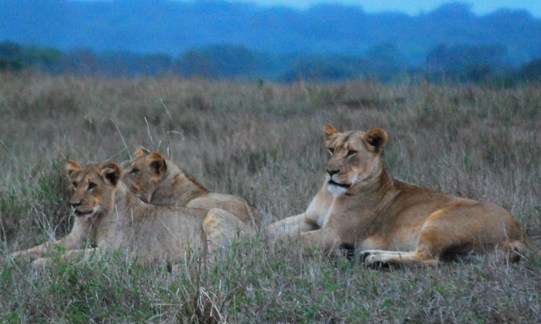 But there's more to animals than the Big Five – seeing animals of any kind is a thrill.
However, I'm used to roughing it a bit with my safaris, and usually resort to the camping option. Phinda is towards the luxury end, but I enjoyed this option, especially having a night barbeque (or braai) so that I could scoff down some very tasty meat.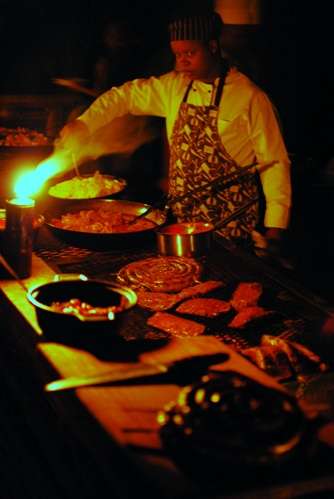 And chill out with a few friends over a couple of glasses of wine or beer.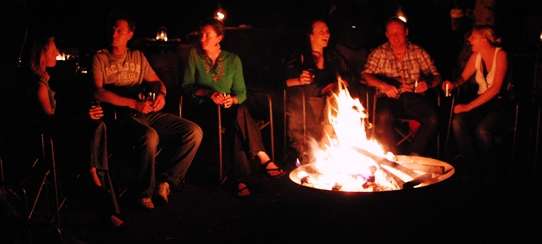 Here is a video I put together of Big Five Game Drives at Phinda, and some of the other stuff you can get up to there.
[youtube]http://www.youtube.com/watch?v=oGiCl3sbM8I[/youtube]
And then one can retire to the very comfy cabins, for example at the Phinda Mountain Lodge or Phinda Forest Lodge. While this is isn't exactly a budget option, it's a different experience I enjoyed, and revenue from the Lodge is channelled into Community Development Projects.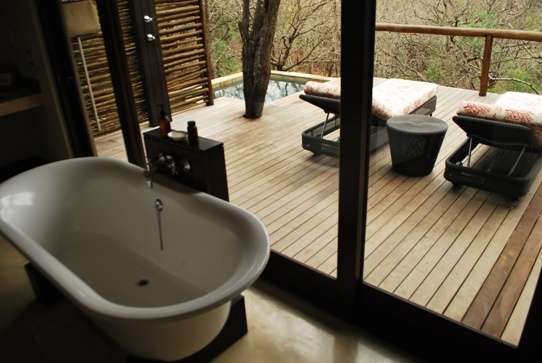 If you go to your room at night, you need an escort to ensure you don't accidentally walk into a large animal!
More Big Five Game Drive Stuff
Check out more at the andBeyond website.