Golf Cart – The Rolls Royce Golf Buggy!
If you get a chance to stay in the Days At Sea Villa on the KwaZulu Natal South Coast, you will be able to try out their offbeat form of Public Transport that is required to transport yourself between the Villa and the main accommodation building – the Rolls Royce Golf Cart!
This Golf Cart even has it's own Rolls Royce front end. It looks a bit silly driving this thing on the main road, but hey, it's a lot of fun. You can even spot monkeys running around on the road if you're lucky.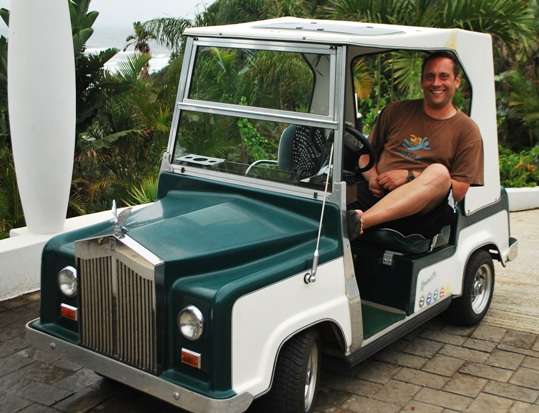 Here is some footage kindly provided by Kelly from Get Lost Mag of the journey. The cart was well driven by Ben Groundwater, and without any accidents to report.
And Ben does say 'show us your blue balls' to the monkey as well..
[youtube]http://www.youtube.com/watch?v=XaH8C9nv3N8[/youtube]
There you go – Golf Cart Madness!
More Golf Cart Stuff
Almost as bizarre as this Golf Cart Seat for your dog!
Read more at my silly Golfer Jokes article!