The photo above was taken at Cape Cross, in Namibia. It's one of the most impressive beaches I have ever seen, and it has nothing to do with whether you can sun bake here or not! In fact, there is no way in the world I would ever want to lay my towel on this beach and take a swim in the chilly Atlantic Ocean. And it's not the cold water I am worried about!
Cape Cross = Big Seal Toilet!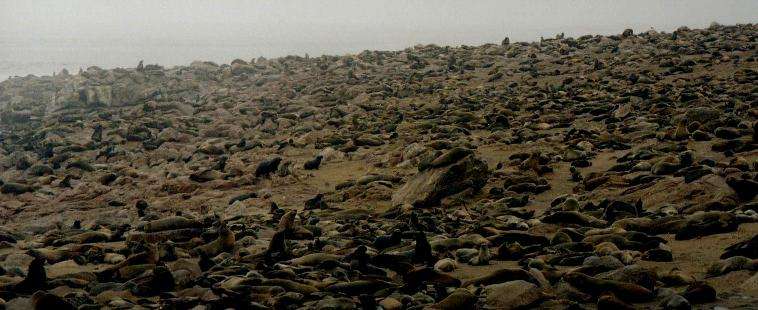 No, that photo you see above is not a rocky beach in the middle of nowhere – those dark lumps are thousands of seals in the one place! Way more than when I went swimming with the seals!
Cape Cross is home to 100,000 seals (yes, that's six figures!), and consequently, judging by the putrid smell I ingested, must be one of the largest collections of seal poo and urine in the world.
The Portuguese explorer, Diego Cão was the first European to land here in 1486 and he erected a cross in honour of the King of Portugal.
In grand colonial fashion, the message left behind by Diego arrogantly stated 'In the year 6685 after the creation of the world and 1485 after the birth of Christ, the brilliant far-sighted King John II of Portugal ordered Diego Cão, knight of his court, to discover this land and to erect this padrão here'.
I pondered that maybe the cross was erected as a monument to the countless senses of smell lost by Portuguese seamen, rueing that the much sought after peri-peri chicken aroma would never grace their nostrils again.
Yes, it's pretty bad!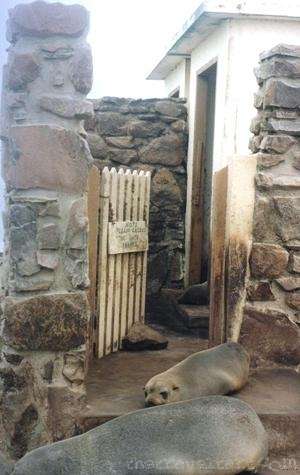 Sure, it's a bit smelly, but nonetheless Cape Cross it's a remarkable collection of Great White Shark bait.
Namibia is a great place to visit, check out more in this book and Scenic Namibia.
More Namibia Stuff:
If you're planning a trip soon, check out my best travel insurance tips, and get a quote on some Backpacker Travel Insurance.