There's nothing that I like more than a clever send up of something famous or popular.
Some of the silly send ups I've featured here previous have included National Geographic, Microsoft Windows, and Mariboro!
Today I found a piss take where I live, in Brisbane Australia – and I might need to add it into my best list of Australian Slang!.
It's about the really popular Marvel Studios movie, Thor Ragnarok which stars Australia's own Chris Hemsworth!
And I'm sure all the ladies out there watched Chris Hemsworth, I mean, Thor Ragnarok because of the fast action paced sequences… 🙂
Anyway, here's the quite funny piss take!
Thor Ragnarok Send Ups – The Thorbab!
Ha ha, when you've got a belly full of beer and you've got the munchies!
Check this out! Nothing like a bit of clever marketing!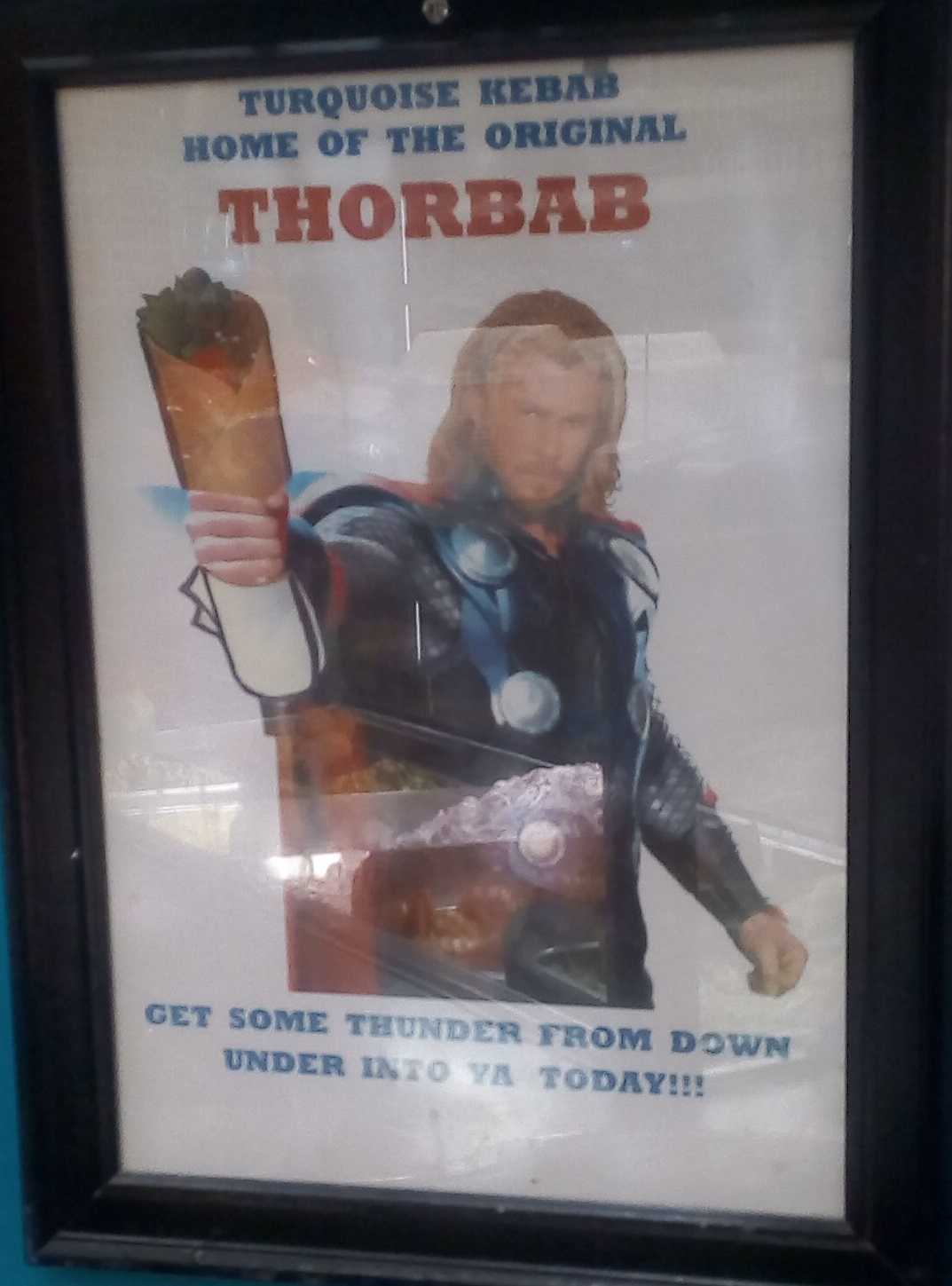 I spotted this funny sign at Turqoise Kebabs in the middle of the Brisbane central business district.
If you're after a decent kebab late at night and early in the morning, check them out at  1/79 Albert St, Brisbane City.
I was out having beers with a mate of mine and there comes that inevitability that I need to have my 'chicken or lamb' sandwich just so that this meal could soak up a fair few pints of amber ale I had consumed that night.
Yes, the kebab is by far my go to for a beer drinking feed, right up there with Currywurst from Berlin.
The reason this funny Thor Ragnarok sign was put here was because part of that movie was filmed in the Brisbane CBD right near the kebab shop.
Needless to say, when word got out that Chris Hemsworth was in town (let's just say he is a pretty popular form of female eye candy all around the world), the whole place was packed with spectators watching him do take after action take for the movie.
I'm guessing that Turqoise Kebabs would have done a roaring trade based on the large increase of foot traffic past it's store!
I'm not sure if Chris Hemsworth dropped in to have a big kebab feed before, during or after filming, but this most likely permanent tribute to him is going to be up on the wall for a while!
Eat up! See more at Weird Things To Do in Queensland!
If you're planning a trip soon, check out my best travel insurance tips, and get a quote on some Backpacker Travel Insurance.