One of the best things about travel by far is chowing down on the food that you come across. I love nothing more than being drawn towards the aromas of a street cart somewhere that's cooking some tasty meat over some fiery charcoal.
Yes, sounds primal like a cave man, but there are just some primal needs that just have to be satisfied.. 🙂
While most of this silly blog focuses on the really weird food from around the world, I'm also a bit of a foodie and love experimenting with recipes from all corners of the globe to fill up my stomach (and contribute to my one pack) and by making loads of people happy when I ask them over for dinner.
So, I've come up with a tasty recipe that is a vegetarians worst nightmare. It's called Tarzan Lamb, or I deem it as THE BEST ROAST LAMB RECIPE EVER.
And because I'm a really nice guy, I'm going to share this roast piece of joy with everyone in the world!
The unusual thing about this recipe is just how much stuff that you need to stuff into it!
I've cooked this a gazillion times and it's never failed to satisfy everyone who has eaten it. I've even impressed New Zealanders (they love their lamb as more than food..) who also really rated it.
I reckon this recipe would make previous chef interviewees on this blog like Rick Stein, Bill Granger, Sally Lynch, Matt Golinski and Hayden Quinn salivate!
Anyway, here it is.
The BEST Roast Lamb Recipe Ever!
My version of Tarzan Lamb is actually a fusion of two recipes. It's really, really easy to do and it's a total crowd pleaser! It's a blokey recipe I've adapted which is South African and Asian in origin.
Doesn't sound like it mixes, but it does!
It's the ugliest looking roast, but it's the tastiest! Here's my step by step guide.
1. Buy 1 leg of lamb – 2.5 to 3 kg
Yes, it needs to be this big because you'll be feeding an army of hungry people who are about to chew their arm off because they're that hungry.
You'll need to obtain the following bit of roast stuffing/ingredients and chop up into large chunks:
5+ shallots (spring onions)
10 large sprigs of rosemary,
1 whole bulb of garlic
5-10 cm long piece of ginger
A handful of mint
A handful of oregano
1 lemon
1 chilli
Sweet soy sauce of some sort
The ingredients are shown visually below.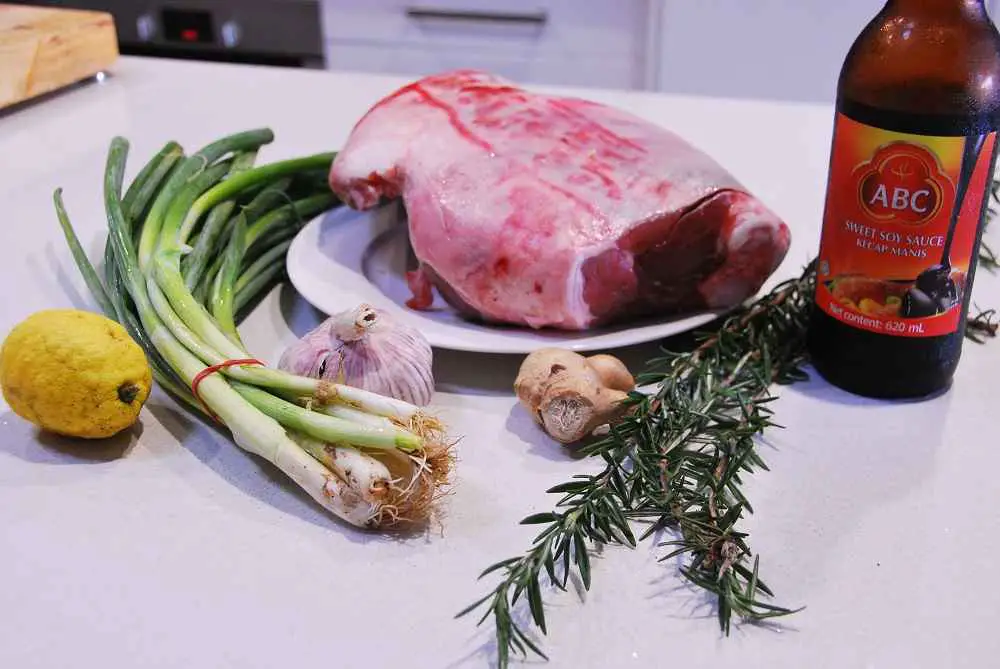 2. Marinate The Meat
Flood the meat via an injector with either Japanese Sweet Soy, or something similar like Kecap Manis. I use a whole 600ml bottle for 1 leg.
Stab the leg like a voodoo doll. Using the meat injector makes the flavour spread throughout all of the meat and makes an enormous difference to the taste.
View the cost of the meat injector as an 'investment'. You won't regret buying it!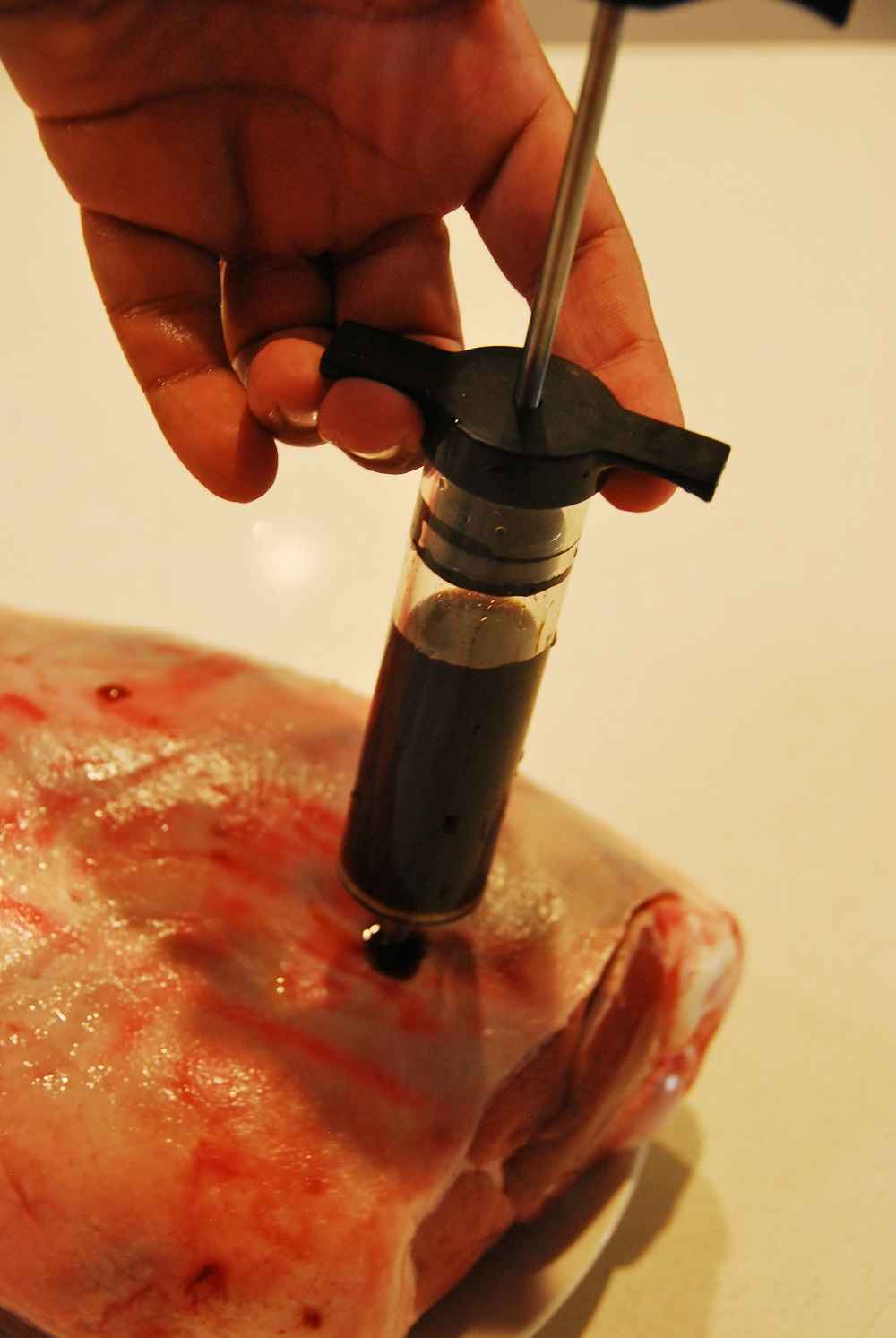 3. Stuff leg of lamb silly with: garlic, ginger, shallots, mint, rosemary, oregano, and chilli.
Yes, ugly is beautiful! It really doesn't matter where you stuff these ingredients. Shove different ones down a hole, or spread them around evenly.
The aim of doing this is like having different flavours all throughout the roast.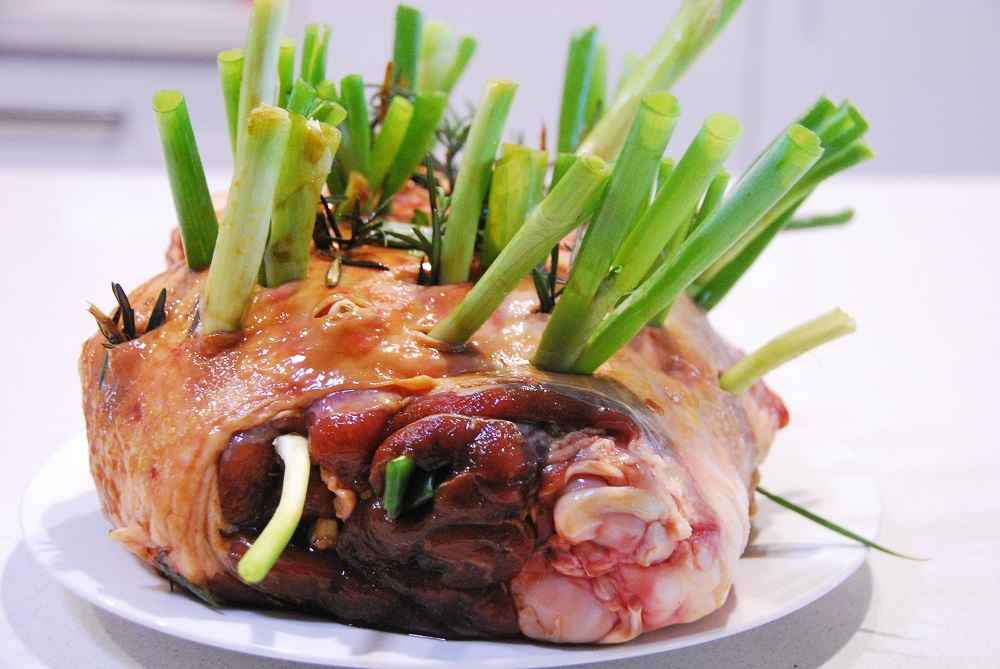 4. Squeeze 1 lemon all over leg of lamb
The acid helps transport the flavour into the meat and sort of 'pre-cooks' it.
5. Cook using charcoal. It's the best way!
The original recipe suggests stringing the lamb leg up on a tree and cooking it over a wheelbarrow full of hot coals for over 7 hours, rotating constantly. Hmm… roast meat!
Since most of us don't have 7 hours to cook up one meal, I improvised by cooking the Tarzan Labm in a charcoal Weber kettle – 50 heat beads (25 each side), and cook it to medium at 1 minute per miliimetre thickness of meat.
I also smoke it with oak pellets infused with rosemary and thyme.
If you don't have a charcoal Weber, just adapt for a gas BBQ or electric oven, at 180 degrees and cook until you like it the way you normally serve lamb such as rare, medium rare. I personally like it medium.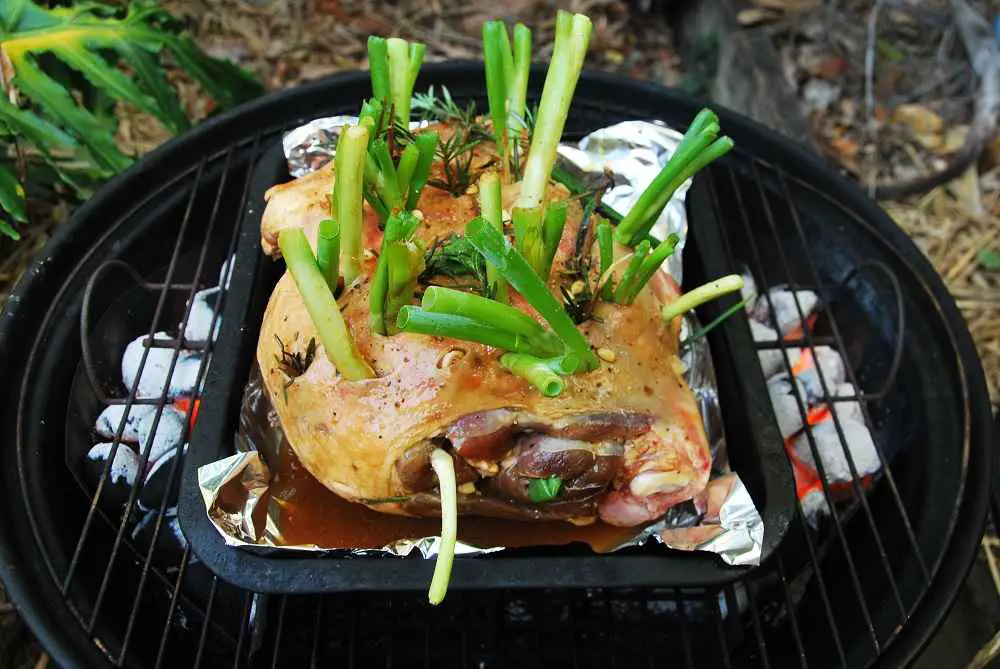 6. Eat like a caveman/woman.
Let the leg rest for around 10 to 15 minutes, and then carve it up and watch the hordes of hungry people line up for a feed they'll never forget!
You get a different flavour depending on what part of the lamb you eat – or if you mix it all together, you'll get an explosion of tastes in your mouth.
Believe me, it just works!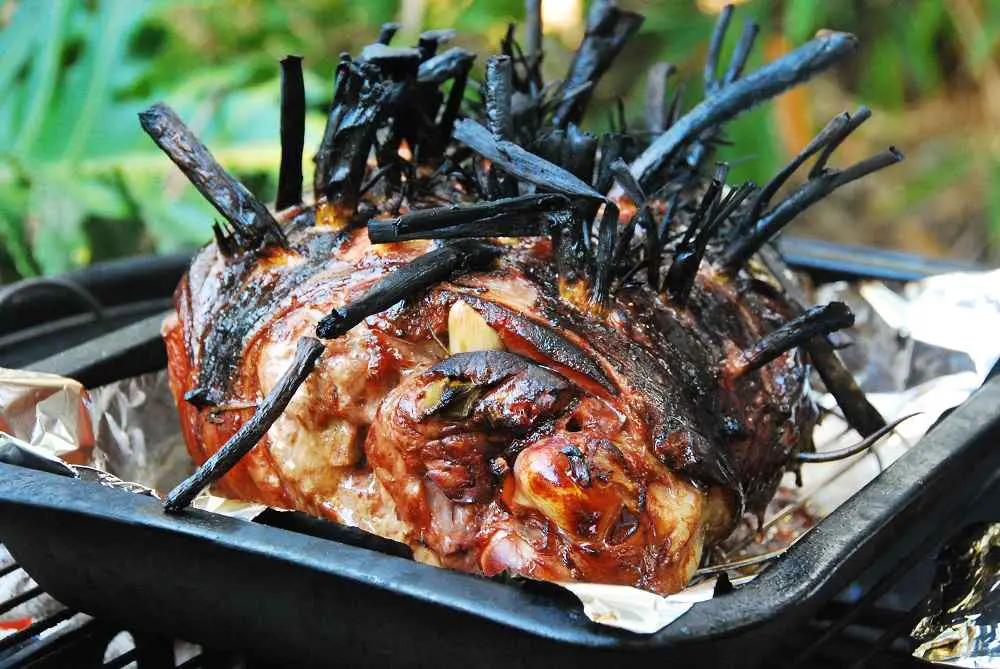 Yummo! Yes, travel definitely does wonder for your recipe repertoire!
Let me know how you go when you cook this.
You won't regret it! 🙂
More Food and Drink Stuff: