Check out this bloke doing the Flight Attendant Rap – he's hilarious!  This clip has been circulating around on YouTube and shows an inventive South West Airlines flight attendant providing his own interpretation of the mandatory pre-flight announcements.
You probably won't hear this on a private jet!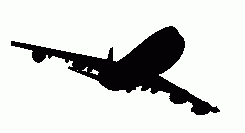 It's so good, you can dance to this!  The words are placed after the clip so you too can do The Flight Attendant Rap!
Yo!
The Flight Attendant Rap Words
This is flight 372 on SWA
The flight attendants onboard serving you today
Theresa in the middle, David in the back
My name is David and I'm here to tell you that
Shortly after takeoff, first things first
There's soft drinks and coffee to quench your thirst
But if you want another kind of drink then just holler
Alcoholic beverages will be four dollars
If a Monster energy drink is your plan
That'll be three dollars and you get the whole can
We won't take your cash, you gotta pay with plastic
If you have a coupon, then that's fantastic
We know you're ready to go new places
Open up the bins and put away your suitcases
Carry on items go under the seat
In front of you so none of you have things by your feet
If you have a seat on a row with an exit
We're gonna talk to you so you might as well expect it
You gotta help evacuate in case we need you
If you don't wanna then we're gonna reseat you
Before we leave, our advice is
Put away your electronic devices
Fasten your seatbelt, then put your trays up
Press the button to make your seat back raise up
Sit back, relax, have a good time
It's almost time to go, so I'm done with the rhyme
Thank you for the fact that I wasn't ignored
This is Southwest Airlines, welcome aboard.
Flight Attendant Rap – he's doing it probably because he's bored!
This guy's cool, but he's tame compared to this book – Plane Insanity: A Flight Attendant's Tales of Sex, Rage, and Queasiness at 30,000 Feet.
For more plane related silliness, check out: