It's Funny Travel Books Time!
As you might have gathered, the Travel Tart blog is a fairly silly collection of travel snippets from around the globe. Funnily enough, my taste in Travel Literature leans towards the funny, offbeat and downright hilarious.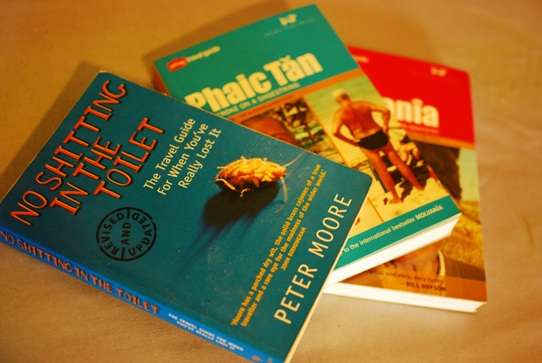 Hence, I've compiled a list of my all time favourite Funny Travel Books below. I found these Funny Travel Books to be great reads, and a great distraction from the everyday grind.
These novels and memoirs are listed below in no particular order.
Here we go.
1. No Shitting In The Toilet – Peter Moore.
The title is inspired from an actual sign – and I must admit, is an attention grabber.  The book is a series of travel realities that are laugh-out-loud, but they are all so true.  I can relate to all of these Funny Travel Tips Peter talks about.
Favourite bit: Accommodation – The Top 10 Shitholes.
2. The Wrong Way Home – Peter Moore.
This is my favourite journey piece from Peter.  He needs to travel back home from London to Sydney.  Instead of taking a plane, he decides to travel the entire distance overland and takes him about 8 months or so.  Remember, that's half way around the globe without taking a flight.  I can relate to Peter choosing the Tight Arse option of transport all too well!
Favourite bit: Undertaking AK-47 gun lessons in Taliban Afghanistan.
3. Playing The Moldovans At Tennis – Tony Hawks.
This Funny Travel Book is a result of a drunken bet.  Tony is watching England play Moldova in a soccer World Cup qualifier.  He bets with his mate that he can beat the entire Moldovan Soccer Team at tennis.  Tony then trys to track down the entire team in Moldova, and wherever else they live to play tennis.  If he loses, he has to do a striptease at his local pub.
Favourite bit: His mate substituting one of the Moldovan soccer players with a crack tennis player to ensure Tony doesn't win the bet.
4. Where's Wallis? – Brian Thacker.
This Funny Travel Book is pretty much throwing a dart at a world map and travelling there without a guidebook.  Brian attempts travelling in west Africa, Wallis and Futuna (some islands somewhere in the Pacific) and Kyrgyzstan without taking any guidebook whatsoever, making sure he's totally unprepared.
Favourite bit: Meeting the old Frenchman 'Blanc Blanc' the sex tourist in Western Africa.
5. Molvania – A Land Untouched By Modern Dentistry.
This is where Lonely Planet meets Monty Python.  Basically, it's a satirical guidebook about the fictional country of Molvania, which I think is located somewhere around the Eastern European region.  The book is structured like a guide book, but the text is a complete piss take.
Favourite bit: The 'How To Get There' description. 'Most people get to Molvania either by air and by accident.'
Some of these authors also appeared in my 52 Offbeat Travel Tips!
Funny Travel Books – How About Yours?
Anyway, I highly recommend you reading these Funny Travel Books from some of my favourite Funny Travel Writers.
I guarantee that if you have a sense of humour, you will experience some good belly laughs.
So get out there and read some stuff on Funny Travel! If you've got an suggestions for other Funny Travel Books, fire away!
See more at Travel Books with a Laugh, Lonely Planet Guides and Best Travel Books.