Today, I've put together a list of 100 of some of the Best Travel Books that I've come across that have inspired me to have itchy feet and take off travelling somewhere.
These are the ones that I've come across personally (or have been recommended to me), and they're not necessarily My Top 5 Funny Travel Books or more Travel Books With a Laugh, but worthwile checking out depending on the particular aspect of travel you are interested in. Everyone has different tastes, so hopefully there's something here for all of you!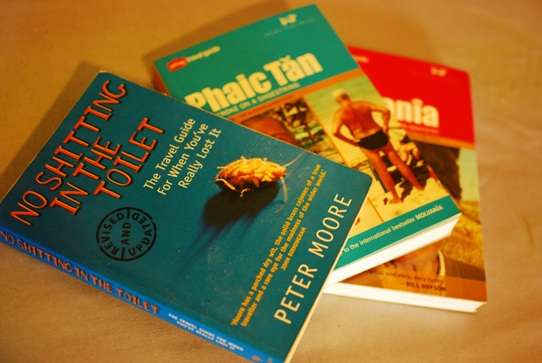 The Best Travel Books – so far!
These 'Best Travel Books' range from Travel Literature, Travel Photography, Coffee Table Books, to Lifestyle Design and Travel Memoirs.
Here you go – some of the Best Travel Books out there! In no particular order!
Travel Humour
Lifestyle Design
Motorbike and Bicycle Trips
Women's Travel
Travel Writing Guides
Air Travel
Where to Go Travel Guides
Food
Offbeat Travel
Travel Photography
Travel Memoirs
Road Trips
Old School Travel
Americana Travel
Travel Tips
Travel Television Series
The Best Travel Books of All Time – What Are Yours?
How about you – are there any Best Travel Books that aren't on this list that you'd like to suggest?
If so, feel free to leave a comment and leave your Best Travel Book Suggestion!
If you're planning a trip soon, check out my best travel insurance tips, and get a quote on some Backpacker Travel Insurance.