Here's one that's definitely from the 'What the hell?'files! And it's about the offbeat topic of funny bath displays!
And if you're looking for a new bath tub because you're doing some renovations to your house, well you might have – sort of – maybe come to the right place!
I remember doing the renovation thing and checking out the plumbing and bathroom shops – checking out the multitude of fittings, gadgets and other stuff you can blow your money on so you can wash yourself down at the end of the day.
But this bath display really caught my eye – because I've never seen anything quite like this before!
This photo was taken by one of my mates in the Central Queensland town of Clermont in Australia. He has a similar sense of humour to me (we talk to each other in Australian slang) and appreciates the weird shit in the world! Like the f*%$ the rent beer.
I'm not sure exactly why he was in this particular shop, but hey, it's ended up on this rather silly Australian travel blog and I have him to thank for this little nugget of gold.
Funny Bath Displays – Huh?
Looks like someone dumped a blow up doll in the bath and filled it full of cotton wool!
I hope the doll wasn't 'pre used'…
I like the nice touch of the three little ducks on the edge!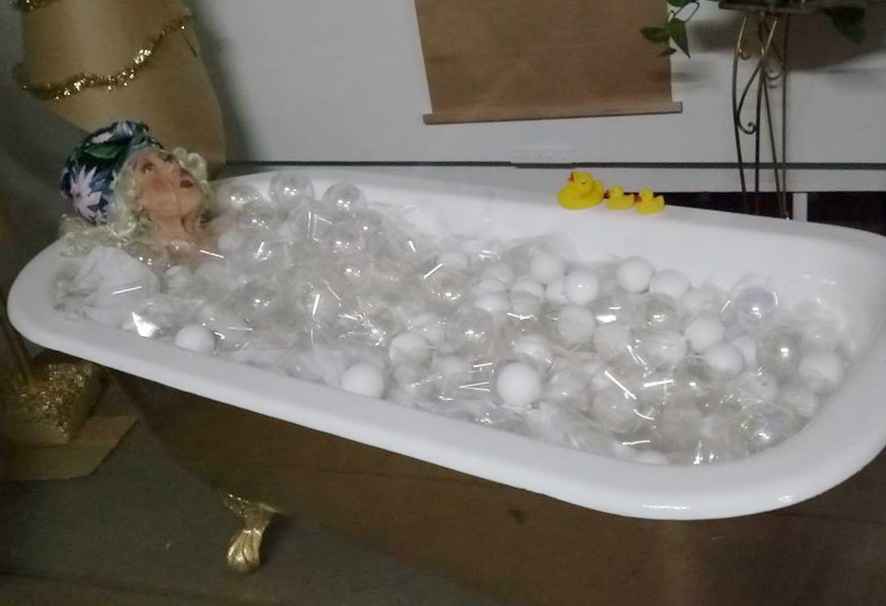 I mean, I think we all know what a claw foot bath is used for. I guess it's stating the obvious, but this bizarre display is actually cool just because it's different and just downright weird!
Not that I'd want to spend time recreating something like this. Not even in my bath tub!
And that includes the blow up doll for the jokers out there!
For more silly bath related content, check out the plastic box bathtub.
If you're planning a trip soon, check out my best travel insurance tips, and get a quote on some Backpacker Travel Insurance.