It's travel app time!
There's all sorts of travel apps out there that tell you where you should go and how you should visit X, Y, and Z. I'm not really into them, but here is something that's a little bit different when it comes the travel and tech.
It's the Crooked Compass app – which helps you find weird places to sleep! And I'm not talking about bus station floors like I've experienced in the past!

The Crooked Compass Travel App is full of rare experiences that many travellers have not heard of before (including myself) and covers 134 countries and 11 categories – from unique accommodation, adrenaline fuelled adventures, animal encounters, eating like a local, festivals and many more.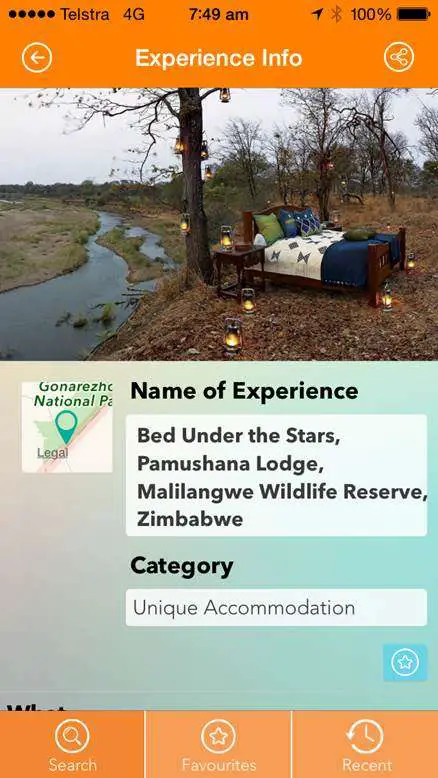 Some examples that come from the app include the weirdest places to stay overnight which I'll cover today, unique places to eat and unusual animal encounters.
I'm always up for staying somewhere weird. Anyway here they are and I'm keen to give these a try myself!
The Weird Places To Stay Travel App!
Check out these weird places to have a snooze, plus some descriptions and how to get there! Lisa from Crooked Compass kindly sent me this very detailed information about each place.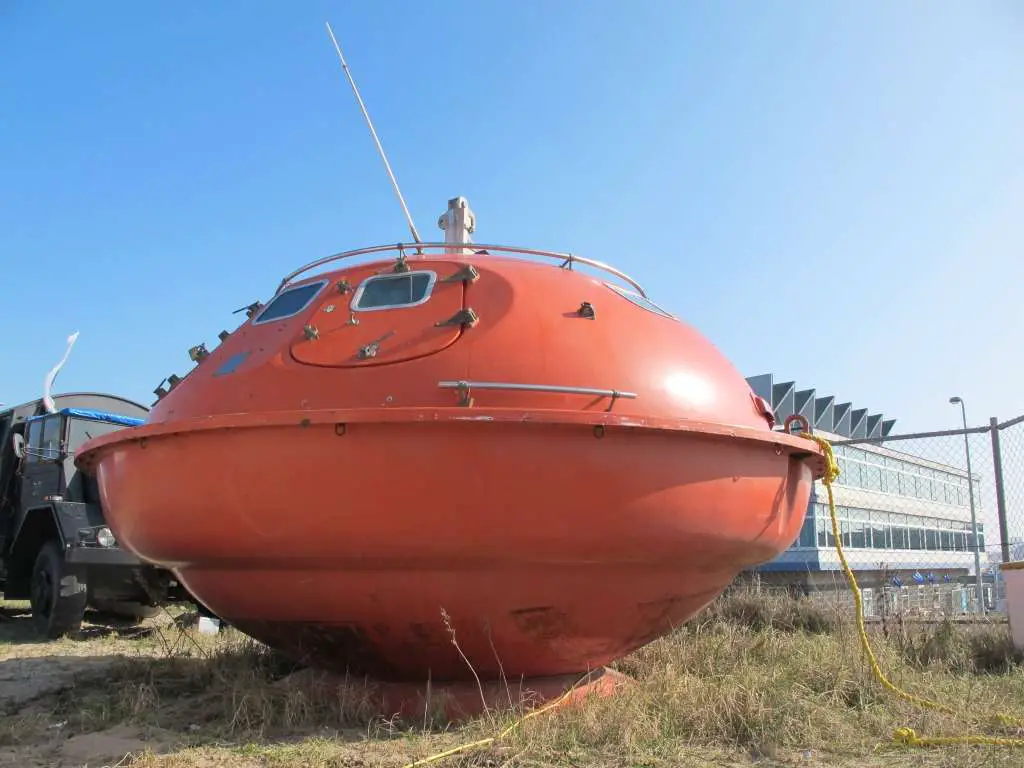 | | |
| --- | --- |
| Name of Experience | Oil Rig Survival Pod, The Hague |
| What | Available by prior agreement for special occasions only, these former survival capsules in The Hague further consolidate The Netherlands' reputation for having the world's largest collection of bizarre hotels.  Kitted out with lights, a survival suitcase and sleeping bags and guests can choose between simple hammocks or a normal bed in their pods. Some of the more luxurious designs contain a water boiler and, bizarrely, karaoke sets.INSIDERS TIP: The creator of the oil rig even fitted one out with a James Bond theme – like the one featured in the film The Spy Who Loved Me. |
| When | Year round |
| Where | Scheveningen, 2586 JK, The Netherlands |
| How to get there | Train and buses service the area, alternatively, private transportation is the most convenient mode of transport. |
| How Much | Starting at 60 euros per night |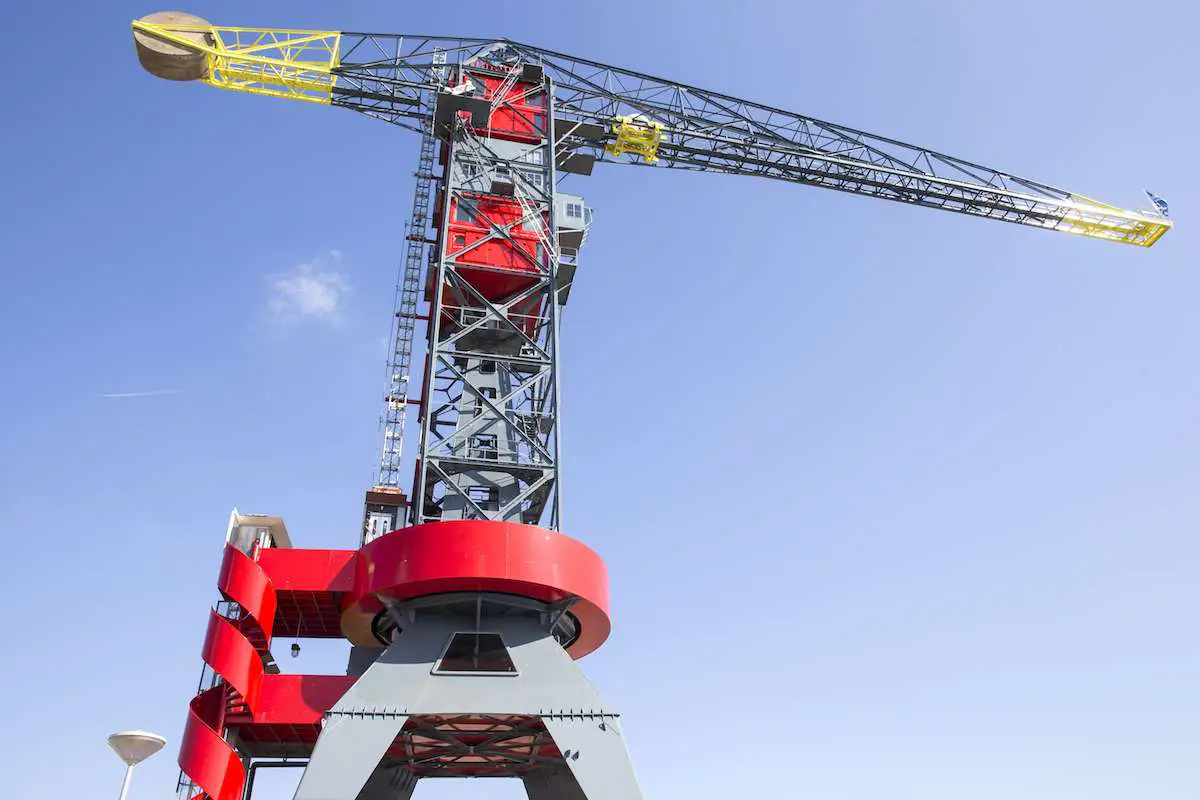 | | |
| --- | --- |
| Name of Experience | The Crane Hotel, Amsterdam, Netherlands |
| What | This is a genuine dockside crane which has been the recipient of intelligent engineering and dedicated devotion rarely seen in a private home – let alone in a hotel property. Replacing the external ladders with modern lifts to gain entry, the old machine room in the body of the crane has been transformed into a luxurious bedroom that would not be out of place in the most modern of design hotels.INSIDERS TIP: Super cool hotel, but not for those who are afraid of heights. |
| When | Year round |
| Where | NDSM Plein 78, 1033 WB Amsterdam, Netherlands |
| How to get there | Simply just in a taxi from Central Station |
| How Much | The price for a suite starts from € 435 |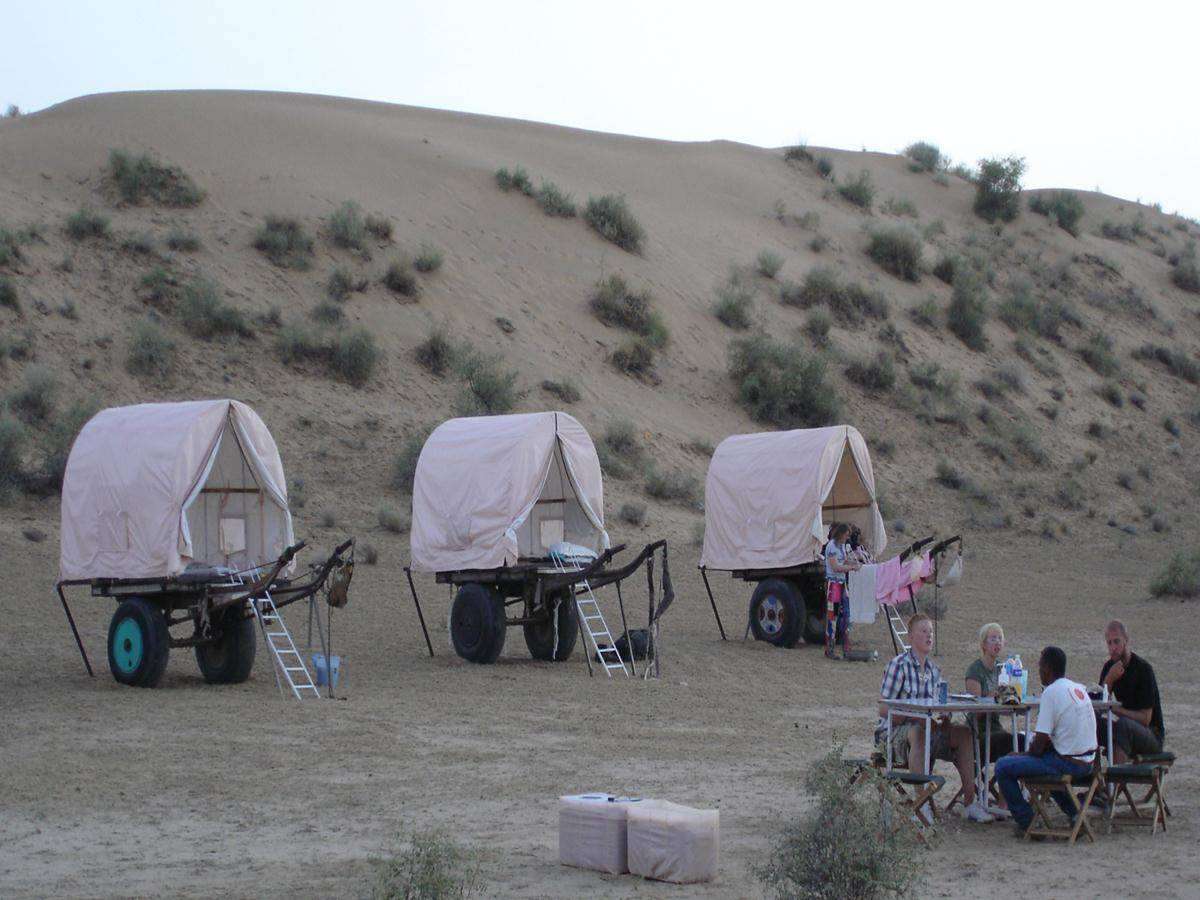 | | |
| --- | --- |
| Name of Experience | Camel Caravan, India |
| What | The ideal way to experience the beauty and romance of the Indian desert is by taking a camel safari. Introducing camel safaris with a difference "The Camel Caravan." The option of riding in the comfort and shade of a wagon makes caravanning suitable for guests of all ages. Riding atop a camel can become tiring or tedious. Based on the concept of the legendary Conestoga wagons of the American West, you will sleep in tented camel carts and experience the feel of the frontier. More comfortable and spacious than regular tents, the height of the wagons also makes them safe for desert camping.INSIDERS TIP: A great way to experience the desert in a new light. Not luxurious by any means, but authentic and comfortable. |
| When | Year round |
| Where | Golden Desert, Rajasthan, India |
| How to get there | Bikaner, Rajasthan is where you will be collected for your safari. The best way to reach Bikaner is via organised transportation. |
| How Much | Starting from $250USD |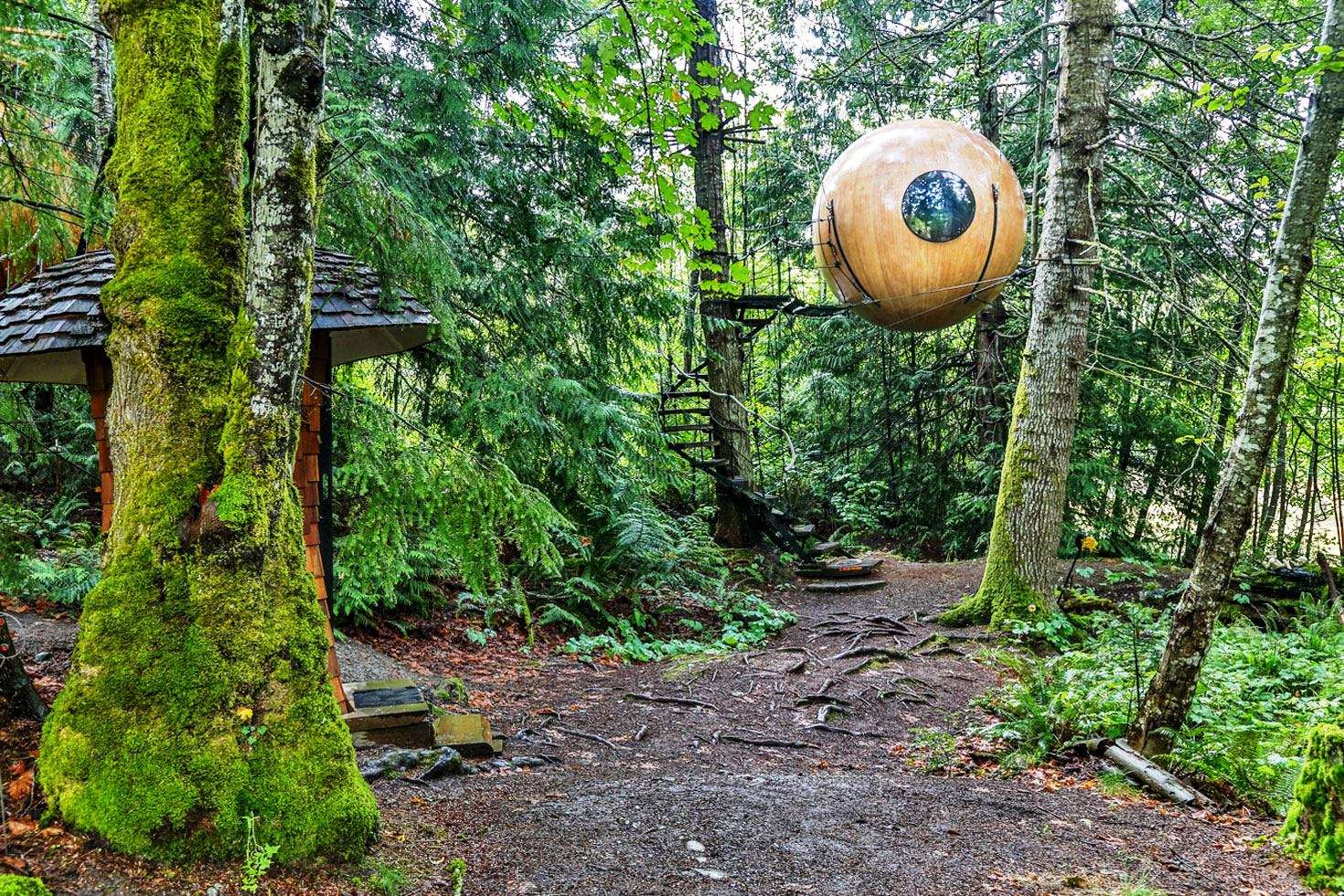 | | |
| --- | --- |
| Name of Experience | Free Spirit Spheres, Canada |
| What | Set among the tall trees of the west coast rainforest of Vancouver Island, Canada, you are invited to experience a tree house for adults. Built on vision and engineering these handcrafted spheres are suspended like pendants from a web of rope. They occupy a truly unique place in the world while providing a habitat for the un-tamed spirit that exists in us all.INSIDERS TIP: Perfect for those who want to get in touch with nature. |
| When | Year round |
| Where | 420 Horne Lake Rd, Quallicum Beach, BC V9K 1Z7, Canada |
| How to get there | Approximately 30km north of Parksville on Vancouver Island along the Inland Island Hwy (#19), near Qualicum Bay. The best way to reach this property is via private vehicle. |
| How Much | Starting at $155CAD per night |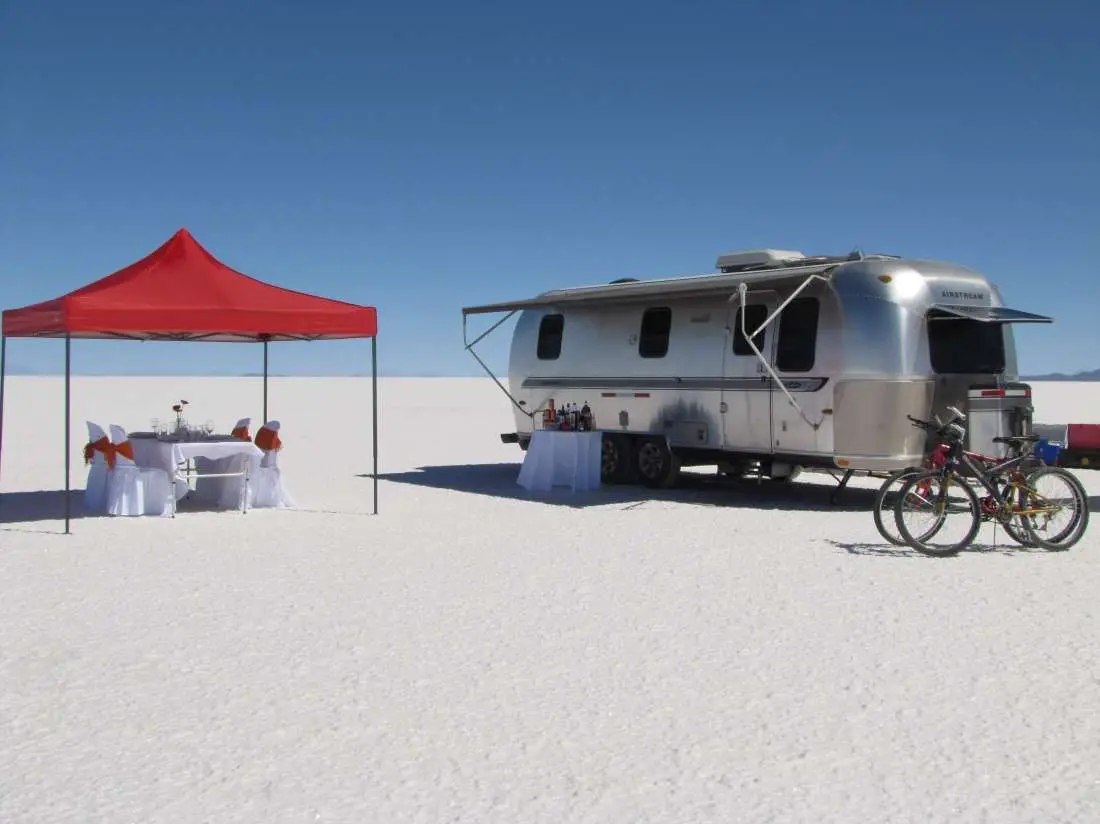 | | |
| --- | --- |
| Name of Experience | Air Streamer, Bolivia |
| What | This surely has to be one of the most surreal accommodation options anywhere on Earth. The indulgence of being completely alone in the vast empty space of the Uyuni salt pan is the whole point of the experience.The surface of the pan itself is cracked into a billion naturally occurring hexagon shapes. Its appearance can change dramatically: in dry conditions the surface can look like snow or ice while at night it glows with reflected moonlight; when wet it takes on the appearance of a colossal mirror fringed by distant, snow-capped peaks.The Airstream sleeps two (with the option of a third traveller on a sofa-bed) and is equipped with everything you might need: a bathroom, toiletries, shower with hot water, heater, a comfortable queen-size bed with electric blankets, an iPod dock and a fully stocked mini bar.It is towed behind a 4×4, and followed by the "teardrop", a smaller supporting wagon that carries a kitchen and other necessities, which vanishes after dinner, taking chef, driver and guide off to stay in the nearest village at the edge of the salt pan, and leaving you with just a radio and satellite phone in case of an emergency.Meals are served under an umbrella in the middle of the desert. Breakfast might include freshly squeezed orange and pineapple juices and sweet papayas served alongside fresh coffee, and dinner a juicy roast llama steak, served with some decent Bolivian red wine from the southern region of Tarija.INSIDERS TIP: Having a mobile base makes it easier to explore the area – cycling or trekking across remote parts of the salt flats, visiting local communities or climbing the volcanoes at its edges. Admire ancient villages with colonial churches and quinoa plantations, trek to 800-year-old Aymara fortresses made of red rock, and visit chullpas, pre-Incan tombs, with well-preserved and intact mummies. Watch low-flying flamingos who come to the pan to breed, and llamas, alpacas, and vicuñas. At night there is a telescope, and you can gasp at the rings of Saturn in one of the southern hemisphere's most pristine skies. |
| When | April to November is the best time to visit. December to March is the rainy season with January and February typically the rainiest months. |
| Where | Uyuni Salt Flats, Bolivia |
| How to get there | Uyuni is serviced by regular busses from La Paz as well as having a small regional airport |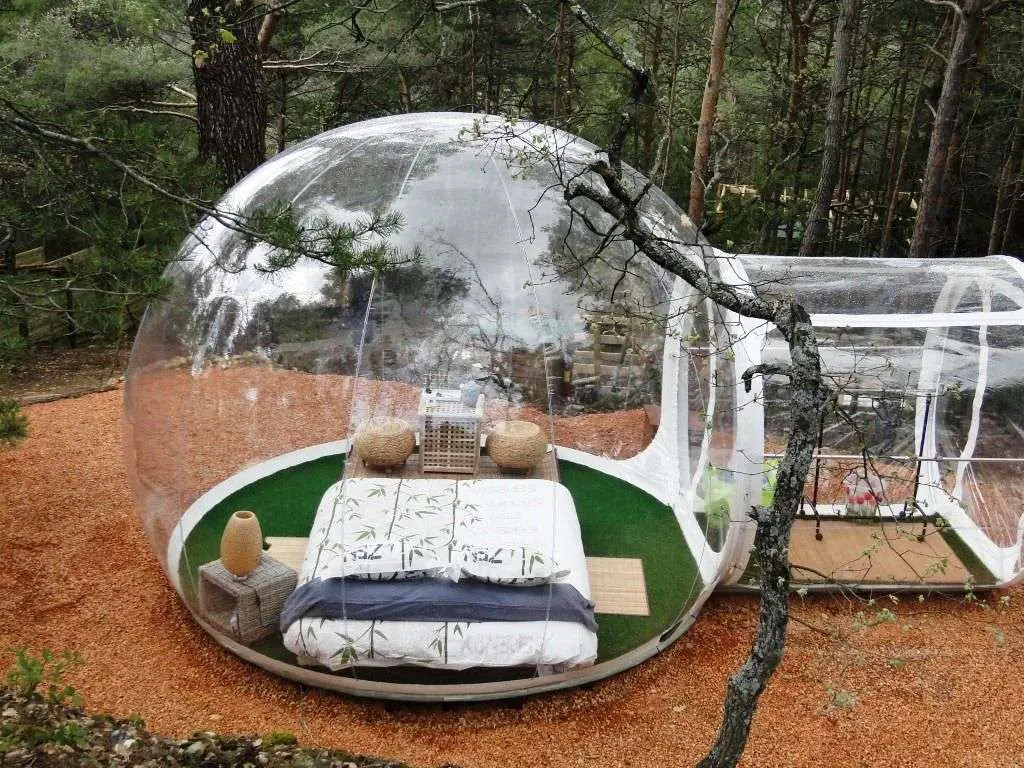 Name of Experience
Attrap Reves Hotel, France
What
Sleep under the stars without venturing outside. ATTRAP'RÊVES invites you to an unusual and romantic type bubble. A cosmic and poetic experience and an unforgettable souvenir for both of you.A tinted and romantic cocoon for a marriage proposal, an anniversary  or an original gift. A queen size bed with panoramic views of the surrounding countryside… Alone with Mother Nature!At nightfall, contemplate the milky way! Everything here is designed not to close your eyes! Hush, here's the moon showing its face…INSIDERS TIP: Remember, people can see inside your clear bubble.
When
Year round
Where
Chemin de la Ribassière, 13190 Allauch, France
How to get there
Driving is the best option. GPS : Lat. 43.3250317 / Long. 5.466694400000051
For information, the Ribassière street is a dead-end. Our area is located on the left at the end of the street.
How Much
Starting at 109 euro per night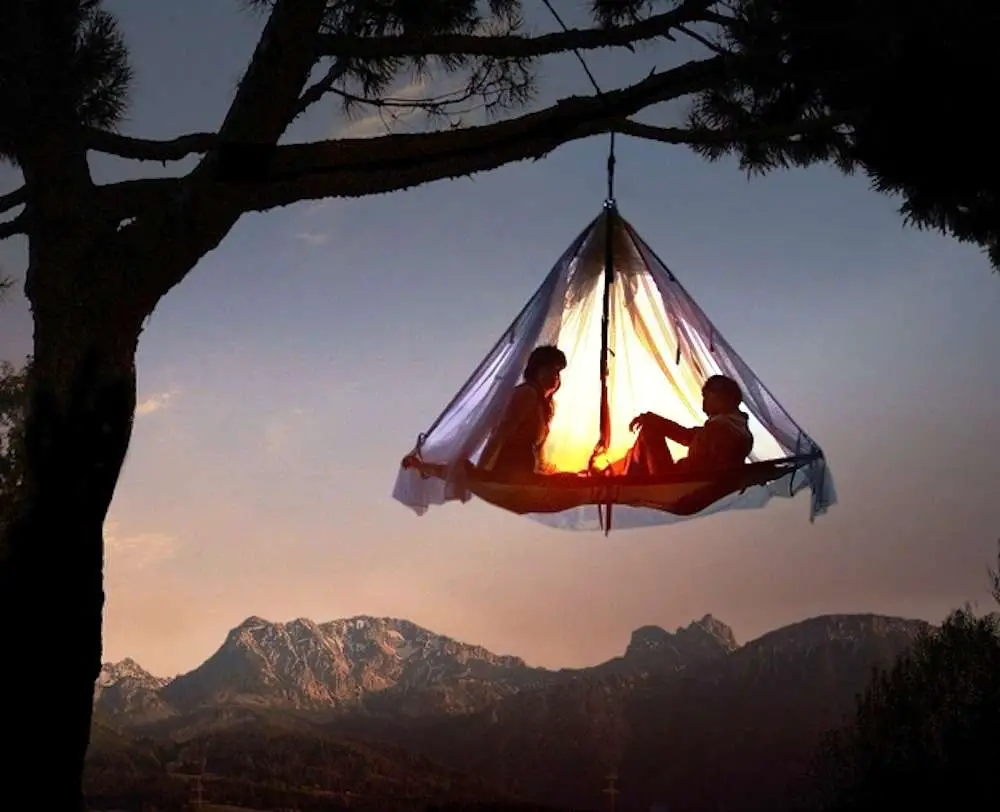 | | |
| --- | --- |
| Name of Experience | Suspended Camping, Pfronten, Germany |
| What | Located at the top of a mountain summit, daring guests can spend the night hanging off the tree tops, suspended over a cliff face, or within a hand built igloo. During the warmer months, the resort hosts adventure nights out, where guests can sleep in their very own portaledge, hanging several meters above the ground. A portaledge is a deployable hanging tent system that is generally used by rock climbers on multiple day climbs. The hanging tent features a fabric-covered platform supported by a metal frame, that is suspended from a secured single point. At Waldseilgarten, the tents are suspended from thick branches of large free-standing trees, where guests can only ascend or descend with rope assistance.INSIDERS TIP: Guests looking for more air and an extreme camping experience can choose to sleep on an overhanging platform, positioned amongst huge cliff faces measuring between 1000 and 2000 metres (3280 – 6562 ft) high. However, if that's just a little too extreme for your liking, the resort also offers easier sleeping options, including cliff platforms between 100 and 300 metres (328 – 984 ft) high, or tree platforms suspended between two or four trees, with easy descent to the ground at any time. |
| When | Year Round |
| Where | Waldseilgarten Mountain Resort, Pfronten, Bavaria in Germany |
| How to get there | 1 hour 45 mins from either Munich or Innsbruck |
| How Much | $100 – $1000USD per night |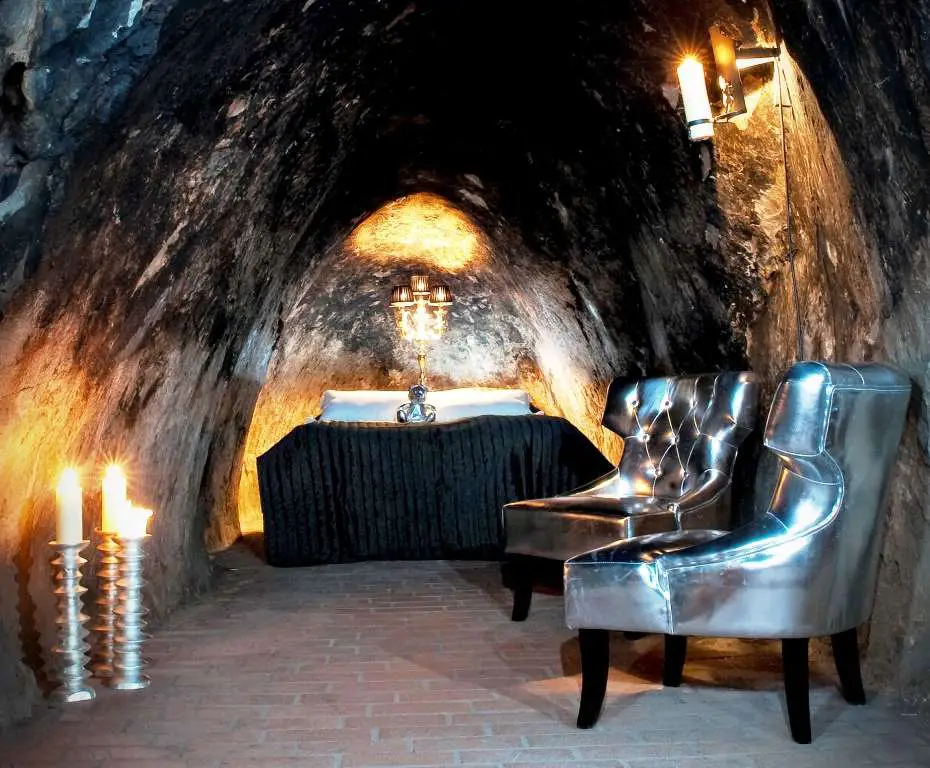 | | |
| --- | --- |
| Name of Experience | Sleep in a Silver Mine, Sala, Sweden |
| What | This is not for the faint-hearted or for claustrophobics – sleeping in a mine 155 metres underground. Sala Silver Mine is one of the world's best preserved mine settings and "day" visitors can enjoy guided mine tours through the winding galleries and vast underground caverns. But if you really want to experience the ultimate in mine visits, an overnight stay is guaranteed to be memorable. After showing you to the suite, you are left alone for the evening.INSIDERS TIP: Naturally, mobile phones don't work so far underground, but you are given an intercom radio if things get too spooky during the night. |
| When | Year round |
| Where | Sala Silvergruva AB, Dr. Christinas Väg, 733 36 SALA, Sweden |
| How to get there | Organised transportation is the best way to reach the hotel |
| How Much | 4.290 SEK for two people |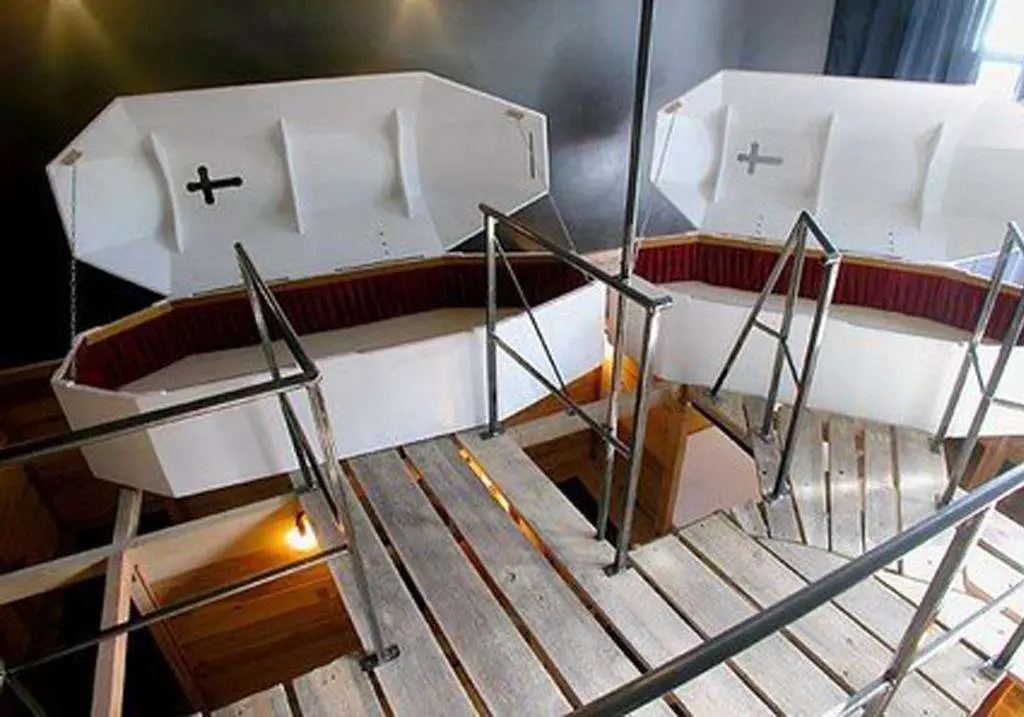 Name of Experience
Propeller Island City Lodge, Germany
What
A 'museum to spend the night' or 'habitable work of art', this wacky place in central Berlin is a great place to bring teens as well as younger children. Rooms, in which everything has been made and nothing bought, include a cell (complete with in-room loo) and a coffin room (you sleep in them).INSIDERS TIP: Room 42 is the biggest – it has a double bed plus two cages on stilts – perfect for kids.
When
Year round
Where
Albrecht-Achilles-Straße 58, 10709 Berlin, Germany
How to get there
From Tegel Airport there is a comfortable bus (BUS 109), which can bring you to ADENAUER PLATZ in about 30 minutes for 2 Euro per person. From Adenauer Platz you only need about 5 minutes to the hotel, depending on how long your legs are. By TAXI, it will cost around 15 Euro, and the route from Tegel Airport only takes about 15 minutes.
Schönefeld Airport is quite a ways outside. But even here you can find a direct means of transportation – the S-Bahn (train) to the station Bahnhof-Charlottenburg. This takes around 50 minutes and also costs 2 Euro. On this route, there are a few city blocks to walk down, but with light luggage and swift feet this can be accomplished in less than 10 minutes. OR whistle a taxi from the street (not from the taxi stand, which is more expensive) and travel the 'Kurzstrecke' (short route) for 3 €.From Train Station Zoo you will only need a little more than 5 minutes by taxi, down the main street KURFÜRSTEN DAMM. If you want to walk it and do some sight-seeing along the way, you will need about half an hour, with one of the many buses traveling in the direction of Adenauerplatz approximately 10 minutes. The Ostbahnhof (train station)is located in the eastern part of Berlin. From here, it is best to take the S-Bahn to Bahnhof- Charlottenburg, which will take about 25 minutes. From there, walk or take a taxi (see above). From train station Lehrter Stadtbahnhof it will take about 15 min., same to s-Bahnhof- Charlottenburg.By CAR: Berlin in the direction of the city centre, to Wilmersdorf, exit Kurfürstendamm, the Albrecht-Achilles Str. crosses the Ku'Damm after half a km, then turn right.
How Much
Prices at Propeller Island City Lodge start from US$100 per night.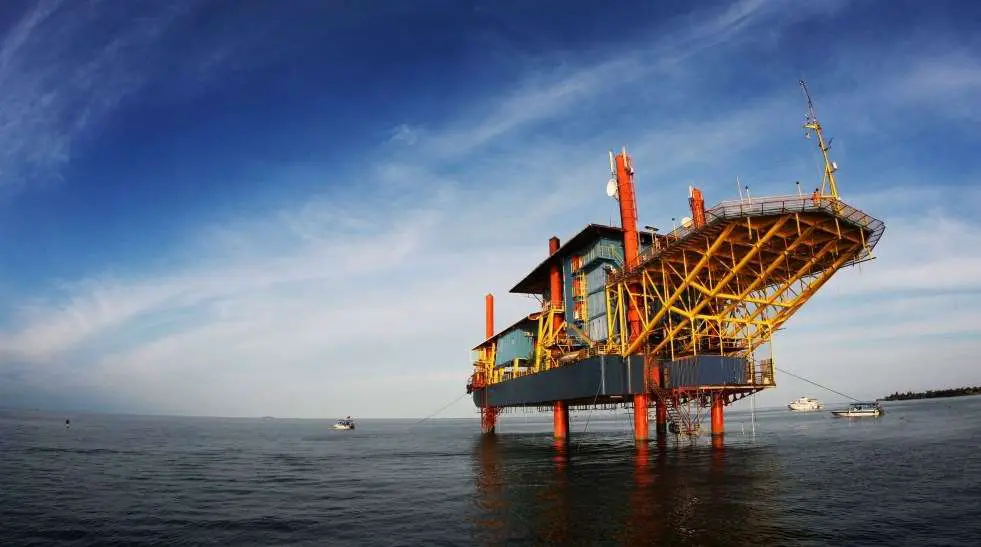 Name of Experience
Seaventures Rig Resort, Pulau Mabul, Malaysia
What
An oil rig is planted on top of the Coral Triangle, one of the world's most
spectacular dive locations. But this is no environmental disaster waiting to happen—rather, it's an avid scuba diver's dream hotel. A lift lowers divers into the water below to wend their way through the reef system, and all dives are included in the cost of your stay.INSIDERS TIP: Unknown to most, the hotel also offers live bands and BBQ nights.
When
Year round
Where
The resort is located just off the northern shore of Mabul Island, Malaysia
How to get there
A 40 minute speedboat ride from the port of Semporna will get you there. Seaventures provide return transfers from Tawau Airport to Semporna and Mabul.
| | |
| --- | --- |
| Name of Experience | La Villa Hamster, Nantes, France |
| What | The name is no joke: guests of this one-room hotel receive hamster masks on check-in and, once inside, find water is dispensed only by stomping on a metal lever. A giant haystack functions as a bed, and the bathroom is covered in wood chips (a regular human toilet is also provided). The centrepiece, naturally, is the life-size hamster wheel.INSIDERS TIP: Although you are treated like a hamster, keep in mind you have opted for this experience. Make sure you use the toilet instead of the wood chips or you may find that you have to clean up your own mess. |
| When | Year round |
| Where | Located in central Nantes |
| How to get there | A 10-minute walk from the train station and 5-minute walk from the city centre |
| How Much | From $150USD per night |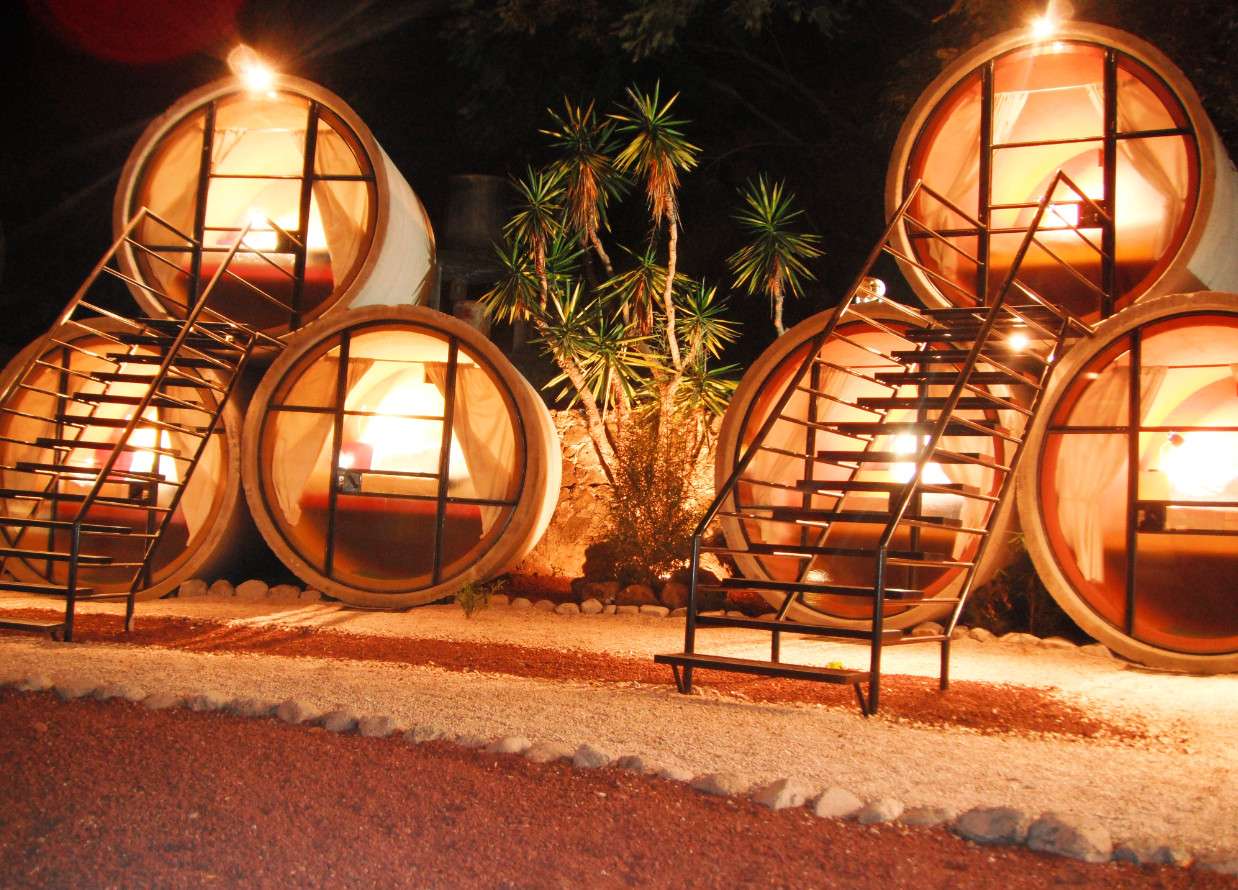 | | |
| --- | --- |
| Name of Experience | Tubohotel, Mexico |
| What | Though the idea of sleeping inside a concrete tube probably doesn't sound that appealing, architect firm T3arc have found a way to make sleeping inside a pipe not only comfortable but also a holiday experience. Mexico's Tubohotel, which opened in 2010, is a unique and affordable holiday destination created from recycled concrete tubes. The rooms of the hotel are stacked in a pyramid shape, reflecting the Aztec pyramid of El Tepozteco that overlooks the town.INSIDERS TIP: These rooms can be quite cold with all the walls made of concrete. Be sure to bring warm sleeping attire. |
| When | Year round |
| Where | Located approximately 45 minutes south of Mexico City in the village of Tepoztlan, Morelos |
| How to get there | Local buses or organised transfers are the best way to reach Morelos |
| How Much | One night's accommodation at the Tubohotel costs 500 pesos (approx. US$42) |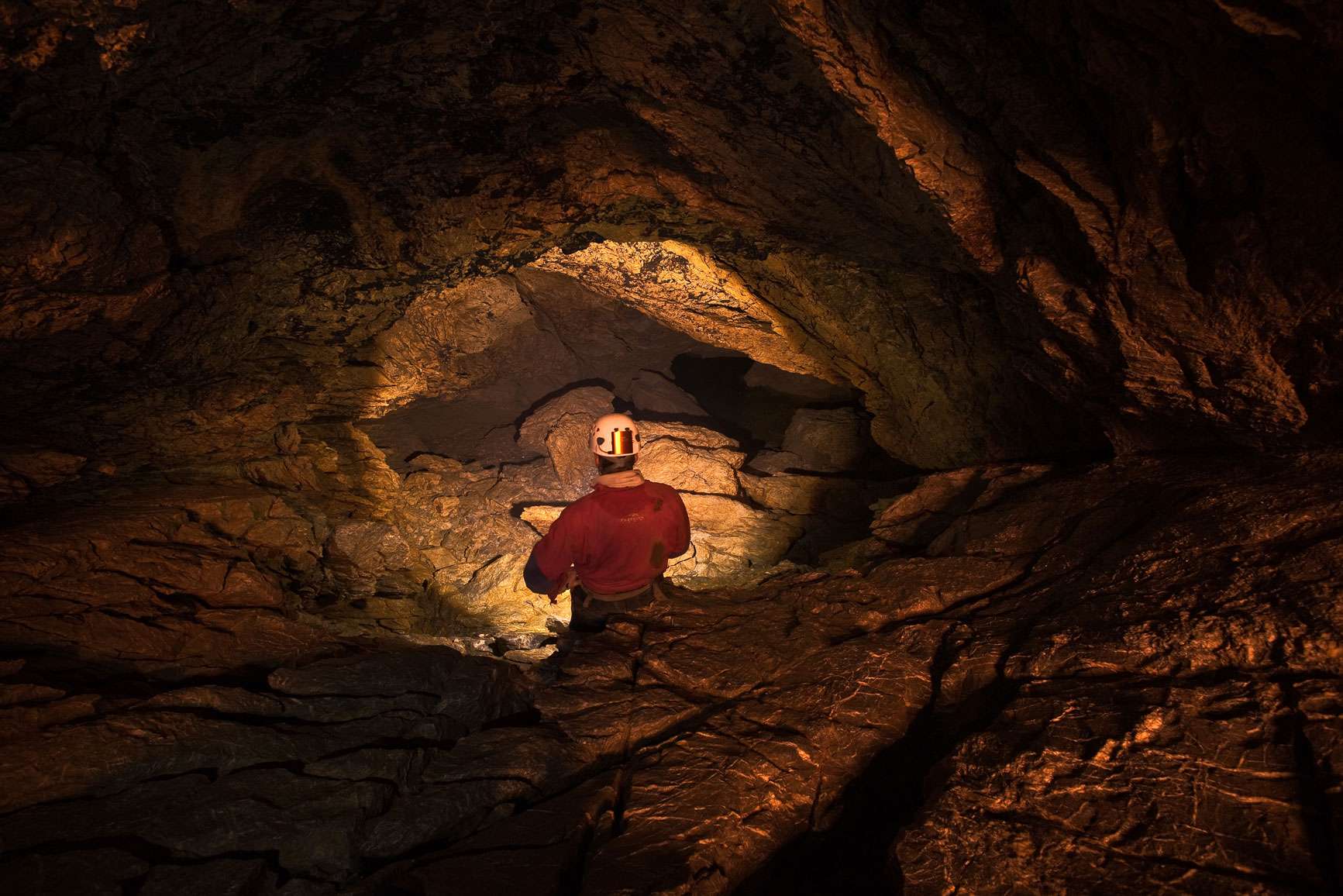 | | |
| --- | --- |
| Name of Experience | Overnight in Hell's Hole (Hölloch), Switzerland |
| What | Narrow tubes, large stone halls, steep rock slides: A tour in the Swiss Hölloch can be deeply frightening – and yet liberating. In the second-largest cave system in Europe, visitors can even stay the night.Participating in this bivouac Hoelloch tour means immersing yourself in to another, mysterious world by saying good bye to your daily routine. Such an adventure is only possible due to many years of preparation. Just to set up 'Dombiwak' took more than 2 years.Multiple day tours leave enduring impressions and intensively affect all senses as compared to shorter ones. The immense dimensions – Hoelloch is one of the world's largest caves – magically captivates every visitor. We have enough time to view unique details such as the 'Hoelloch Worm' (Octolasion transpadana) or the 'Cave Amphipod' (Niphargus). We are surrounded by rock formations that are 120m years old and hike through corridors that the force of water created over 600,000 years ago. 'Dombiwak' bids us welcome in this remote underground world. A lot of effort went in to the building to ensure that the comfortable infrastructure is in tune with the cave surroundings. You will be surprised at the kitchen with running drinking water and benches that beckon to relax. Beddings are optimally insulated, and especially built lavatories adhere to time tested 'Bivouac Technique'. We exchange impressions and get to know each other better when enjoying a cosy fondue. Before going to sleep, you realize the tranquillity, the pitch black darkness, and that you are thousands of meters deep inside of the mountain, and that you are in complete different world. The following morning you are awoken by the carbide lamp lighting. An invigorating breakfast whets the appetite for more Hoelloch discoveries.INSIDERS TIP: Not for those who get claustrophobic. If you decide you want to get out half way through the night, there really are not a lot of options for you. |
| When | November to March |
| Where | Hinterthal in the Muotatal (Mouta valley), near Schwyz, Switzerland |
| How to get there | Switzerland is connected by an extensive rail network |
| How Much | 435CHF per adult |
Thanks to Lisa for providing this information, but there are a truckload more weird places to discover from the app – this is only scratching the surface!
Anyway, see more at Crooked Compass! And you might see me sleeping in one of these weird contraptions!