Ladies Leather Handbag Review – From A Man's Perspective!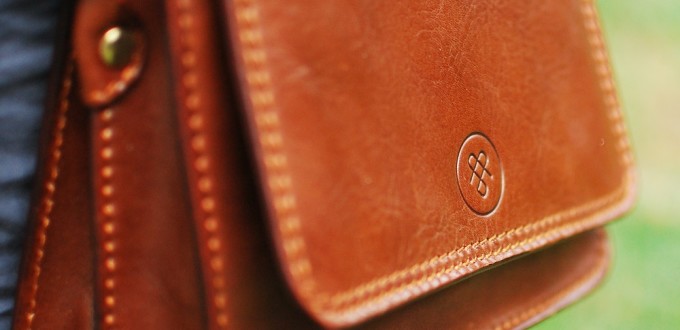 Less is more!
And nothing could be closer to the truth when it comes to travel luggage and accessories. When going out and about, either at home or on the road, there's always a delicate balance to bring the things you need and the eliminate the stuff you think you need but don't.
I can't stand dragging around so much stuff that I need the Trojans to help me move it from point A to point B! Plus it's hard to find something that is both functional and stylish at the same time that will last for ages even after given it a complete flogging!
Anyway, I'm a bit of a dag and will always choose functionality over form no matter how bad it looks! If it works well and fits my purposes and I know it's going to last whilst being good value for money, I'll buy it.
But for something completely different, I'm going to have a crack at reviewing a travel item that I'll never use – well not in this lifetime anyway!
That's right, I'm going to look at the practicalities of a women's leather handbag from Maxwell Scott Bags from a male travel perspective!
You might think it's weird that a bloke is reviewing a piece of women's travel gear, but there are a few good reasons why this crazy idea might work! That's because for some reason, more women read this silly website then men, so they might be interested in this review!
And there are loads of shows out there where women advise men on what to wear because we don't know how to dress ourselves sometimes (myself included), so I'm trying to even up the ledger a bit. Plus, there's nothing wrong with a different point of view!
But have a look at it this way – I have no preconceptions about women's handbags since I've never been in the market for one for myself, so that means I have a totally objective view!
Plus for the guys out there, if you have a travel addict lady friend who might be interested in something like this, here is a potential gift to rack up those brownie points!
Anyway here goes!
The Lucca Women's Leather Handbag Review
I've decided to have a look at the Maxwell Scott Lucca small leather shoulder bag. It's available in classic tan, dark chocolate, night black and gravy. I'm going to talk about the tan one.
So if you want the person with a short attention span version, here is the twenty second option of my review condensed into a few bullet points!:
The handbag is small enough to not be clunky and be a junk magnet, but is big enough to house your passport, small purse with cards and cash, a bit of make up stuff, sunglasses and your phone. Really, that's all you need to travel!
Double stitching. It's really well made. Looks like it will last more than a lifetime.
Concealed zip compartment towards the back to store your valuables such as your passport
Simplicity, simplicity, simplicity. There aren't a gazillion compartments for you to lose things in the abyss only for you to discover them a few years later. You know where everything is, and there's no mucking around to find any of your stuff
Durable. Made from Italian leather. Will cop a few knocks, for example, if you try and hit a potential bag snatcher over the head with it.
Functional and looks good.
It's styling means it's always close to one's hands for easy access and security, plus the cross shoulder strap style means someone would have wrench it pretty hard to remove it.
The shoulder strap is adjustable to suit any person's height
But here is the longer version!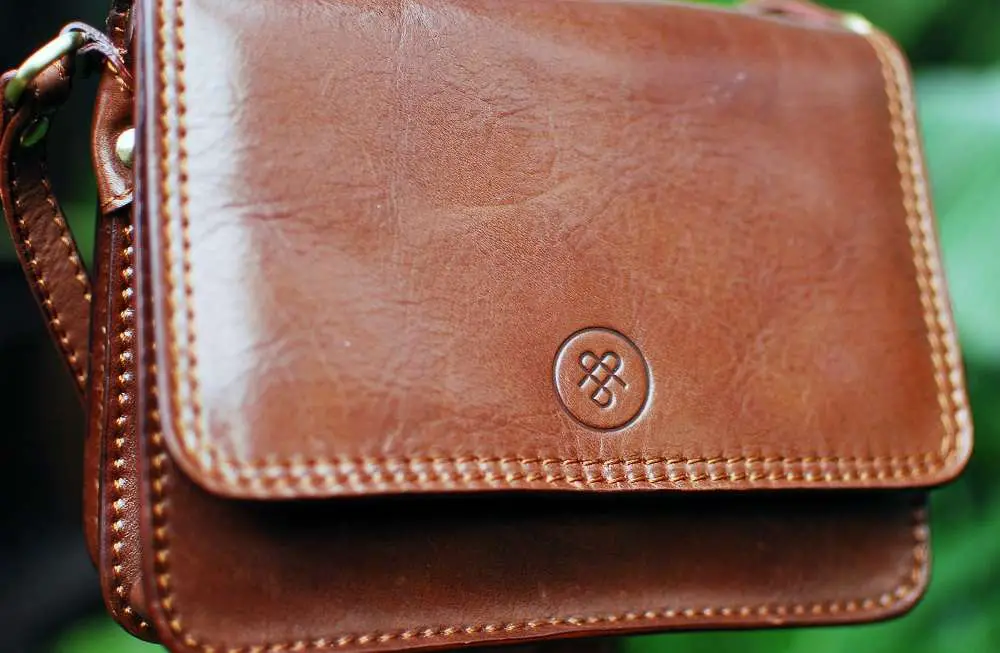 I tend to like brands that are well made and good quality, but unpretentious – and that's what I feel what Maxwell Scott products are based on the Lucca handbag which I've had a good look at.
You could buy one of those well known brands promoted by supermodels to flaunt that are way overpriced just so that you can impress people you don't like with things that you can't afford, or even worse, buy the 'genuine imitation' that others know are fake!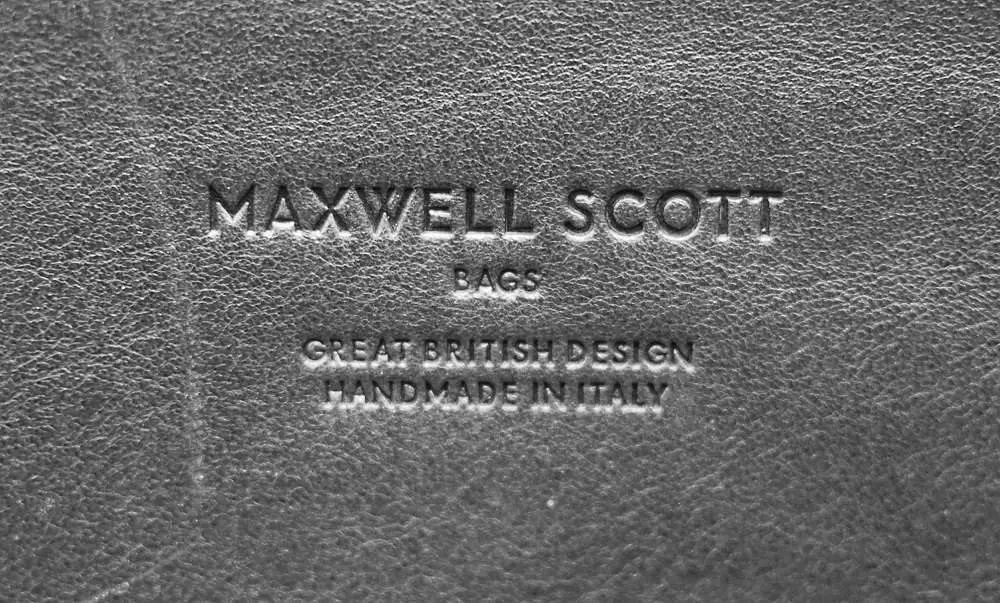 But Maxwell Scott is a small company trying to have a go by having a crack by sitting in it's own market and loving what they do buy producing high quality stuff for a reasonable price.
When Judy from Maxwell Scott contacted me to see if I was interested in reviewing one of their products, I was interested because I have a little bit of a soft spot for Italian made goods. In general, they're built to last, and they're usually hand made unlike the mass produced junk that tends to fill out our closets.
I know that their makers are completely anal about quality and making sure things last, and as an example, my great uncle was a cobbler in Italy up until his late 80s. I know how careful he was with his work when he was trying to create or repair a pair of leather shoes. I visited him in his shop that he had worked in for decades, and he always had a steady stream of customers (many of them repeat ones) walking into his store wanting him to help fix their beloved shoes instead of resorting to buying some cheaply made blister bleeders!
Most people think that small scale goods made by hand is a dying art, but there is definitely a market out there for them!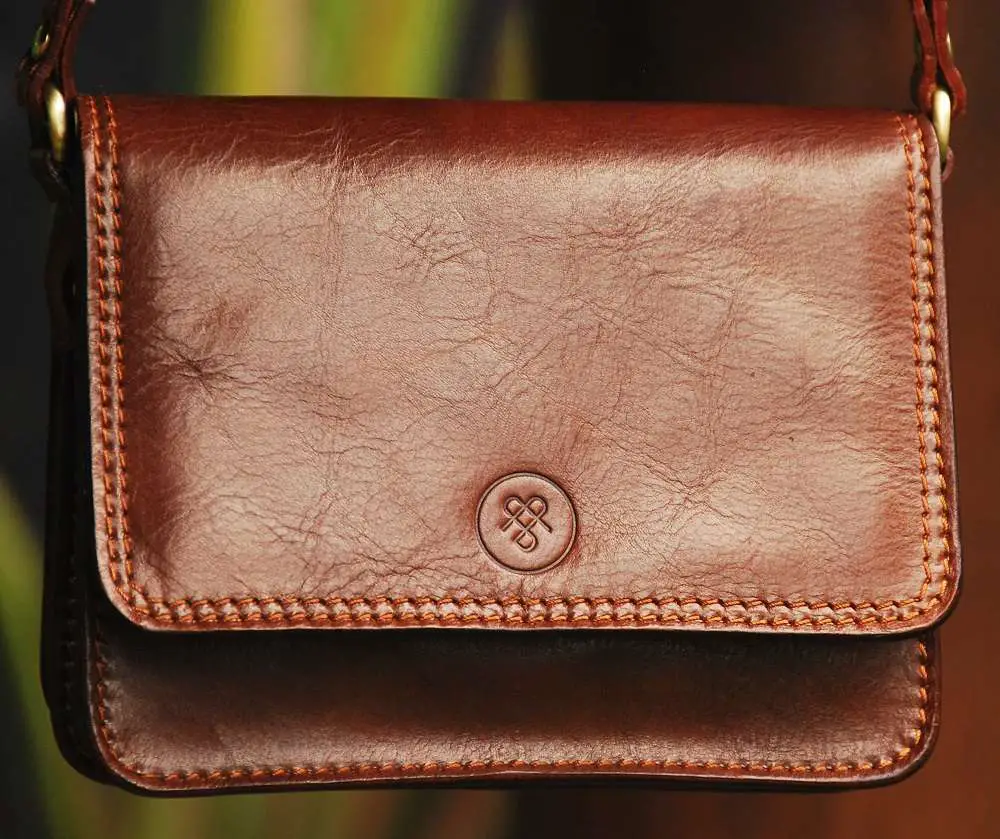 Anyway, the Maxwell Scott brand is a bit different to other Italian leather goods because the products are styled in England, but made in Italy.
And in this case, it's an unusual meeting of something English and Italian fusing together and for some reason, it actually works.
Which brings me back to the Lucca handbag.
One of the biggest wonders of the world for men is that we just don't get why there are some enormous handbags that are so heavy that they might make one of your shoulders sit lower than one of the others!
One of the laws of physics should be that the size of a handbag is directly proportional to the amount of stuff that you don't really need that accumulates in it!
I don't get the point, but if I was a woman, this is what I would like about this handbag: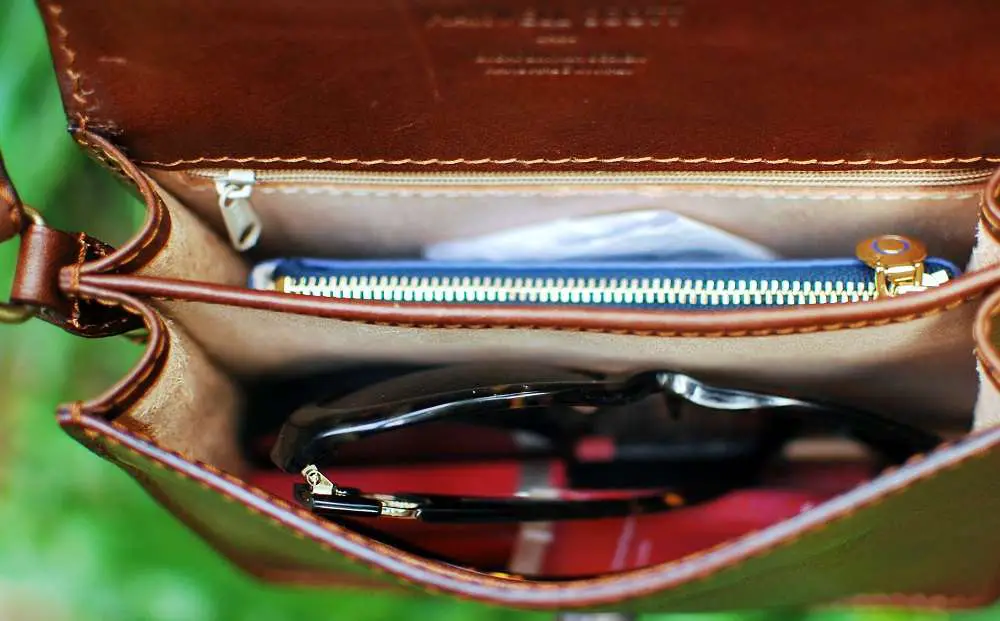 Now if I was a female traveller, I'd like this because it's simple, functional, and practical.
This bag forces you to downsize. It's dimensions are 15cm high, by 19cm wide, and 8cm deep with a total weight of 400 grams.
There are three main sections, of which one is zipped. As you can see, the bag can comfortably house a phone, sunglasses, small wallet, keys, make up, and your passport in the back.
Simplicity heaven as far as I'm concerned.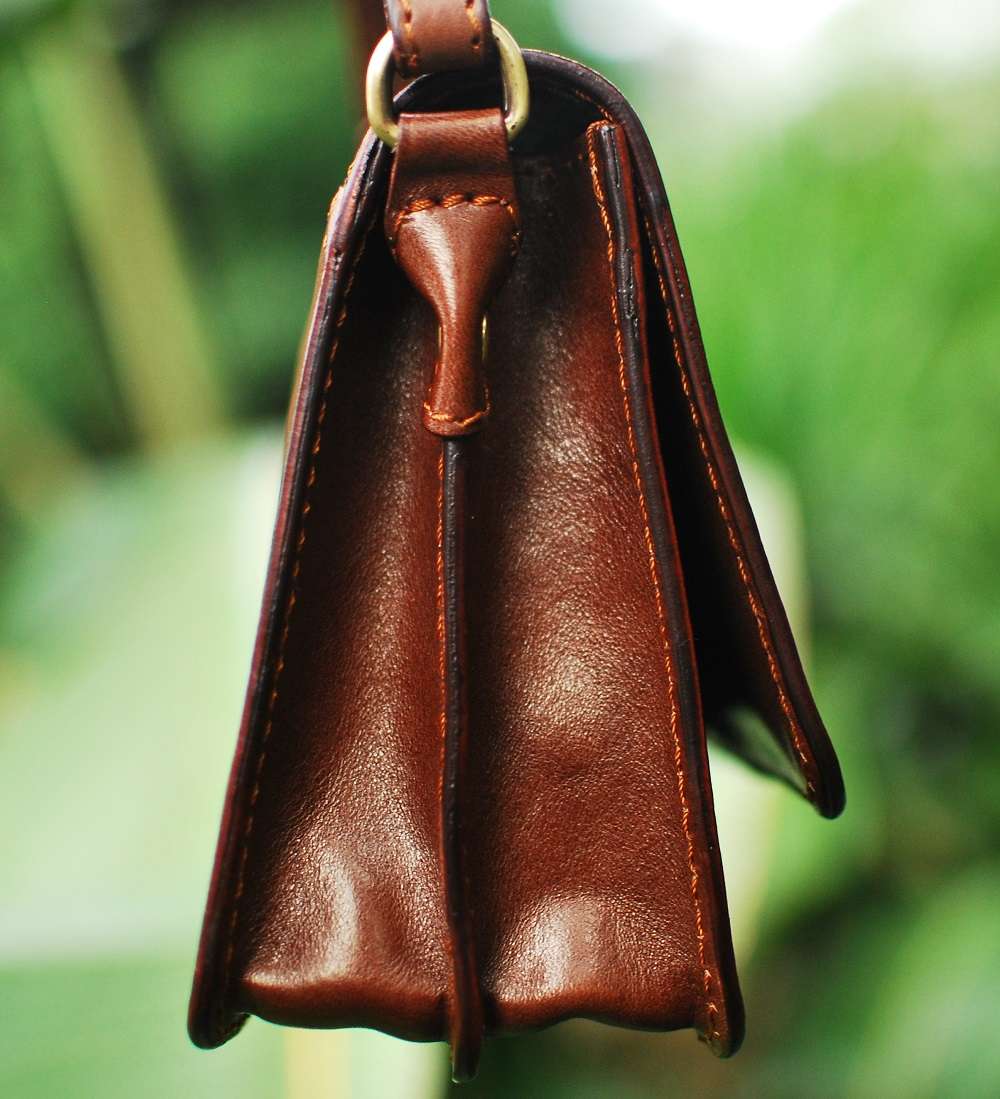 I've tried it on myself (not in public though!) and found it comfortable, light, durable and adaptable.
It also looks stylish without saying 'rob me'!
So far so good.
The leather is also double stitched so it won't fall apart anytime soon.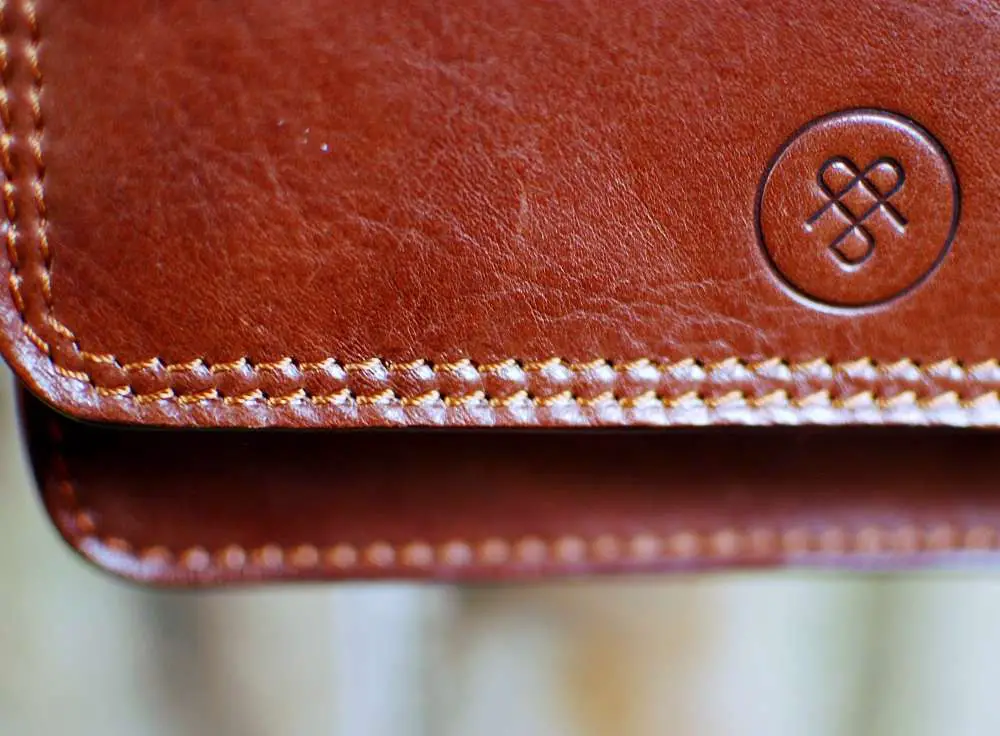 This handbag also doesn't necessarily have to be worn by the so called 'luxury traveller'. For example, if you want something durable and tough, leather is a great option as well as being stylish. What's different about this leather is that it's tanned using vegetable dyes (chestnuts!), rather than chemicals.
The bag currently retails for around 127 pounds (or around $USD200).
Now, compared to some cheap bag that you could throwaway in the next couple of weeks, this might seem expensive, but think of it this way.
Not many companies do this, but Maxwell Scott must have a lot of confidence in their product if they're willing to back it with a 25 year warranty.
So therefore, if your bag or other Maxwell Scott product lasts 'only' for the 25 year warranty period, that means it would only cost you roughly $USD8 per year! Some people spend more on that on coffee trying to keep themselves awake at work every day!
It's quite refreshing really in a throwaway society! And that's what I mean about value for money! This thing will probably become an heirloom one day!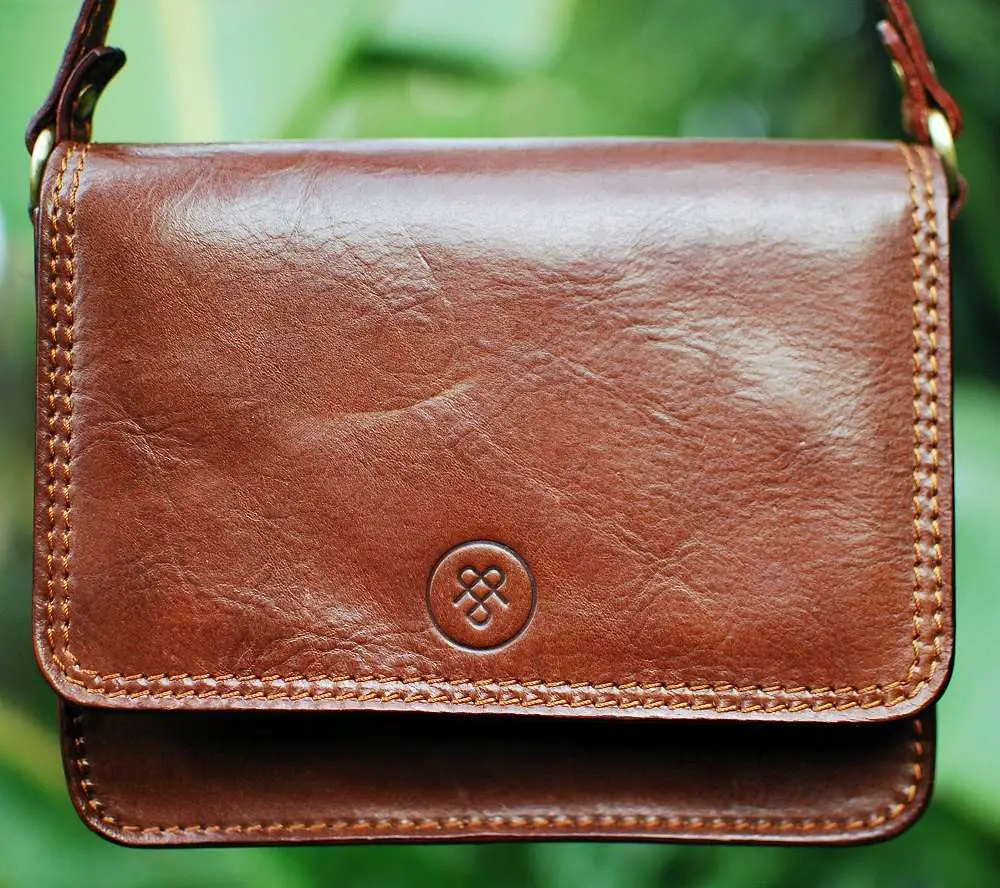 Anyway, here is a quick YouTube video review just to give you more of an idea:
[youtube]http://www.youtube.com/watch?v=3bbkK6jhb7U[/youtube]
So what's the verdict?: Well, as mentioned throughout this review, while this Maxwell Scott handbag may not have a big name, but it definitely punches well above it's weight and is a great travel accessory for the travelling lady due to it's simplicity, size, and durability.
Italian leathergoods don't have a great reputation for no reason. It's a culture that's evolved over centuries, just like their amazing food!
So if you're interested, the Lucca hand bag and all of the other gear they sell can be purchased directly from the Maxwell Scott Bags website.
Go have a look around – you might be wearing one very soon!
Disclaimer: Yes, I was provided this product but all opinions are my own. Plus I had a woman review what I wrote to make sure I was somewhere near the mark, so there!