Tablet Laptop Road Test – Dell XPS12 for Travelling
Many people use tablets these days as these are fine for just surfing the web and using the social media channels, plus they're pretty lightweight. Others are now using ultrabooks because they want a compact computer that doesn't take up much space. But what if you could have both for not much space or weight? Well this seems to be a new trend in computers these days. Long gone are the days where a computer used to fill up an entire room! Anyway, I've had a Dell XPS12 land in my lap for a review, so I'm going to have a road test in terms of it's practicality as a travel Tablet Laptop!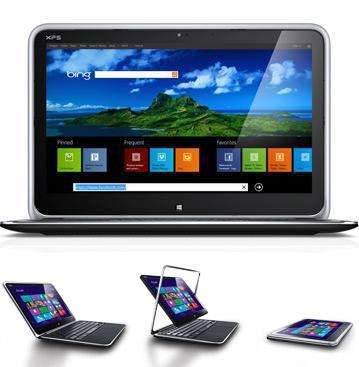 I'm not going to bore you silly with the techno geek details – you can go directly to the Dell site for that.
Anyway, for you short attention span types, here is what my dot point review of the Dell XPS12 Ultrabook/Tablet/Laptop thingy.
What I like about the Dell XPS12
Speed

Lightweight
Durablilty and build quality (it's built like a brick *%$house!)
Keyboard
Long-ish Battery Life
Easy to flip from Ultrabook to touch screen
Ability to use Ultrabook capabilities as a touch screen in small spaces, like an aeroplane seat.
Keyboard is hidden behind screen in touch screen mode
What could be better about the Dell XPS12
I'm still getting used to Windows 8, however, I'm sure I will in time. The XPS12 needs to use this for the touch screen functions

Could do with an SD card slot (handy for downloaded images from the camera)
Probably a bit big, thick and heavy to be a true tablet in it's own right for long periods of aimless internet surfing, but still does the job in short bursts
Can't take out the screen to use as a lightweight tablet only for day trips.
Anyway, here is more detail for those with a longer attention span:
Firstly, there are a lot of similarities between the Dell XPS12 and the laptop only XPS13 which I have previously tried (and still have and really enjoy). They are are a similar size, weight, and the keyboards are more or less identical. Actually, the XPS12 is about 200 grams heavier than the XPS13 (1.54 compared to 1.35 kg respectively) – probably due to the fact that the XPS12 screen swivels and needs a few more parts.
They are both made from durable materials like carbon fibre and aluminium (with the XPS 12, even the flippable screen even feels sturdy). The sound from both of these devices is surprisingly good and screen resolution is sharp. They probably share a lot of components, except that the screen of the XPS12 can be used in touch mode – in either laptop or tablet mode. The main difference is the operating system – the XPS12 comes with Windows 8. This means that you can use the XPS12 as a normal laptop AND as a touch screen and easily change between these modes in quick time. I must admit, I'm still getting around this new Windows 8 operating system.
I've only got a couple of minor niggles with the XPS12. I don't like using the in-built mouse pad to move the cursor around the screen, but that's because I don't like using this on any computer! It's a minor thing really, and more of a personal preference for me as I still like using a real mouse. The clicking noise is a bit loud and that might annoy a few people. Since I use photos a lot, an SD card port would be handy, but this isn't a big deal – I'll just use the camera cord associated with my Digital SLR. The two USB ports are enough for me, but other people may require more.
For me, the main drawback is that you can't take the screen out and just take that with you for the day and just use it as a lightweight tablet.  I feel this would really make the XPS12 stand out when compared to other convertible notebooks, but hey, it's not a deal stopper.
Anyway, here is a short video I put together demonstrating how the XPS12 works – take note of how it transfers from laptop to tablet. Apologies for the bad filming – I hope you don't have to tilt your head too much! I didn't want to do a second take! ;P
[youtube]http://www.youtube.com/watch?v=RyWIpTvQyJk[/youtube]
The Dell XPS12 Tablet Laptop – The Verdict?
Overall, the Dell XPS12 is great as an ultrabook in it's own right, and that's what I'd probably use it for most of the time anyway. It's an ideal compromise between laptop and tablet, even though it's a bit heavy in tablet form. But it's fine for use as a tablet in short bursts and if you feel like moving things around with your fingers instead of typing. Depending on the brand may be able buy both (a separate laptop and tablet) for the same price if that's what you really wanted (depending on where you live), but then you'd have to hire the Trojans to carry all your stuff around and that would be annoying.
My personal experience with the Dell XPS12, just like the Dell XPS13 Ultrabook has been really good – in line with other reviews I have checked out. I can't really fault it for anything major during my short time in using it. Once again though, I'm coming to terms with Windows 8, but that always happens when a major redesign happens with Microsoft, and it's not the first time it's happened since computers have taken over the world!
Overall the main reasons why the Dell XPS12 is good as a Tablet Laptop for travel are the following:
Lightweight

Compact – it fits into my backpack daypack no problems at all. Great for when you have to constantly go through airport security!
Good for using as a tablet in confined spaces, such as a bus seat or aeroplane seat
Lots of grunt for processing video, photos
Good battery life – a few hours when using it full on
Durable – able to take a few knocks thanks to the aluminium and carbon fibre construction. I haven't bothered using a laptop cover at all.
In my opinion, from a practical point of view, if you are looking for a Tablet Laptop  for travel that is a) fast, b) light c) durable and d) has Ultrabook/Tablet capabilities, the Dell XPS12 should be considered as one of your options.
Like with all major purchases like this, check it out first and see if you like it, as it's all about personal preference. But I like it and happy to have this in my Travel Blogging arsenal!
Disclaimer: Yes, I was provided with this Dell XPS12 Freebie, but all opinions are my own.