Travel Laptop Reviews Road Test – Dell XPS13 Ultrabook
Sometimes it's great being a Z grade internet celebrity! Especially when it comes to Travel Laptop Reviews!
Sometimes, PR firms accidentally Google you and ask you to review some products. And I was pleasantly surprised that one of them asked if I was interested in checking out the brand spanking new Dell XPS13 Ultrabook to road test. Of course, I said yes! Here is a pic of one below.

Now, I'm not going to be a techno geek and ramble off some gobbledy gook about technical specifications, that's why I'm referring you to the Dell website right now!
I'm going to road test the Dell XPS13 Ultrabook in terms of it's use as a Travel Laptop and it's practicality for use on the road.
Firstly, the purpose of an Ultrabook is trying to squeeze in all of the grunt of a larger laptop into something that's almost the size of of a tablet that increases its appeal for portability, and hence travelling.
Anyway, here are some of the things related to travel that I've checked out about the XPS13 Ultrabook on my road test.
What I Like About The Dell XPS13 Ultrabook
Firstly though, if you have the attention span of a goldfish and couldn't be bothered reading the whole article, I've prepared a dot point version for you in regards to what's great about the Dell XPS13 Ultrabook in terms of its use as a Travel Laptop.
This is what I like in particular about the Dell XPS13 Ultrabook:
light weight
speed
durability
large screen
keyboard (ergonomics and it's backlit)
battery life
For those of you who want more detailed information, here it is below:
Laptop Weight
I'm a bit anal about carrying too much weight. I don't want to visit a chiropractor every time I come back home from travelling. At 2.99 lb (or 1.35 kg), this thing is pretty light. I'm completely obsessed about trying to minimise the weight of my backpack (like the Tight Arse Rules of Travel), so with this lightweight laptop, the Dell XPS13 Ultrabook ticks all the boxes. It fits in nicely into my daypack which means my other electronic gear that I take on board the plane, including my Digital SLR fits in no worries at all.
Laptop Size
I have a 10 inch netbook which I have used for travel in the past. It's not that much bigger, and it's way thinner and a bit lighter. With a 13 inch screen, it's more than enough for what I want and the screen goes close to the edge of the casing, maximising the area used as much as possible. It's screen has a great resolution is and easy on the eyes.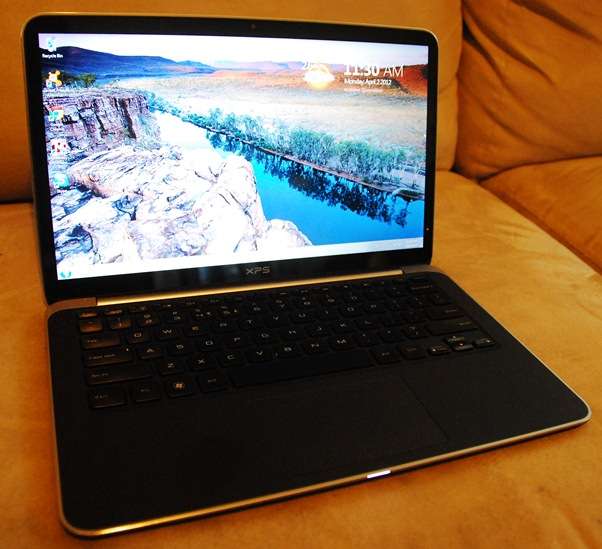 XPS13 Ultrabook speed and processing power
This is where things start to get serious. The i7 processor version has more grunt than a forest full of feral pigs, and I really like how quick this beast is. This is perfect for writing from the road and wanting to do things like processing and uploading video to the internet. And it turns on within seconds. Very impressive. I bought an i3 processor laptop only a year ago which has been great for me, but it's way faster than that.
Durability
The top is made of anodised aluminium. The bottom is carbon fibre composite (eg the same stuff used in Formula one cars). No plastic on the outside, so the XPS13 Ultrabook should be able to take a few knocks without getting upset or being scratched. This is great, especially if I'm going to be lugging this around.
Keyboard
I was really surprised by this one. It's a full size keyboard, and it's very comfortable to type on (I wrote this post on it). The keyboard is also backlit, meaning that you can type in the dark without being blinded by a bright light that would be suitable in a 7/11 store.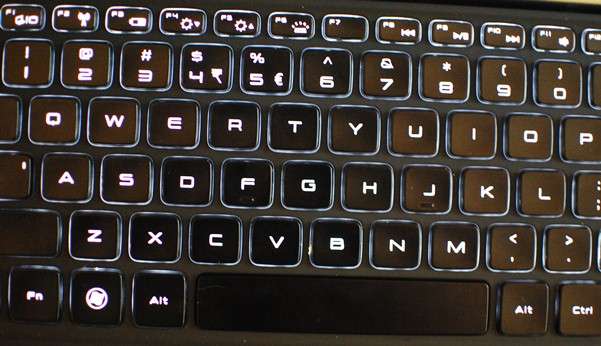 Battery Life
The specs claim that the battery life of is almost 9 hours! I did leave this thing on overnight, and yes, it was still on in the morning. So if you're bored of the inflight entertainment on a long haul flight, the Dell XPS13 won't run out of juice when you've just gained a shot of inspiration from eating the airline food!
That's Great, but is there anything you don't Like about the Dell XPS13 as a Travel Laptop?
I don't like using the in-built mouse pad to move the cursor around the screen, but that's because I live in the dark ages and don't like using this on any computer. However, it's not too bad for what it is and it doesn't annoy me like other laptops I've used. It's a minor thing really, and more of a personal preference for me as I still like using a real mouse.
Since I use photos a lot, an SD card port would be handy, but this isn't a big deal – I'll just use the camera cord associated with my Digital SLR. The two USB ports are enough for me.
But overall, for the purpose of travelling, the Dell XPS13 is great!
Dell XPS13 Ultrabook – Travel Laptop Video Demonstration
Anyway, I've put together a short video clip about the Dell XPS13 Ultrabook, so check it out.
[youtube]http://www.youtube.com/watch?v=3Z7iolQk4Ww[/youtube]
The Dell XPS13 Travel Laptop Reviews – The Verdict?
My experience with the Dell XPS13 Ultrabook has been really good – in line with the positive reviews I have read around on the internet. I can't really fault it for anything major during my short time in using it.
In my opinion, from a practical point of view, if you are looking for a Travel Laptop that is a) fast, b) light and c) durable, the Dell XPS13 should be on your shortlist. It hasn't gained a lot of positive reviews for nothing. I'll be using this baby a lot for my Travel Blogging!
Like with all major purchases like this, check it out first and see if you like it, as it's all about personal preference. But I like it and happy to have this in my Travel Blogging arsenal!
Disclaimer: Yes, I was provided with this Dell XPS13 Freebie, but all opinions are my own.