Hey there – today I've got a change of pace – I've managed to score some Travel Speakers to road test in terms of their application as a travel accessory. Actually, it's just one speaker, but that's all you need!
It's the Ultimate Ears (UE) Boom and it's meant to accompany you on all of your travels. Or it can be used around the home as well if you want sound in those hard to reach places!
Let's have a look!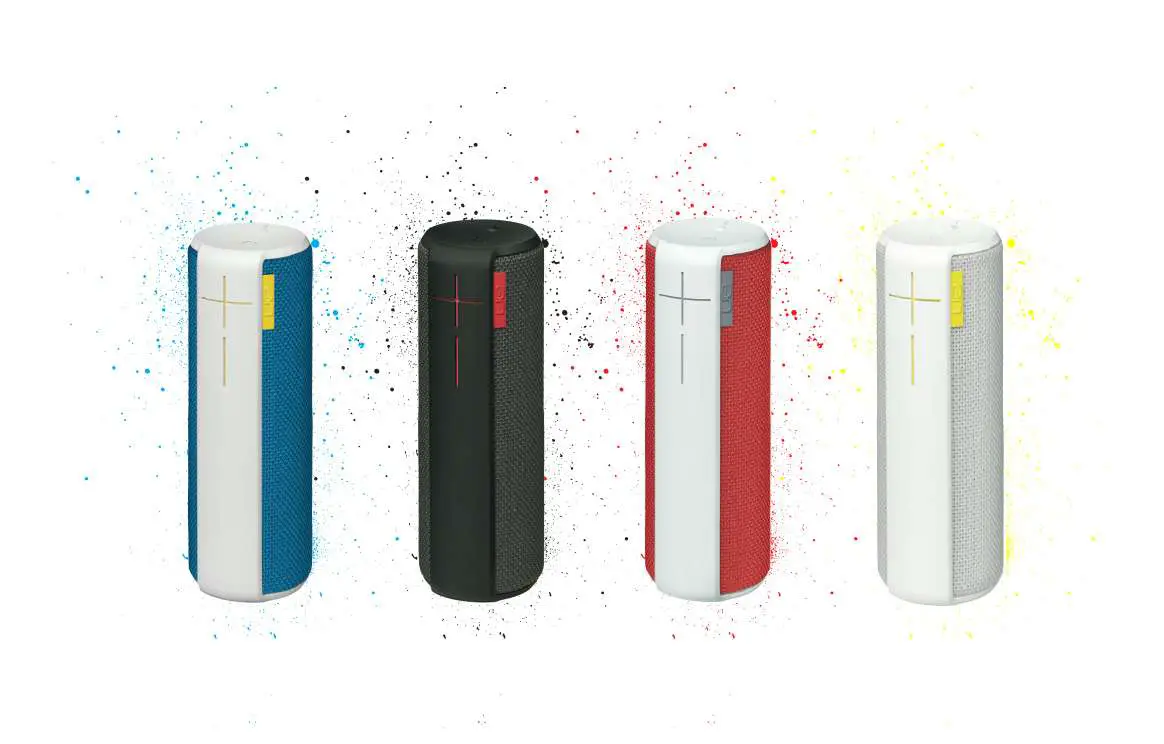 For the attention deficit crowd out there, this is the short story of what I like about the UE Boom Travel Speakers:
It's small, and doesn't weigh much (around 500 grams)
Durable construction, including water and dirt/stain resistance
Good sound quality
Good range away from music source such as mobile phone, laptop, or other Bluetooth enabled device (15 metres or 50 feet)
Flexibility of use – it can go pretty much anywhere
Can stream music from two devices if you feel like tag teaming your music with your friend
You can even use it as a speakerphone!
Very long battery life (15 hours use on full charge – enough to last until dawn if you have a really big night!).
For those of you have more patience, here is a bit more guff on it's use in travel applications. Some of them are serious, some are not!
The Bit More Detail Review
Now, I think that this device is perfect for those massive extroverts out there who feel the need to start a party based on no excuse whatsoever! I've seen many people on their travels listening to music via their Mp3 player or smartphone. But the UE Boom aims to take this single person disco just that little bit further.
However, no one wants to lug a big pair of speakers around the world just on the off chance you want to start a rave on the beach. Due to technology being able to cram more stuff into less space, well this has now reached the humble audio speaker.
If you're the type that like throwing parties on the road, well this speaker is a good option if you feel the need to whip up a source of dance music with only the use of your computer or smart phone.
The speaker easily fits into my day pack along with my other electronics like my laptop and camera, but it would be fine in your check in luggage if you wrapped it in your smelly backpacker clothes as extra protection.
It has a pretty solid construction build and it looks like it could take a few knocks because of a durable coating that makes it water and stain resistant. That makes it great for taking nearly anywhere, anytime and not really worry about it getting wet or dirty, park or beach doesn't matter, you'll see some of my ideas further below.
The way it works is that a single speaker projects sound out in 360 degrees. If you're really keen, apparently two speakers used together (that is, in stereo) sound great, but I'm reviewing this as a single speaker only. Just by itself, I was surprised at the sound quality of the speaker. It was pretty clear and had a good bass level.
And it's pretty loud – it can punch out around 88 Decibels (dBa). To try and compare this with a sound in the real world, hearing a jackhammer from 15 metres away is like listening to 95 dBa.
If you connect a second UE Boom speaker, this creates an even louder sound and also creates left/right sound separation.
The speaker will work with anything that uses a Bluetooth connection. That is, from devices like your laptop, smartphone, or tablet. Charging is via USB so it plugs straight into your computer. It's dimensions are 6.5 cm x 18 cm and weighs 538 grams – which is about the same weight as my small Digital SLR.
For the imperial measurement aficionados amongst you, that's 2.6″ x 7.1″, and 19 oz. The top of the speaker has a clip that can be affixed to a hook so you can place the speaker in the right location for the best sound, such as hanging off a tree.
From completely flat, the battery takes about 3 and a half hours to charge fully. You can even tap the + and – buttons and the speaker tells you how much power is left! That's like tapping your brain to see how many years you have left to live!
Just off the bat, I can think of a number of mobile/social applications were the UE Boom could be used:
Anywhere around the house where you won't be able to hear your normal stereo – for example, out in the garden
Going camping
Bushwalking – clipping it to your daypack with a caribena
Music for bonfires on the beach
Going bush walking. Just don't play any sounds of animal mating noises, especially ones much larger than you and those that like eating people
You can even clip the speaker to your belt or in your bicycle drink holder if you wanted to pull up next to people in their hotted up cars and play music to them!
Fart noises in an elevator anyone? 88 Decibel ones?
But I think the funniest travel application can be used on your fellow dorm room occupants when they wake you up when they're in a drunken stupor at 3 am. You can set the speaker underneath their bed and set your iPhone to play an annoying song at 6 am when they're still drunk, or starting their hangover!
You can see what I mean from the video below!
[youtube]http://www.youtube.com/watch?v=TxFNbKJcEDE[/youtube]
Travel Speakers Review Video – UE Boom Product and Funny Promotion!
Anyway, here are a couple more videos on the UE Boom:
Firstly, a product video:
[youtube]http://www.youtube.com/watch?v=kwSzsCMLghc[/youtube]
Secondly, check out this funny video from Reggie Watts involving the UE Boom – Can Music Settle A Fight? Brilliant!
Anyway, if you're interested, check out some UE Boom retailers.
There you go, I'm happy to add this to my travel arsenal!
I grew up in the 80s (listening to the likes of Midnight Oil) and the UE Boom definitely beats having a beat box next to your head! It's way more practical than that!
Disclaimer – yes, I was provided a UE Boom, but all opinions are my own.