If you're wondering, I have every single one of these Midnight Oil albums!
First of all, I'd like to thank Thrifty Car Rental who loaned me a Mitsubishi ASX for a short trip around South Australia, where I was able to visit the Burra Homestead. See more below!
Anyway, there's nothing like visiting the place that has been burnt into you imagination as a kid! Especially when it comes to your favourite music!
I recently had the pleasure of visiting a famous album cover from one of my favourite bands in real life!
I've 'visited the location of a famous album cover' before when I saw Giant's Causeway in Northern Ireland. This is the crazy formation of hexagonal basalt rocks that appeared on the Led Zeppelin cover for the 'Houses Of The Holy Album'.
But this album cover location is a lonely, old run down house called the Burra Homestead, located in the dry inland expanse of South Australia.
Burra is around 160 kilometres north of Adelaide, the South Australian capital city.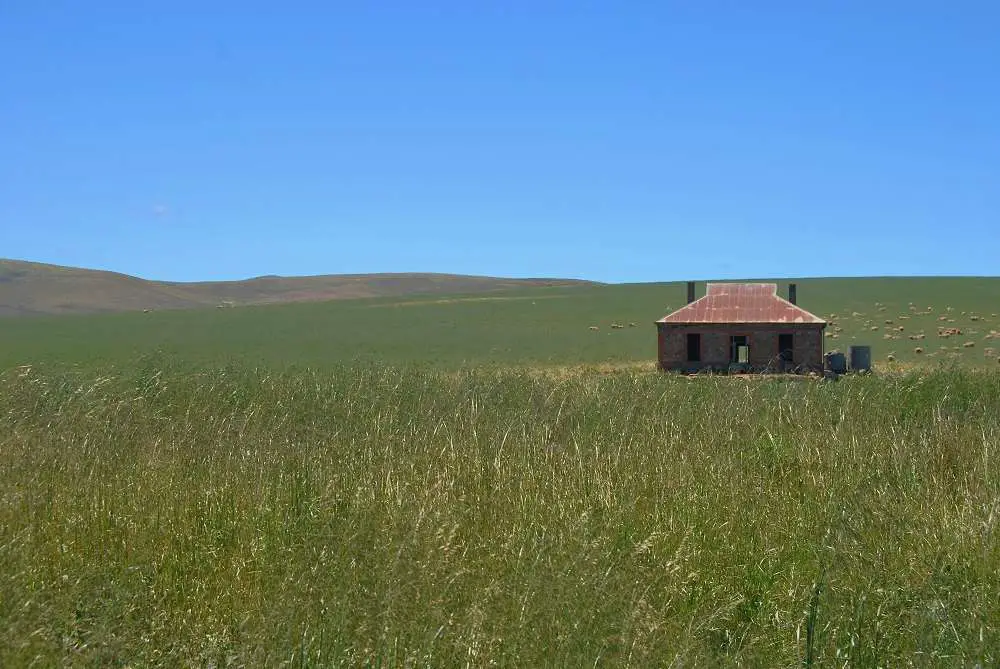 Here it is – before you keep on reading, guess which album does this house appear on? 
If you grew up in the 1980's like I did, you would have come across this famous album cover by Midnight Oil – the Diesel and Dust album.
This iconic shot was taken by photographer, Ken Duncan.
He was cruising around South Australia when all of a sudden he spotted this lonely homestead by the side of the road, and thought this epitomised the many wide, open spaces that Australia possesses.
And the rest they say, is history.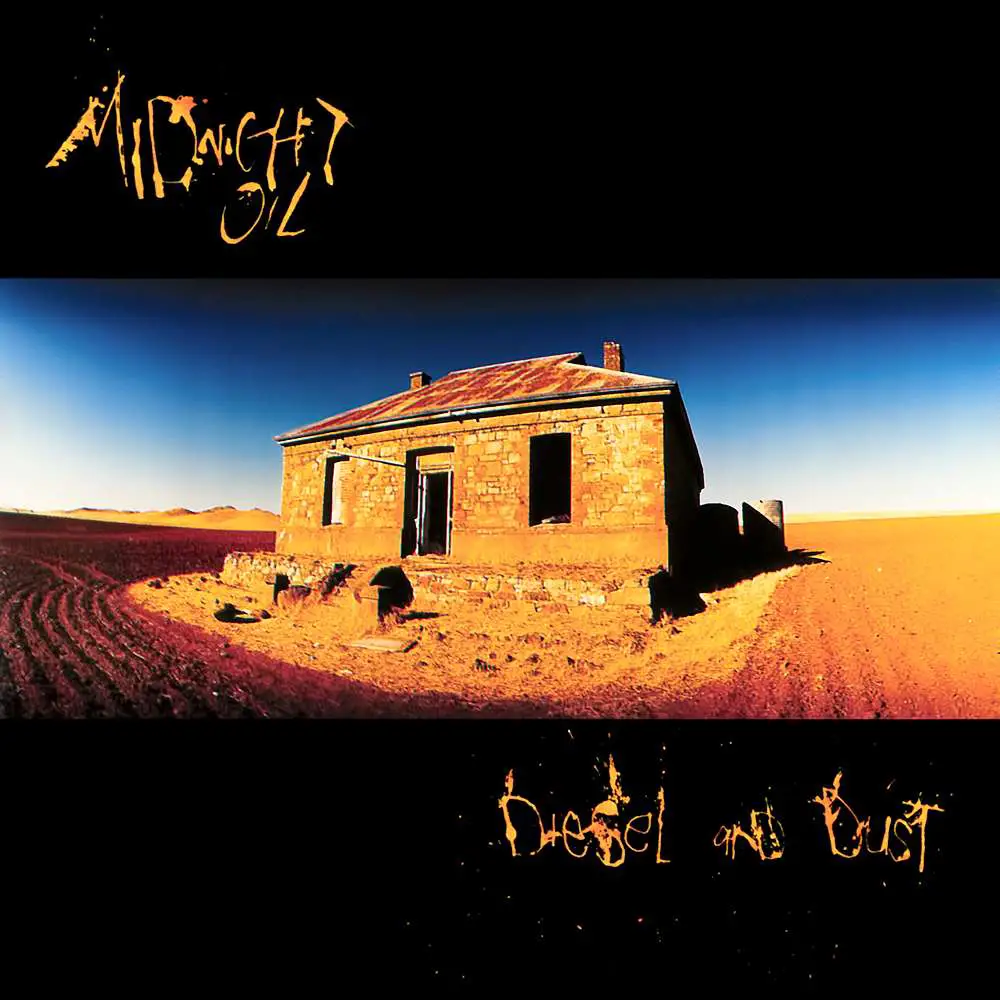 This album got me hooked on Midnight Oil after the first time I listened to it.
If you want to hear the sound of the wide open spaces of Australia, you need to have this album playing throughout the large expanses of impressive nothing!
This is what Australia sounds like!
I always have the volume on 11 in the car when I'm lucky enough to be driving through rural and remote areas. It's the perfect soundtrack to accompany the dry surrounds!
This album is normally regarded by critics as the best Australian album ever. Even Rolling Stone in the United States rated Diesel and Dust as one of the best albums of the 1980's.
It was released in 1987 so it's over 30 years old. Definitely a classic, and it was a big hit all around the world.
It was – and still is – a very important album (largely focused on environmental and Aboriginal issues), whether you liked what the band stood for or not.
The Midnight Oil Diesel and Dust Album in Real Life!
Anyway, I was able to take a few shots of the Burra Homestead from the road. You can't get anywhere near as close as Ken Duncan did as there are 'No Trespassing' signs everywhere (the homestead is located on private property), but there's nothing like seeing a place with your own eyes!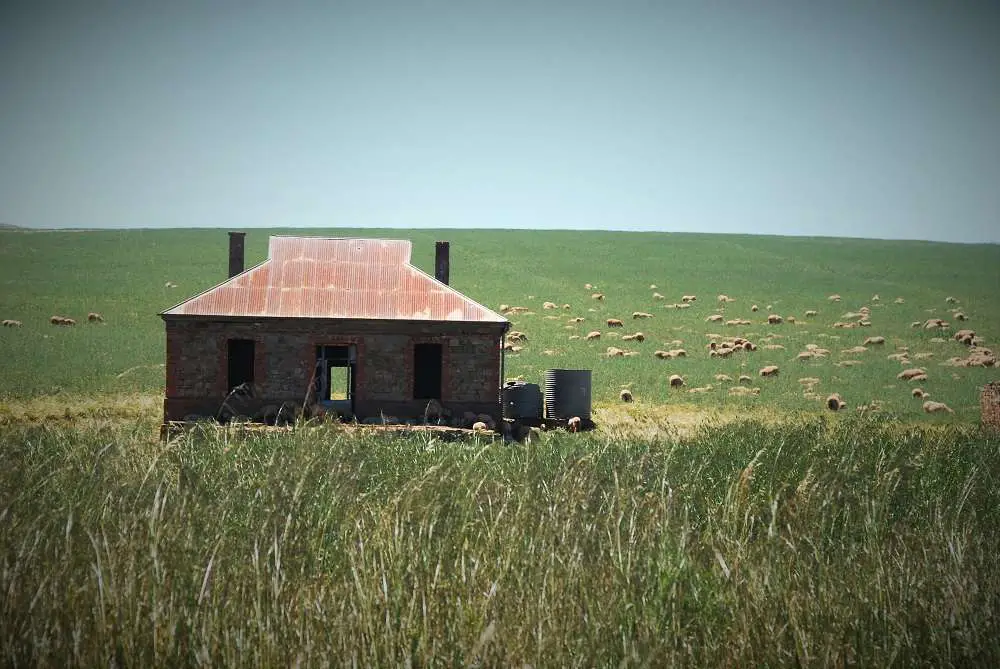 The opening track – Beds Are Burning.
Most people out there would have heard of this song, especially the introduction which is about as subtle as a brick being dropped onto your head.
But then it ventures into a thundering bass and drums section which is the signature sound of 'Beds are Burning'.
Here is the Beds Are Burning music video here. Yes, lead singer Peter Garrett does look like he's dancing with 240 volts up each leg, but at least he's inspiring all men around the world to at least attempt a boogie!
Beds Are Burning Video
But there are some other awesome tracks:
The Dead Heart
Put Down That Weapon
Dreamworld
Earlier this year, I went to see drummer Rob Hirst talk about his songwriting process that he uses for all of the songs that he writes, especially for the Oils.
It was really interesting – just like normal writing. He picks bits and pieces from everywhere and puts  it together to make a song. He always travels around with a pen and notepad to write things down that he sees/hears so he doesn't forget.
Here he is with the least attractive Midnight Oil groupie in the world – me!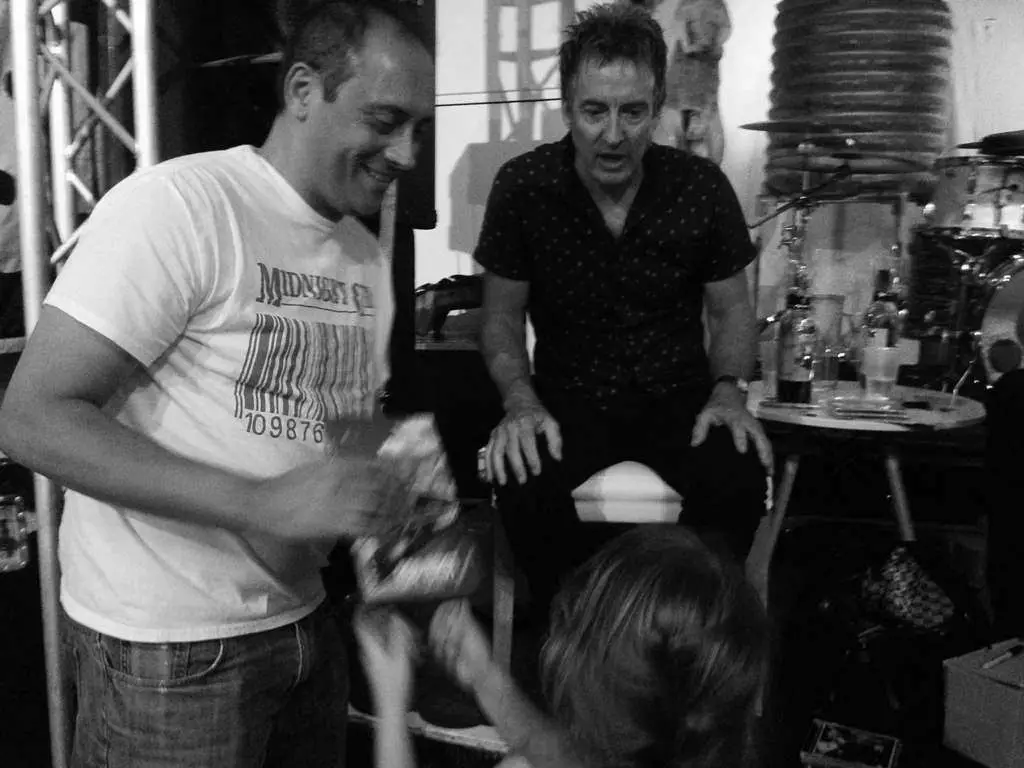 One poignant example –  the line 'How can we sleep when our beds are burning?' from the Beds are Burning song was translated from Italian that one of his friends told him about. The line came from a poem written by someone in Northern Italy in World War Two when Mussolini's 'black shirts' went rampaging around the place.
Anyway, these days the Burra Homestead is still there – it's had some repairs done to the roof, so you can still see it in real life and not just on the Midnight Oil Diesel and Dust Cover.
Looks like it's home to a number of happy sheep who want to have some relief out of the sun!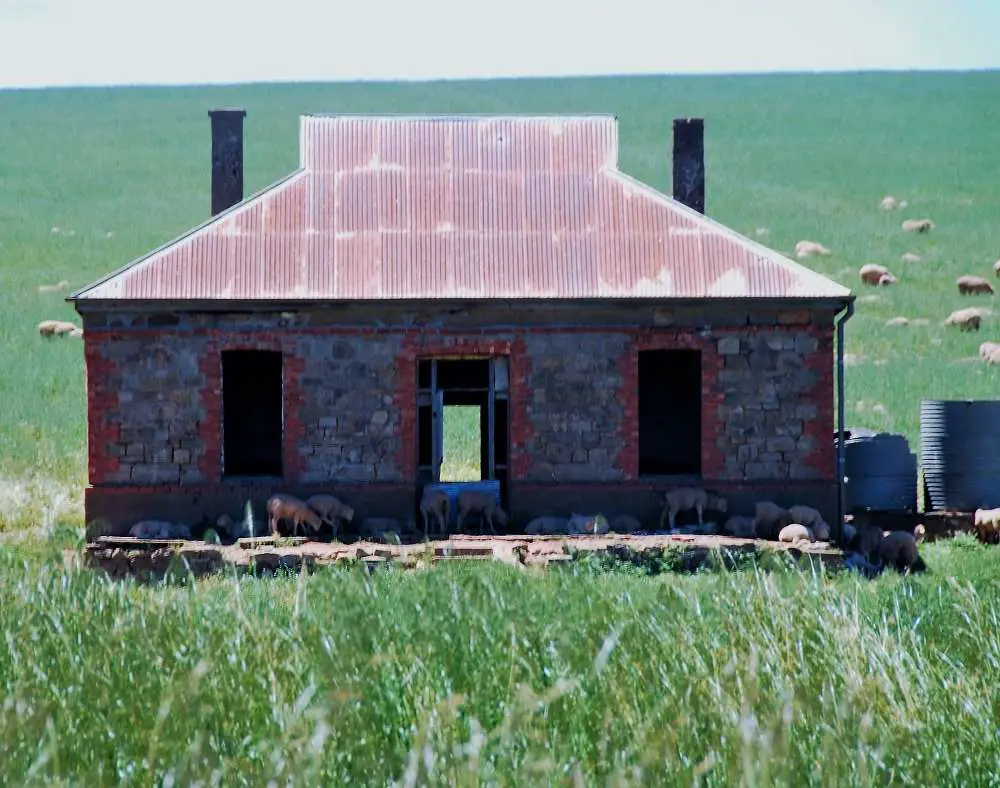 Anyway, Midnight Oil are reuniting for a tour in 2017 – I can't wait to see them live again!
You'll see me in the front row of the mosh pit! With my orange wig on!
Thanks once again to Thrifty Car Rentals which helped me reach the Burra Homestead!
For more album cover stories, check out my post on the Rage Against The Machine Album Cover – The Story Behind The Story.