Today I've got a funny travel photo from Inge who runs Colombia Facil about humourous Spanish Translations. Or in other words, Spanglish, which is like the latino version of Engrish. This is where two languages blend together due to a mis-understanding to form a new one. You can follow @ColombiaFacil on Twitter and on Facebook.
When Inge contacted me, she said 'Would you like to do an interview with Colombia Fácil or write about Colombia? Colombia is such much more than the Farc, drugs and Tanja Neymijer.'
Well, she's right there. I've had some absolute gold sent to me regarding Colombia, which includes some gems like Panty Shower washing liquid, Product Placement, and Markets in Bogota. Plus check out my interview with freelance travel writer, J.M Porup too.
Anyway, check out the photo below. Look very carefully at some of the drink names.
Spanish Translations That Make You Laugh!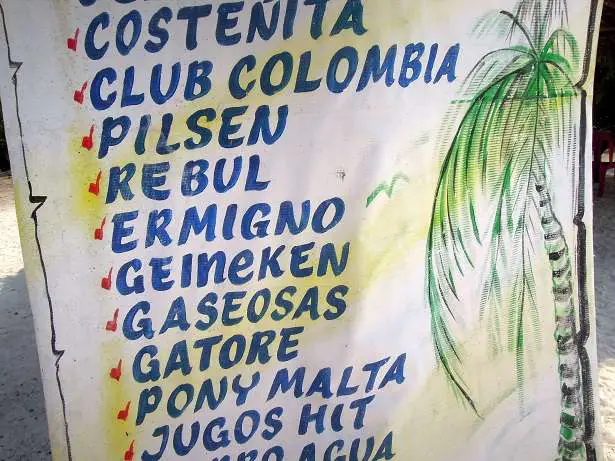 Inge says 'I think it was more a matter of typical "Costeño behavior" … They probably don't know the spelling … They just write like they hear it (the same like the Spanish language). Till now I never saw it anywhere else…'
What Inge means is that the bar owner here has written the word how it sounds. Spanish is an easy language to learn because it's consistent, but it's also phonetic – meaning what you pretty much hear is how you write it.
In Spanish, a 'g' is pronounced liked the 'h' in English. Hence, there is a Geineken Beer (instead of Heineken!) and there is even a Rebul (a Red Bull!). So yeah, this is a pretty funny example of unusual Spanish Translations and Spanglish!
More Spanish Translations Stuff
Luckily, the information on Colombia Facil Guide doesn't include these funny Spanglish translations. This is a new guidebook to Colombia and is aimed to make travel easy and accessible to travelers looking to explore all aspects of Colombia. The guide can purchased in Spanish or English and found in hostels, eco-lodges, tour operator offices, and language schools throughout the country. See more at ColombiaFacil.com.
See more at my really large list Spanish Swear Words, Slang and Expletives.