Mary Jesus and Joseph – Oh My God!
Today's Funny Travel Photo of the Mary Jesus and Joseph Scene is from Jeff Jung from Career Break Secrets. This one is really crazy and had me screaming WTF for minutes! I really don't understand the placement of a number of objects that should be mutually exclusive, but somehow, have been forced to be located together and in very close proximity to each other!
Anyway, check out the below photo he took from the Bogota Markets in Colombia of this Mary Jesus and Joseph Nativity Scene.  If you are really interested and want to visit this part of the Colombian capital, this is the Mercado de Pulgas San Alejo. It's a Sunday flea market in the centre of Bogota.
When you look at this photo, do you notice anything that is extremely unusual?
Look Very Carefully At The Mary, Jesus and Joseph Scene!
I spy with my little eye, something beginning with D! And it's a marble one!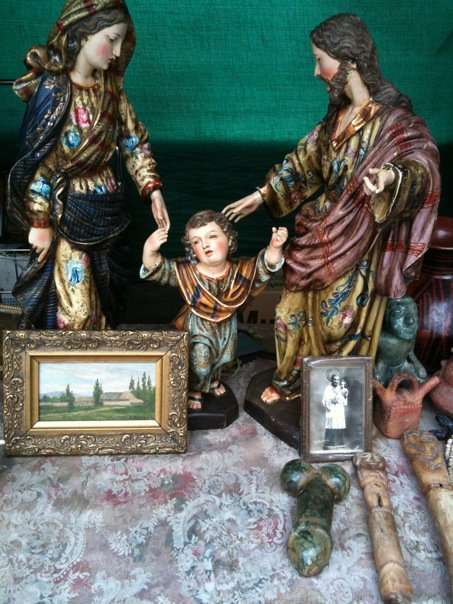 Hint: Look on the bottom right hand corner. It stands out like a.. well, you get the idea!
I thought this is possibly the most bizarre juxtaposition of market goods I have ever seen!  There's just no explanation for this photo! I don't get it at all, but this one had tears coming out of my eyes for a long time just trying to think of the reasoning of trying to sell these two goods in the same space! Maybe this is another great example of product placement in Colombia!
I can't walk into a church and look at  a Mary, Jesus and Joseph Scene in the same way ever again! Whenever I will look at a Christmas Nativity scene, I will have to try and stop myself laughing!
It's a bit unusual, like the previous photo Jeff sent me of Product Placement in Colombia!
Enjoy!
For something less unusual about Colombia, find out more at Colombia (Country Guide). Somehow, I don't think this photo shown above ever made it in the descriptions of what you can buy at the local markets! But now you know for certain!