The Great Crusade – an Awesome New Zealand Campervan Trip for the Qantas Wallabies.
Well, this is my last post about The Great Crusade. I had an awesome time thanks to Qantas, but all good things must come to an end and normal service on The Travel Tart resumes next week.
To finish off these Great Crusade posts, I've included a few interviews from some of the characters involved.
Think about this for a logistical nightmare – organising scores of Australian Rugby fans to spend 6 weeks cruising around the North and South Islands of New Zealand in support of the Australian Rugby Team, the Qantas Wallabies. Then add food, activities (see my Great Crusade Category), beer and all sorts of other stuff, and you've got one awesome party.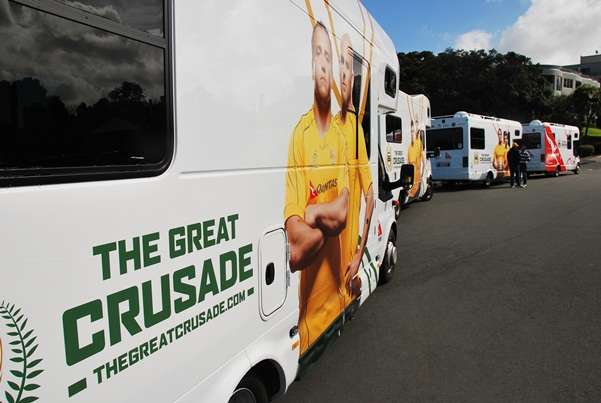 Firstly, there is one with Lewis, who is the head honcho of marketing for Qantas who talks about this left of field idea:
[youtube]http://www.youtube.com/watch?v=51DujiS7b3Y[/youtube]
Secondly there's Mike Goldman, who is the host for 6 weeks, and will probably need a liver transplant at the end of this.
[youtube]http://www.youtube.com/watch?v=3coVg3EmHxA[/youtube]
And Phil Lloyd, the character of Toby Withers who was accompanied by a film crew for some silly episodes.
[youtube]http://www.youtube.com/watch?v=MRQGYK0nGZ4[/youtube]
What a great experience, I really enjoyed it! Thanks to everyone involved.
Anyway, check out The Great Crusade website for more crazy stuff!