Product Placement In Colombia – Bizarre!
Today's Funny Travel Photo is Product Placement In Colombia!
This was sent from Jeff Jung from Career Break Secrets.  You can follow him on Twitter as well.
Check out the Photo below.  What's so unusual about it?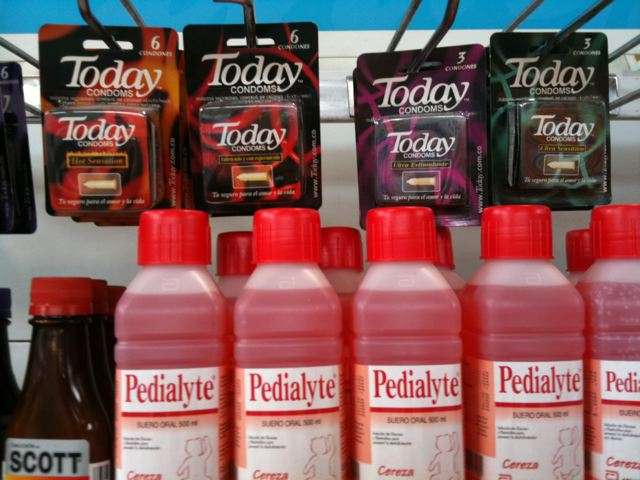 Well, there is an Infant Rehydration Solution (the Pedialyte) placed in front of the Today Condoms.  I'm not sure if this is typical of normal Product Placement In Colombia, but I had a good chuckle at this photo!
I'm guessing that if one is in the mood, that you might not necessarily want to purchase a substance that's meant to help out poor babies after they've had a bad case of explosive diarrhea.
Actually, it doesn't sound so silly.  If the condoms break, you might need the Pedialyte about 9 months later!
Somehow, I don't think the store owners were following the Handbook of Product Placement in the Mass Media: New Strategies in Marketing Theory, Practice, Trends, and Ethics or Product Placement in Hollywood Films: A History.
But anyway, I definitely enjoyed this example of Product Placement In Colombia!