Sydney Fiji Flights!
Woo hoo! I've managed to score a trip to Fiji thanks to the nice people at Tourism Fiji. This trip is part of promoting new Sydney Fiji Flights with Jetstar that commences on Monday 29 March 2010.
Jetstar will be flying regularly between Sydney and Nadi to take sun loving people to this tiny speck in the South Pacific Ocean.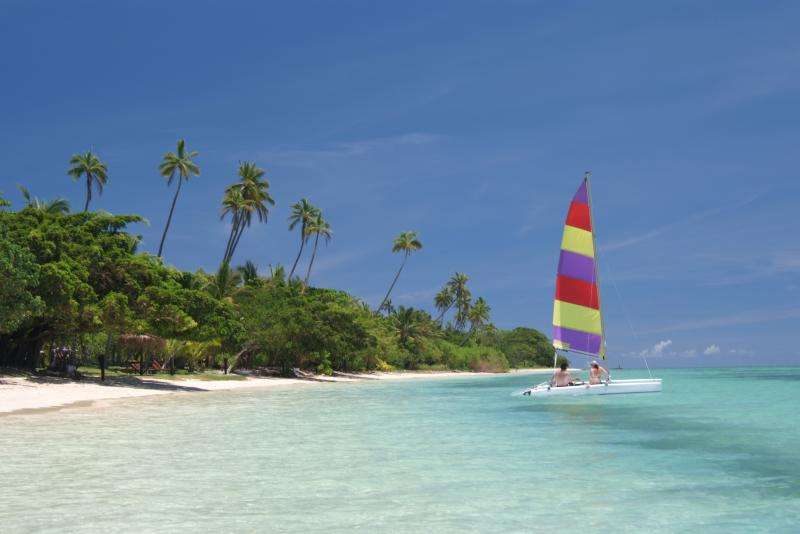 You can find out more about this new Sydney Fiji Flight here!
I'll be on this Sydney Fiji Flight to one of the friendliest places on Earth.  I haven't been to Fiji myself yet, but am looking forward to it and checking it out!
I know others who have been there and have loved the experience, especially the hospitality of the Fijian people.  I'm also keen to add Fiji to my Beer Index, which measures the affordability of a country by its beer. Apparently the Fiji Bitter or Vonu beers are quite a nice drop on a very hot and humid day!
One of the things that Fiji is famous for apart from being friendly is the kava drinking ceremony.  Kava is a mildly narcotic substance that looks like muddy water when you drink it, and apparently makes people feel good.  Other side effects include a furry tongue that sometimes tingles!
I have a feeling I won't escape Fiji without trying it somehow!  If you want to learn more, check out Kava: The Pacific Elixir: The Definitive Guide to Its Ethnobotany, History, and Chemistry. Hope my liver can stand up to it!
Keep tuned for a number of posts and videos about Fiji in the next few weeks.
Anyway, here is the disclaimer: The future posts you will see from me about this Fiji trip and the Sydney-Fiji Jetstar flights will be created from a trip that Tourism Fiji sent me on!
Talk soon!