Today I've got a funny travel photo titled 'Making Mistakes', which was sent to me from Marysia from My Travel Affairs. You can follow @MyTravelAffairs on Twitter and on Facebook. She previously sent me one about the Cut The Crap Hair Salon!
Marysia says 'this picture reminds me one of the weirdest two days on our West Coast trip. We have just crossed the border between California and Oregon and had been staying overnight in Brookings – a sleepy city for retirees! We arrived quite late and finding a place open at 8pm was a bigger challenge than I expected. After driving from the place to place we have found something open in the harbour.
The clam chowder was so sticky that you could put a spoon into it and it wouldn't move. I decided to stick to my red, and I'm sure it was a good choice! We ended up drinking in the local bar somewhere on Highway 101 all night with soldiers who served in Iraq, only for one reason – not to get sick from the food!
The next morning was tough but it was 11th of July, World Cup 2010 Final Game and as Europeans we couldn't miss it. It was going to be a historic game, Spain vs Netherlands. We started from a sport bar in the city, they had no idea what are we talking about and didn't have the channel which was transmitting the games.
We tried another two in town and nothing – World Cup of what one lady asked? I haven't heard of it! Of course you didn't  You are an American and call this game soccer! We have been advised to try in the harbour again…I didn't want to but we ran out of options.
The we parked outside 'the' place on a huge parking lot, just in-front of this advert!
Making Mistakes – Oh So True…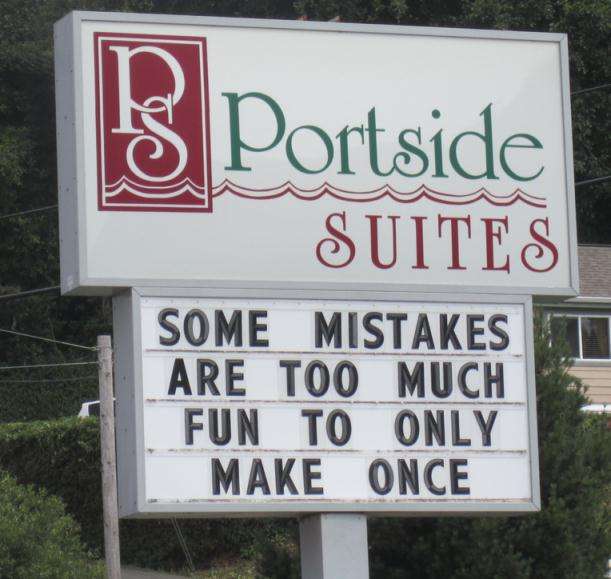 I started laughing and my bad mood went away! One thing I have to admit, honesty is everything. And we found the place to watch a game and even food was edible."
Something tell me that the owners of this establishment have witnessed thousands of people 'making mistakes' in their hotel rooms! I love this truth in advertising!
Somehow, I don't think this sign appeared in Celebrating Failure: The Power of Taking Risks, Making Mistakes and Thinking Big.