The International Spy Museum – James Bond and Maxwell Smart Copycats!
The International Spy Museum is located in Washington D.C. It's the most bizarre museum I have ever visited!
Ever thought that all of the gadgets in Get Smart and all the James Bond Movies were too good to be true?
Well they're not..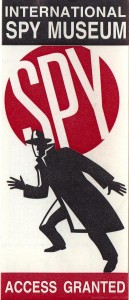 I confirmed this when I went to visit the International Spy Museum in Washington D.C.
This bizarre but fascinating museum contained an amazing collection of 'superseded' gadgets that were used in espionage in years gone by, especially during the height of the Cold War.
The International Spy Museum had gadgets like a lipstick gun, the necktie camera, a shoe radio transmitter and a pigeon camera.
I found the pigeon camera the most interesting –  since there were no such things as spy satellites during the 1920's, homing pigeons had a camera strapped to them so they could fly over a target area to capture images that were timed to be taken every few seconds.
In some of the images shown at The International Spy Museum, you can see the pigeons wings on either side of the shot.
It's no wonder the CIA were monitoring the Get Smart show during the 1960's to work out new ideas!
Also, the lengths of espionage during the Cold War were almost ridiculous – the U.S. and Soviet Union embassies took ages to build because each side were accusing the other of placing bugs in the wall – so metal detectors were an essential form of construction equipment.
However, there was a solution to this – mix metal shrapnel into the concrete mixture so that it was impossible for a bug to be detected.
The International Spy Museum – Imitating The Movies!
So if you do see a ridiculous gadget in any spy movie – it's probably already been developed by your country's spy agency and it's already superseded, finding a home in The International Spy Museum.
Other things to do in the U.S. after visiting The International Spy Museum – confirm many times that Americans can in fact brew Great Beer, and check out some gun wielding locals on Google Maps.