It's amazing what can turn up on the Internet these days. Google Maps is just one of those ways where weird stuff showing Crazy People can show up (see Public Sex!). It is almost as if the Google car zooms around all day trying to photograph all sorts of weirdos who think they are doing their 'normal' routine during their daily lives. Google is going to take over travel!
I'm not knocking Google Maps – I think this service is one of the best they offer, and I can't believe it's free. I can't imagine how many of the techno mad generation would be lost forever down some dark alleyway if they didn't have the application installed on their smart phone!
And I'm not sure what the editorial policies at Google are because they let slip a heap of unusual pictures when your are looking for stuff. As an example, one of my friends sent me the following directions to look up on Google Maps. You should try them out yourself!
How to find some Funny Google Maps
These directions were:
Go to http://maps.google.com/

Type in 526 7th St, Rapid City, SD

Click on 'Street View'

Scroll around.
This is what came up (no joke – this is a screen dump straight from my computer), and it's still there the last time I looked: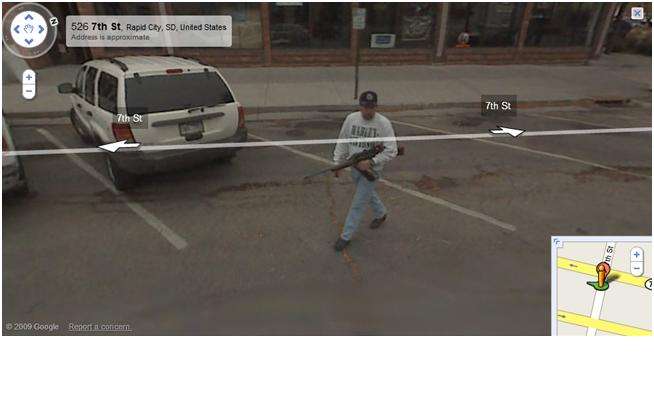 I'm not sure why this guy is feeling the need to execute his 'right to bear arms' (maybe because it's still in the American Constitution), but WTF?!?
I'm sure there's more of these unintended photo captures hanging around on this great google tool.  If you know of any others, leave a comment with the link or instructions!
To find more about Google Maps or Google Earth stuff, check out Google Earth For Dummies and Google Maps Hacks: Tips & Tools for Geographic Searching and Remixing.
If you're planning a trip soon, check out my best travel insurance tips, and get a quote on some Backpacker Travel Insurance.