Hi there travel addicts, today I've scored an interview with Luke Gamble, who you would have seen on TV with his really interesting show called Luke Gamble's Vet Adventures.
This show is about Luke's adventures regarding animal welfare all around the world. He is also the Chief Executive of the Worldwide Veterinary Service (WVS), which supports animal charities and non-profit organisations all over the world.
He also has a new book out called The Vet: the big wild world.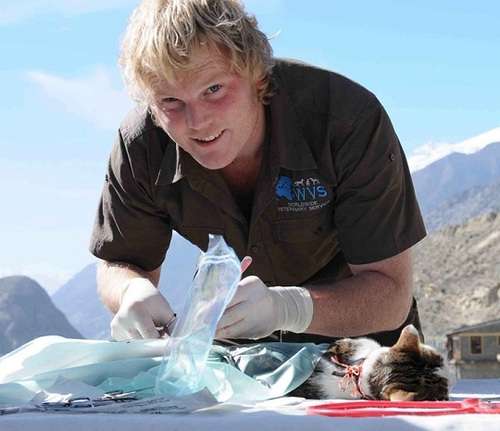 The WVS provides veterinary and non-veterinary volunteers, free veterinary drugs, supplies and equipment and free veterinary advice and consultation in places where it's pretty scarce.
You can follow @lukegamble and @WVSCharity on Twitter and on Facebook.
Anyway, here it is!
Luke Gamble Talks about Travel and Animals!
The Travel Tart: Hi Luke and thanks so much for your time. Congratulations on being a father for the third time and dragging yourself away from changing nappies to chat to me! Anyway, I've been watching your vet adventures and enjoying the places that you are visiting to help out some of the animals that come into a bit of strife. This is something you are obviously passionate about – what inspired you to start up the WVS?
Luke Gamble:  I love being a vet but also adventure and travel. As bucks were tight after I qualified as a vet (1999), helping out a few animal charities and shelters in my holidays was the perfect way to combine all three – staying in dog shelters is very economical! After the first few trips – one to Greece and one to some Indian slums – I was hooked and setting up the charity (Worldwide Veterinary Service) was great fun as I could instantly see the benefits and the help it could give to some pretty inspiring organisations. It was the first charity of its kind and we now have over 400 animal charities/shelters registered with us for help, we've sent out over a million pounds worth of meds and equipment in the last five years and we now send on average over one team a week to a far flung corner of the world (67 teams went out last year). The best bit is all the vets involved with WVS so this on an entirely voluntary basis – although we're starting to take a lot of non-vets on the teams now as well which is fantastic.
The Travel Tart: On Luke Gamble's Vet Adventures, I winced a bit in the episode where you extracted 17 kilograms of plastic bags from a cow's stomach in India. That's probably enough to supply a supermarket for a week! I'm glad I wasn't eating dinner at the time! What is the most bizarre foreign object you have ever extracted from an animal?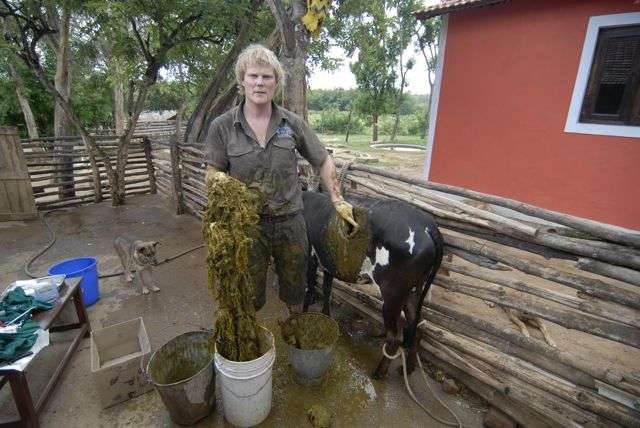 Luke Gamble: I've taken lots of things out of lots of animals – nails, necklaces, knickers, socks, christmas decorations and normal household rubbish. The winner is probably a completely intact wine bottle wedged in an African elephants intestine though.
The Travel Tart: Many of the countries that you visit have a lack of resources for pretty much everything and this often requires a lot of improvisation. I'm sure you've had to throw your vet text books out the window sometimes! What's the strangest form of improvisation you've had to undertake for a procedure?
Luke Gamble:   I once had to use some sheep's fleece to make a thread for skin stitches. I really doubted it would work, but remarkably, they held long enough and with good antibiotic cover the animal pulled through.
The Travel Tart: What's the most unusual form of transport that you have had to use to move an animal from one place to another? Extra points for using transport that is well under-engineered for the type of animal moved!
Luke Gamble: I once transported a donkey in a tuk tuk which no one thought would fit. These things have moped engines so it was struggle up any incline, but amazingly the donkey seemed to enjoy the ride!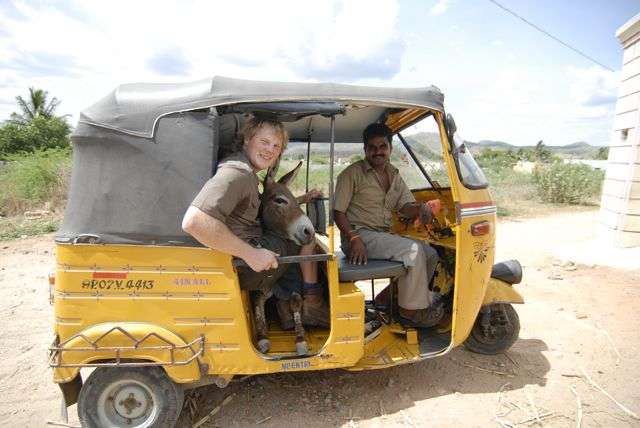 The Travel Tart: You've probably seen some strange dog cross breeds on your travels. The most unlikely and impractical I've ever thought of would be the offspring between a great dane and a chihuahua (sorry, bad mental image!). Have you seen a dog where you thought, how the hell was that possible?
Luke Gamble: I have firmly come to the conclusion that where there's is a will there's a way!
The Travel Tart:  Ha ha, yes true, testosterone is capable of causing many unbelievable things! Anyway, my sister is a vet nurse and has a bizarre fascination with castrating male cats (ouch!). Neutering feral animals can often provide a good control in terms of the effects on native wildlife and minimising the potential of unwanted interactions with humans. While neutering might not exactly be glamourous, how important is this in your line of work?
Luke Gamble: It's key. A feral population that is stable, neutered and vaccinated is safer for the community, keeps more dangerous and diseased animals away and doesn't breed uncontrollably. It is proven to be the only effective way to get on top of population control (particularly with street dogs) in the long term.
The Travel Tart: I've been to Africa a few times and I love shooting the wildlife there with a camera. One thing that strikes me is that the size of the wildlife there would pose some challenges for people wanting to provide whatever treatment is necessary. What have you found has been the most challenging aspect of working with African wildlife?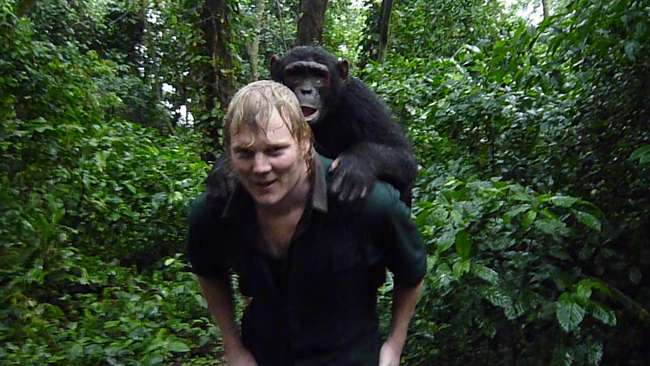 Luke Gamble: Exactly that. The dangerous creatures want to eat you which is always a slight issue when they really need a quick jab…. I had a heck of a time trying to worm some lions once, you'd think they be happy with a raw steak laced with wormer, but for some reason, they prefer a moving target… Not great when you run a bit like a duck.
The Travel Tart: Travelling abroad when you have a young family at home must sometimes be difficult. How do you balance up home life and going abroad? And how do you score such an awesome leave pass? 😉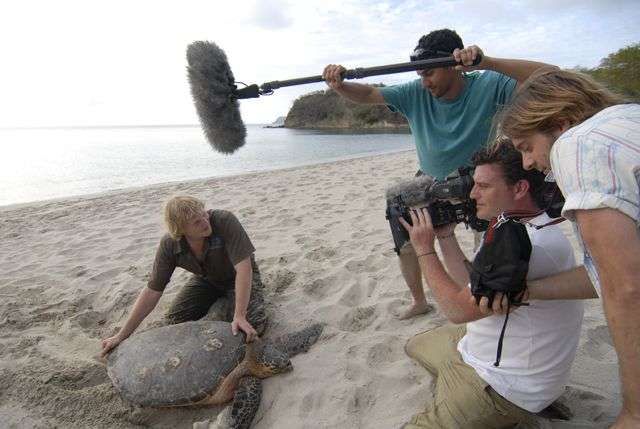 Luke Gamble: Having an awesome wife! The singularly most difficult thing I do with any charity trip or adventure I go on, is board the plane. I absolutely love what I do, but on the last shooting block I was away 2 weeks of every month for ten months and the wrench just got worse with each trip. My wife is incredible and it is much tougher on her than it is on me no matter what slum or township I'm heading to. Everything I do with the charity or the TV is very much a team effort.
The Travel Tart: After Luke Gamble's Vet Adventures, do you have any more TV Projects in the pipeline?
Luke Gamble: There are a heap in the pipeline and I'll be back on the road in about 4 months.
The Travel Tart: And finally, where was the place where you first thought, 'hell yeah, I love this travel thing?'
Luke Gamble:  It was 1995, I had shaved my head with some mates to raise money for black rhinos  and we were back-packing around Zimbabwe. We headed up to Matusadona National Park to help out with a rhino project and the whole experience was simply fantastic. Specifically, that first cold beer after arrival, overlooking the African plain at sunset… Hard one to beat.
The Travel Tart: That's great, thanks for your time!
More Luke Gamble Stuff
For more Luke Gamble info, check out the Luke Gamble website, the Worldwide Veterinary Service, The Vet: my wild and wonderful friends and The Vet: the big wild world.