Today I've got another funny travel photo from from Karolina and Patryk who run KarolinaPatryk.com about a Feeding the Pigeons sign they spotted in Thailand.
You can follow them on Facebook, Twitter and Instagram. They recently sent me the really cool Adventure Motorcycle from Vietnam and the potty training tips from China.
One common thing tourists tend to do around the world is feed pigeons in some of the most famous places around the world. Like for example, I've seen people feed these birds in Trafalgar Square in London, and near the Coliseum in Rome.
I've also eaten a pigeon – in the rather tasty pastilla that you can have in many places in Morocco which contains pigeon meat!
But it seems like that feeding the pigeons in Bangkok may be deemed a dangerous activity that will probably seriously challenge you travel insurance if you decide to take these lice bearing birdies with a piece of bread!
Anyway, Karolina and Patryk say 'we have pic a from Thailand (Bangkok) to share with you and your readers. This photo of deadly pigeons is really hilarious.'
Feeding the Pigeons. WTF?
Ha ha, I love this!
The sign says 'WARNING: Feed a pigeon, Lose a Finger! Please don't feed the birds!'
It's brilliant. If you look closely at the black pigeon picture, you can actually see the graphic illustrator has included a human finger within the beak of the bird!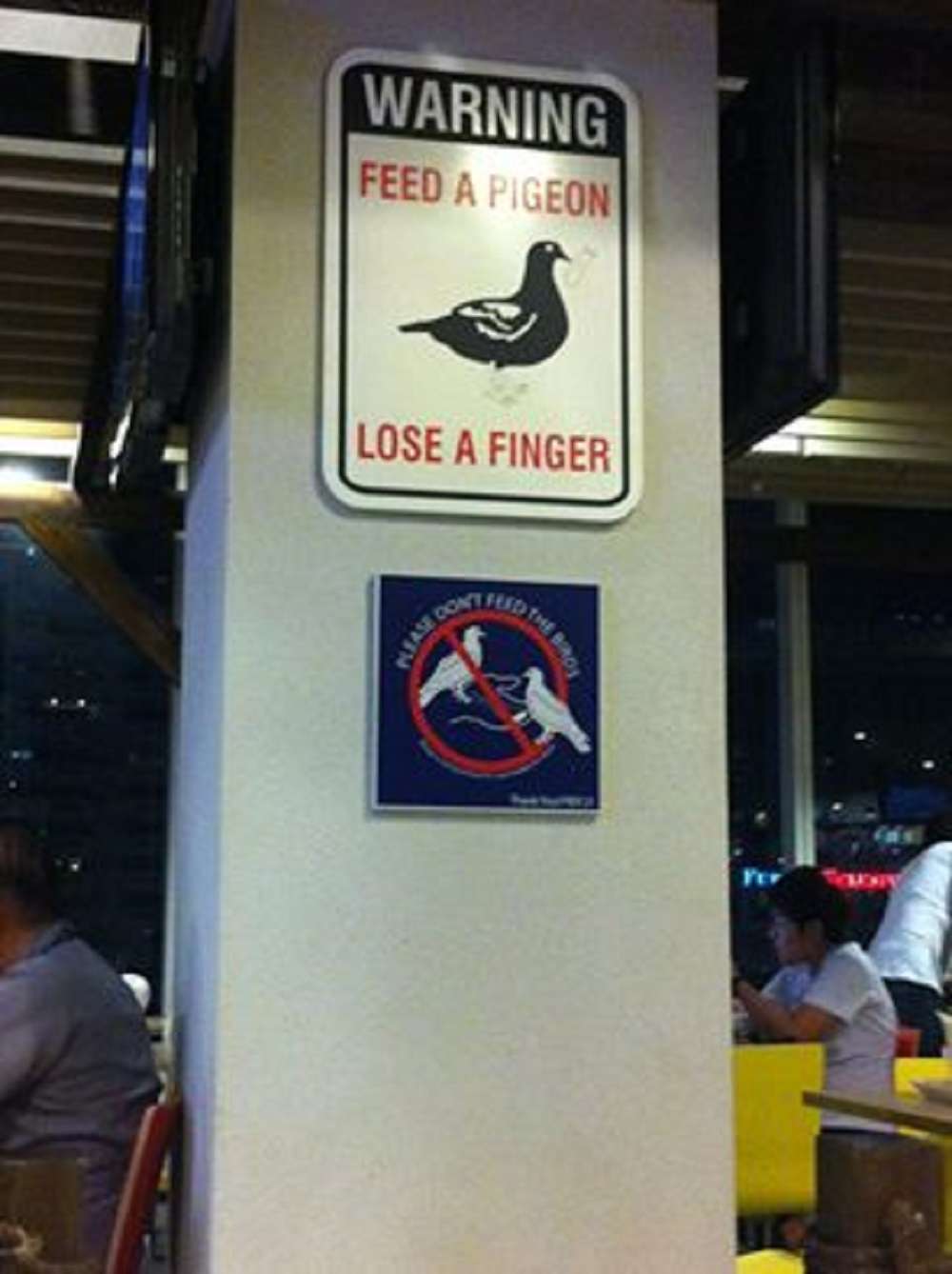 Looks like feeding the pigeons in Bangkok is probably way more dangerous than riding down the world's most dangerous road in Bolivia, bungee jumping in South Africa, taking a ride in a minibus taxi, and possibly coming across a Drop Bear in Australia!
I thought this sign was way more bizarre than the Pigeon Camera, which an old school film camera was attached to a homing pigeon in World War One in an attempt to score some 'spy photos'!
I'm just thinking these pigeons are probably way more aggressive than the seagulls on the beach side who try to steal your deep fried chip off you!
Somehow, I don't think this sign is going to appear in The Pigeons And Doves Manual: A Guide To Keeping And Feeding Pigeon And Dove Birds any time soon!
Anyway, you can't say that you haven't been warned! You heard it here before you take that trip to Thailand to booze up at Full Moon Parties or some other hedonistic activity!