Travel DK Guides – Giveaway Time!
Today, we have a guest post from Travel DK Guides about Alternative Travel Sites.
But there's more!
Travel DK Guides are also offering a really cool prize – a FREE copy of The Road Less Travelled.
The cover is shown below: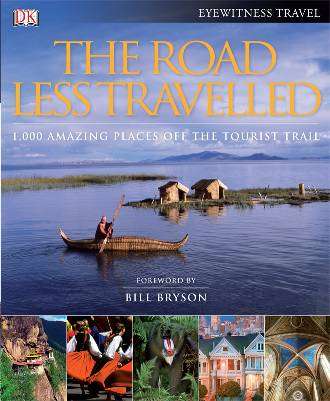 So how do you win this book?
Well, you have to do a little bit of work!
After you have finished reading this post, just leave a comment at the bottom of this post to be in the running.
The comments will remain open for 2 weeks and will close on Monday 7th of December 2009, 12pm Australian Eastern Standard Time (AEST), which is GMT +10 hours (Use this clock to work out your local time).
The prize is open to all regions.
Once the competition is closed, I will then randomly select a comment to find out who the winner is.  I will do this by a placing the names in a hat, and asking my dog to pull one out with his rather large tongue.
No seriously, I'll find some random number generator to work it out!
This isn't a game of wit – it's a game of chance!
The very nice Holly from Travel DK Guides will then send a copy to the winner once I obtain the winner's snail mail address!
Here is article, so get reading and leave your comment!  Oh, and sent it around Twitter and Facebook as well!
Alternative travel sights
If you're searching for inspiring sights and fascinating experiences on your travels, but don't want to go with the crowds; these alternatives to well-known wonders are sure to make for a rewarding and revealing trip beyond the tourist trail.
If you like The Acropolis; try Agrigento and Selinunte, Sicily
The Acropolis in Athens is a potent symbol of the classical world, but the temples of Sicily – built 100 years before – can offer an amazing alternative, more evocative of the power and majesty of ancient Greece. Travel to Agrigento for a glimpse of the ancient acropolis and its stunning Doric columns, then spend at least a day exploring the Valley of the Temples and its treasures. Don't miss seeing the shrines, museums and catacombs, plus make sure you visit the ancient villa, agora and church.
The vast archaeological site of Selinunte had a short life, but it flourished long enough for an acropolis and seven temples to be constructed. Although not as well preserved as the ruins of Agrigento, these magnificent structures, by a dazzling blue sea, are still a spectacular sight.
If you like the Basilica San Marco; try Haghia Sophia, Istanbul
Haghia Sophia in Istanbul was built to proclaim the might and majesty of the Eastern Roman Empire, and it dwarfs Venice's Basilica San Marco in age, scale and artistic achievement. Built 500 years before Venice's basilica, Haghia Sophia is one of the great religio-historic wonders of the world and has withstood earthquakes and countless wars. The building's spectacular soaring dome and four minarets dominate the city skyline and enclose one of the largest interiors in the world. Travel here for a quieter alternative to the Basilica San Marco, which may attract more visitors, but when it comes to atmosphere and architectural splendor, Haghia Sophia wins hands down.
If you like Waikiki; try Hulopo'e, Lana'i: Hawaii
Travel to Hulopo'e Beach in Hawaii to discover everything from gorgeous sands and idyllic swimming, to abundant marine life. For a peaceful alternative to the crowds of Waikiki, this beach is ideal: a gentle curve of deep, thick sand sloping into the ocean. An offshore reef ensures that the surfing conditions are relatively tame, making it the perfect place to learn to surf or simply play in the clear water. The whole bay forms part of a marine reserve and pods of local dolphins can often be seen swimming by. The snorkeling at Hulopo'e is excellent, and in winter, humpback whales are frequently visible if you travel out to sea; snorkelers are also able to hear their underwater songs.
If you like the Sydney Opera house; try the Walt Disney Concert Hall, LA
A classical music venue in step with the 21st century, the Walt Disney Concert Hall provides a captivating modern alternative to older venues like the Sydney Opera House. Designed by Frank Gehry, this gleaming metal-clad building is full of odd angles and yawning windows that draw in the California sunshine. As much as its architectural splendor, the Disney is also admired for its amazing acoustics which cannot be matched by the Opera House – completed 30 years earlier. Free guided tours are offered nearly every day and the public are encouraged to tour and study the building, making it a cheaper and more accessible alternative to Sydney's concert hall.
Find out more about Los Angeles
If you like Musée de Louvre; try smaller Parisian museums
The Louvre is an undisputed crowd-puller but, if you prefer a little breathing space with your culture and are prepared to travel around, Paris has a host of alternative lesser-known art museums with equally commendable credentials. Beyond the walls of the Louvre's incredible, but daunting, 35,000 works collection, lie smaller more accessible museums. Some of them, like the Musée Cognacq-Jay, are housed in mansions that also permit you a glimpse of long-vanished lives and lifestyles. The Musée National du Moyen-Age is an extraordinary museum dedicated to the art of the middle ages and the Institut du Monde Arabe, housed in an ultra-modern building, showcases Arabic history and culture.
More Travel DK Guides Stuff
These attractions are all taken from Travel DK Eyewitness Travel's new book The Road Less Travelled.