This giveaway has been completed, thanks for your interest!
Today, I'm giving away a MASSIVE PRIZE!
Bologna, Italy – Be There with Emirates
Well, I'm teaming up with Emirates so I can send two lucky punters from Australia to their latest Italian gateway – Bologna!
Anyway, this giveaway is to celebrate the Emirates Be There campaign! This is a global campaign that celebrates curiosity, wanderlust, and the adventure that comes with travel. Emirates sourced their own staff/travel addicts (known as "globalistas") to travel the world and document their experiences of #BeingThere.
Selected through a talent show style competition held for Emirates staff, these seven globalistas will have the once in a lifetime opportunity to travel and discover hidden gems in cities across the airline's global network on six continents. From music to food, fashion and adventure, each globalista will film their own journeys while exploring their personal passions – making the story and experience their own. As ambassadors, these "Be There" globalistas will travel around the world over a six-month period, and bring their passion to life by capturing their unique 'Be There' experiences through their own storytelling lens.
To celebrate the Be There campaign, Emirates is giving away two economy class, return tickets worth over $AUD 5,000!
With 30kg of checked luggage, award winning inflight entertainment and gourmet catering – what's not to like? Keep reading if you feel like stuffing yourself silly full of pasta and gelato!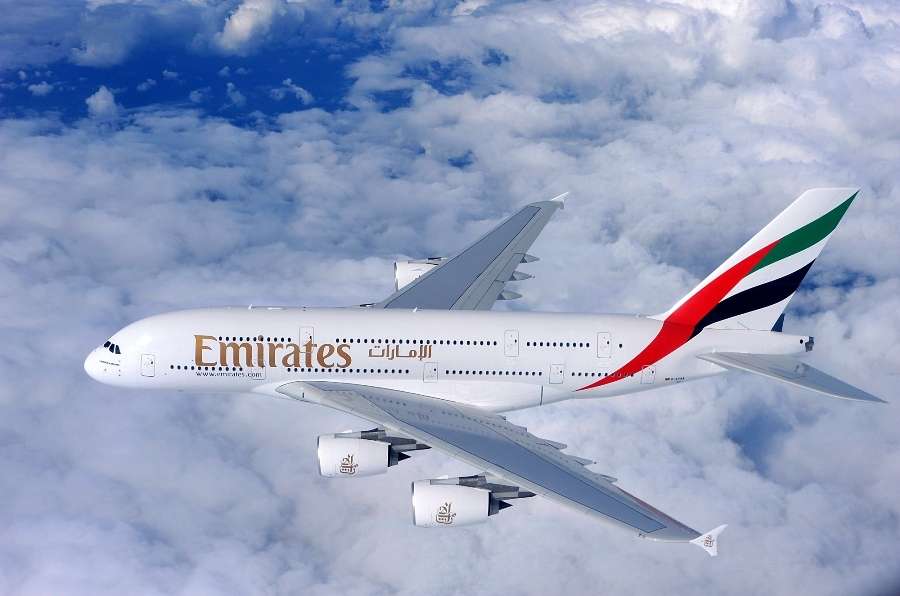 Note, this competition is for Australian residents only. Sorry if you're reading from another country, I'll see what I can stitch up for you at another time! I feel like entering the giveaway myself, but I know that would come across a tad shonky!
The flights are to be taken from either Sydney, Melbourne, Adelaide, Brisbane or Perth international airports to Bologna, Italy. If you don't live in any of these cities, you'll have to make your own way there.  I've also been lucky enough to fly on the Emirates A380 and Boeing 777 too, so I know you'll enjoy the trip over!
Anyway, Shahab was one of the globalistas selected for the Be There campaign, and he was lucky enough to experience Bologna himself.
Check it out here!
[youtube]https://www.youtube.com/watch?v=RN8_S9JglQk[/youtube]
Looks like he's been eating a lot of great food there. I just hope he doesn't have to check himself in as excess baggage on the flight home!
Visit the Be There website to watch more videos from Emirates' inspiring globalistas and and be taken on a journey to over 30 destinations across the world – because what's better than #BeingThere?
The 'Be There' began with a call to the 80,000-strong Emirates Group team around the world, to submit a video showcasing who they are, what they are most passionate about, and how travel helps them to fulfill their dreams. The entries submitted featured an eclectic range of interests such as photography, fashion, music, extreme sports, food, art and much more.
From the submissions, 20 finalists were chosen to present themselves during a live audition in front of a packed auditorium and panel of renowned judges including celebrity chef and TV personality Silvena Rowe. The finalists were given just two minutes to show why they deserve the opportunity. The winners chosen come from a diverse range of cultural backgrounds, and a variety of different roles within the Emirates organisation.
The globalistas began their journeys in May 2015 and will continue through November, and together will cover close to 40 destinations. To see where they are headed next, learn more about their stories, or find out more about the project, visit www.emirates.com/bethere. You can also follow their unique journeys on National Geographic channel, on Emirates' social media channels – Facebook, YouTube, Instagram and Twitter.
The Nitty Gritty – How Do You Win?
Well, I've made it really simple for you! Just leave a comment on this post the bottom, and the most original response will be picked and I'll email the winner!
You will need to enter the following:
Your full name (that is, first name, last name)
Your email address in the 'Email' field (which remains private), and
Tell me why you'd love to fly Emirates to Bologna,

in 25 words or less

.
You can enter only once!
Please read the full Terms and Conditions below too!
More about Emirates Flights To Bologna!
Emirates plans to start a daily service to Bologna, Italy, from 3rd November 2015.
The capital of the Emilia-Romagna region, Bologna will be Emirates' fourth Italian destination bringing Emirates' weekly flights to Italy to 56. Set to be operated by a Boeing 777-300ER in a three class configuration, Emirates will offer the only long- haul wide-bodied service to and from Bologna. The new flight will add 5040 international seats per week to and from the city, enabling customers in Bologna and the surrounding region to conveniently access key Emirates destinations in the Far East, Middle East, Africa and West Asia.
Known as the 'European Capital of Culture' Bologna is a vibrant economic and tourism centre as well as being the perfect stepping off point for travellers looking to explore the neighbouring cities of Florence, Verona, Parma and Pisa.
Emirates' flight EK093 will depart Dubai International Airport at 0845 hrs and will arrive at Bologna Guglielmo Marconi Airport at 1220 hrs the same day. The return flight will depart Bologna at 1440 hrs and arrive in Dubai at 2330 the same day.
More About Emirates:
Emirates connects people and places around the globe, inspiring travel and facilitating trade across 147 destinations in 81 countries and territories. On-board its modern and efficient fleet of 235 aircraft, Emirates offers award-winning comfort and service, delivered by friendly cabin crew representing over 130 nationalities. Emirates has received more than 500 international awards for excellence.
Today, Emirates operates the world's largest and one of the youngest fleets of the iconic A380 and popular Boeing 777s.
In 2013 the world's first purpose-built A380 facility, Concourse A, opened at Dubai International Airport for the exclusive use of Emirates and its global aviation partner Qantas, connecting to over 35 Emirates A380 destinations around the world.
Together, Qantas and Emirates operate 91 flights per week to Dubai from Australia. Emirates' 77 services operate from Brisbane, Perth, Melbourne, Adelaide and Sydney, including five daily A380 flights. One service daily from Sydney operates via Bangkok. One service daily from Brisbane operates via Singapore. One Melbourne service daily operates via Singapore, with another daily service operating via Kuala Lumpur. Emirates operates 28 flights per week to New Zealand – daily to Christchurch from Sydney, and daily all-A380 travel to Auckland from Sydney, Melbourne and Brisbane.
For flight information and bookings contact Emirates on 1300 303 777, visit your local travel agent or go to www.emirates.com/au.
Terms and Conditions – The Travel Tart & Emirates
By entering the 'Emirates – The Travel Tart' Promotion, you are agreeing to the following terms and conditions:
STANDARD TERMS
Information on how to enter forms part of the terms of entry. Entry into the promotion is deemed acceptance of these conditions of entry.
WHO CAN ENTER
Entry is open to all residents of Australia only, over the age of eighteen. Directors, management, employees and their immediate families of The Travel Tart and Emirates Airline, and their associated agencies and companies are not eligible to enter. Immediate family means any of the following: spouse, ex-spouse, de-facto spouse, child or step-child (whether by natural or by adoption), parent, step-parent, grandparent, step-grandparent, uncle, aunt, niece, nephew, brother, sister, step-brother, step-sister or first cousin.
HOW TO ENTER
The competition commences on Monday 14 September 2015  at 11 am (AEST) and concludes on Monday 21 September 2015 at 11 am (AEST) ("the Competition Period").
To enter the competition, readers must visit The Travel Tart website and comment on the competition post, responding to the 25 words or less question. This competition is a game of skill, and chance plays no part in the results of this competition. Entries will be judged on the basis of uniqueness and creativity in response to the 25 words or less question. Judges decision is final and negotiations will not be entered into.
The time of entry will, in each case, be the time that the entry is received on The Travel Tart website.
The Promoter, its agents, affiliates or representatives will not be liable for any lost, late or misdirected entries.
Incomprehensible and incomplete entries will be deemed invalid.
The judging will take place on Tuesday 22 September 2015 at 10 am AEST. The winner will be notified via email. The official winner's letter will be sent out to the winner once they have provided a valid mailing address. The Promoters reserve the right to request winners to provide proof of identity and/or proof of residency at the nominated prize delivery address. Proof of identification, residency and entry considered suitable for verification is at the discretion of the Promoter. In the event that a winner cannot provide suitable proof, the winner will forfeit the prize in whole and no substitute will be offered.
The Promoters reserves the right to verify the validity of entries and to disqualify any entry which, in the opinion of the Promoters, includes objectionable content, profanity, potentially insulting, inflammatory or defamatory statements, disqualify any entrant who tampers with the entry process, who submits an entry that is not in accordance with these terms and conditions or entry, or who has, in the opinion of the Promoters, engaged in conduct in entering the promotion which is fraudulent, misleading, deceptive or generally damaging to the goodwill or reputation of the promotion and/or Promoters. The Promoters reserve the right to disqualify a winner if the Promoters become aware that the winner and/or the winner's entry is of a type described in this clause.
Unless expressly stated in these terms and conditions, all other expenses including incidentals and additional items become the responsibility of the winner/s at their own expense.
The Promoters shall not be liable for any loss or damage whatsoever which is suffered (including but not limited to indirect or consequential loss) or for any personal injury suffered or sustained in connection with any prize/s except for any liability which cannot be excluded by law. Neither are the Promoters responsible for any incorrect or inaccurate information, either caused by the entrant or for any of the equipment or programming associated with, or utilised in this competition, or for any technical error, or any combination thereof that may occur in the course of the administration of this competition, including any omission, interruption, deletion, defect, delay in operation or transmission, communications line or telephone, mobile or satellite failure, theft or destruction or unauthorised access to, or alteration of, entries, and reserves the right to take any action that may be available.
If for any reason, this competition is not capable of running as planned, including due to infection by computer virus, bugs, tampering, unauthorised intervention, fraud, technical failures or any other causes beyond the reasonable control of the Promoters, which corrupt or affect the administration, security, fairness, integrity or proper conduct of this promotion, the Promoters reserve the right, in its sole discretion, to disqualify any individual who tampers with the entry process, take any action that may be available and to cancel, terminate, modify or suspend the competition subject to any written directions given under State Legislation.
THE PRIZE
The prize consists of 2 x return Emirates Economy Class airfares from Sydney, Melbourne, Adelaide, Brisbane or Perth international airports to Bologna, Italy.
The airfares are valued at up to $5,813, including taxes, based on peak season travel. No responsibility is accepted for any variation in the value of the prize according to seasonal fluctuations and ticket type available.
Flights are valid from 3 November 2015 and travel must be complete within one year. Flights not valid for travel between 10 December and 15 January. Relevant airport and airline taxes are included in the prize flight.
The prize (or any part thereof) cannot be sold, is not transferable or exchangeable and cannot be taken for cash.
A valid passport is required for all international journeys.
The two flights must be utilised at the same time, for the same travel dates, to the same destination.
The flights are available on a positive space basis. Emirates Airline will do everything possible to accommodate chosen flight dates and times, but due to space limitations alternatives are sometimes required.
Airline tickets are valid for travel on Emirates services only, over the specified routing and in the stated class of travel. Travel restrictions may apply. All bookings must be coordinated and booked through Emirates.
Prize does not include travel insurance, which is required. Adequate travel insurance for the duration of the trip must be organised by the winner at his/her own expense. Meals or tips, transfer fees (other than specified), excess baggage, government taxes, airport charges, travel insurance and any other personal expenses not specified in the prize package must be paid for by the winner.
The prize cannot be taken in conjunction with any other Emirates Airline offer. Emirates Skywards miles cannot be incurred on these tickets.
Winner must make their own way to Sydney, Brisbane, Adelaide, Melbourne or Perth International airports in order to meet their Emirates flight. The Emirates prize does not include the cost the winner may incur to travel to, or park at, these international airports.
The Promoters are The Travel Tart (ABN 35 141 412 946) of PO Box 312 ARANA HILLS QLD 4054 and Emirates Australia (ABN 81 073 569 696) of Level 17, 1 York Street, Sydney, NSW 2000.
This competition is a game of skill, and will be judged according to these terms and conditions. Judge's discretion is final.