It's time for another Big Things In Australia tourist attraction to be featured on this silly blog.
One thing that you'll probably notice about travelling around Australia is the numerous 'big' attractions that are littered all over the country to get you to stop your road trip and get out of the car to take a pic.
Some of the big things featured here previously include the Big Tennis Racquet and the Big Captain Cook.
But today's 'big' attraction is the funny large piece of fruit called 'The Big Mango'!
It's located in the town of Bowen in Far North Queensland, Australia. You probably didn't see it in that crazy Tourism Australia commercial for the Superbowl, but some people say maybe it's a big star that deserves it's fame!
The Big Mango! Big Fruit Time!
Anyway, here is a pic of The Big Mango.
This oversized piece of fruit on steroids weights about 10 tonnes and is about the height of a three storey house.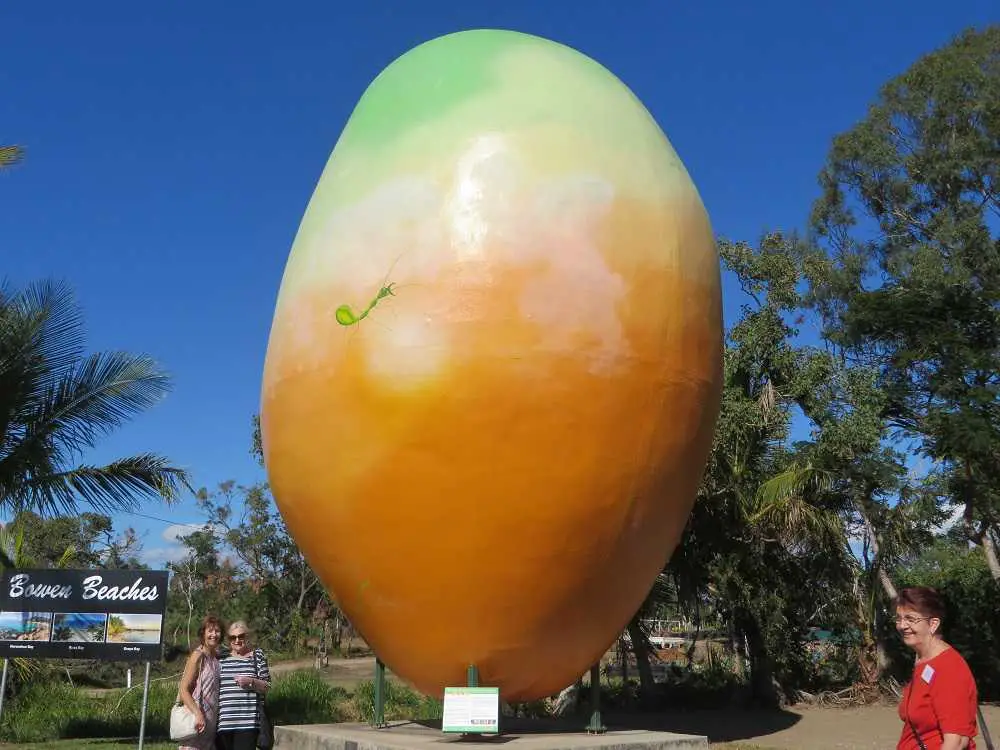 If you're doing the east coast road trip from Cairns down to Melbourne, you'll probably stop in and say hi to it!
Actually, The Big Mango scored a bit of fame in 2014 when it was 'stolen' for it to be nowhere to be seen.
It actually ended up being a publicity stunt for sauce maker Nando's who were promoting a new product.
They colluded with the locals to 'steal' this large fruity attraction so that it would gain media attention and headlines.
Well, this silly prank worked for a while and the prank ended up gaining some international attention – but I'm not sure if it translated to an uplift in sales!
So there you go. When you're travelling to Australia, add The Big Mango to your bucket list for one of the Big Things To Visit In Australia!
If you want to eat a real mango, they're much smaller and I love them – they're big, juicy, sweet and flavoursome and as far as I'm concerned, they're the taste of summer and you'll see them for sale everywhere – in the fruit shops and even by the side of the road.
There are all sorts of varieties – the Calypso Mango, the Kent Mango, the Bowen Mango, and the R2E2 mango (my favourite), which is colloquially known as the 'Star Wars Mango'. Get it? Boom boom!
Chow down on one now! Much tastier than a durian!