Spam Jam, believe it or not, is a restaurant in Manila, the Philippines, which specialises in Spam Recipes!
I came across this culinary delight that could possibly make the world's top restaurants when I visited the Philippines in 2004.
Actually, I really enjoyed going to the Philippines – the people there are good value and very friendly.  There's lots of natural attractions there, especially if you like diving.
Anyway, Spam Jam made my list of 52 Travel Tips For Weird Food and Drinks!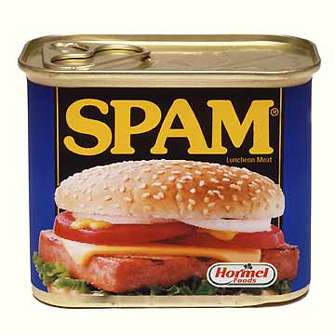 Spam Jam – Monty Python's Worst Nightmare!
This restaurant (go the Michelin Stars!) is located in the Makati City area of Manila, in amongst a series of massive shopping centres.  Here is the store front of Spam Jam, which really does stand out like dog's testicles.
When you look at the menu, it sounds like the Monty Python sketch about the much ridiculed form of meat.
No joke! Some of the menu items are:
Spam Burger
Spam and Egg
Spam Spaghetti
Spam Baked Macaroni
Spam Nuggets
Spam Caesar Salad
If you don't believe me, check out the original Spam Sketch from Monty Python.
Spam is actually part of the stapel diet in the Philippines.  Filipinos eat over 1 million kilograms of Spam each year!  That's because it's a relatively inexpensive form of meat that's readily available, and won't go off in a hurry.  Spam will survive in the cupboard for centuries, and probably has a half life longer than radioactive nuclear waste produced from power stations!
Personally, I'm not a big fan of Spam, but if you like it, take a trip to the Philippines and have a big feed at Spam Jam!
More Spam Jam Stuff
If you're hungry for Spam, check out The Book of Spam: A Most Glorious and Definitive Compendium of the World's Favorite Canned Meat and Spam The Cookbook. Yes, seriously!